Elevator Pitch
Shady secret: M&T Bank withholds scam notification from business customers for over a year
Thesis & Catalyst For M&T Bank Corporation (NYSE:MTB)
> M&T knew of a scam directed at their business banking customers since at least 2015, only issuing alert and replacement cards on 1/19/2017.
> The scam affects an unknown number of their customers; the company is replacing an undisclosed number of cards.
> Recent regional bank downgrades cite weak upside potential after huge post-election surge.
> Phone number misprint on M&T business debit cards routes callers to a scam line, where unsuspecting customers provide account information to receive a gift card as a promotion offered in compensation for full customer service lines.
Valuation
Breaches of trust affect financials more than any other sector. Expect M&T to be down relative to both the overall market and within sector by between 4% and 9.5% in the near term. Further, expect this to have lingering effects in earnings through at least 2017, as the bank seeks to patch fractured trust.
Upper Bounds: This may or may not prove to be as deep or incriminating as the recent Wells Fargo ($WFC) scandal, which broke on September 8, 2016. The first 20 days after the initial public notification showed a maximum Cumulative Abnormal Return of (-9.2714%) against the S&P 500, and (-9.2143%) when compared with the Vanguard Financials ETF.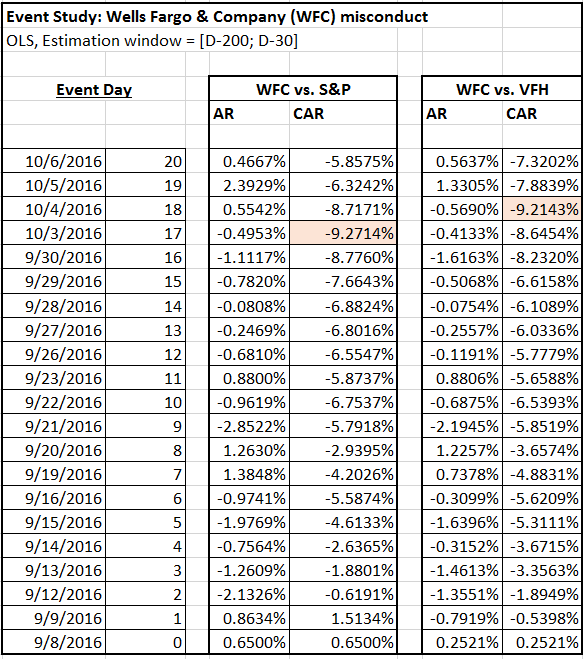 Lower Bounds: Perceptions of less egregious negligence could look more like the January 2016 HSBC ($HSBC) unauthorized disclosure of customer information to a third party. Cumulative Abnormal Returns peaked in the first 5 days from public disclosure at (- 5.8423%) against the S&P 500, and (-4.0184%) when compared with the Vanguard Financials ETF.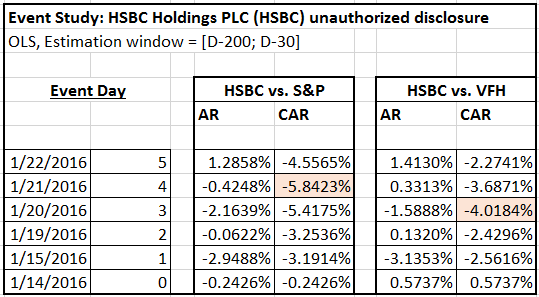 Disclosure: I am/we are short MTB.
Additional disclosure: Source first press mention: Rochester Business Journal