The cyber security market is one that grows exponentially, with a growth rate of around 10% annually going into 2021. The market for cyber security has grown with an increased emphasis on preventing cyber attacks and a need for secure information at all levels (including the cloud.)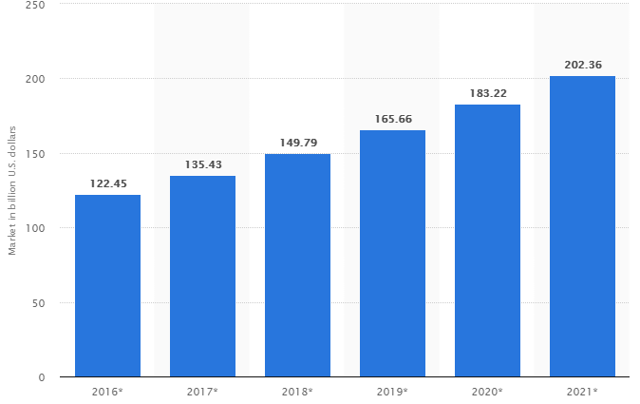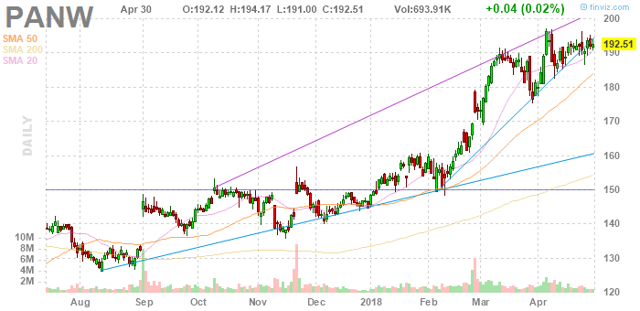 Palo Alto Networks (PANW) is a company taking the right steps to secure a position in this growing market.
Currently a leader in enterprise firewall, Palo Alto boasts impressive revenue growth, increasing by over 27% last year. The revenue of $1.76B in 2017 is split into three fairly even categories. While products make up the biggest chunk at $700 million of revenue, the subscription services such as Traps bring a CAGR of 70% over the last 6 years.Traps is Palo Alto's endpoint protection service (protection of the corporate network from endpoints such as mobile devices, computers, even data servers.) Traps is an effective method of security and we will likely see a shift from traditional anti-virus to this more effective method.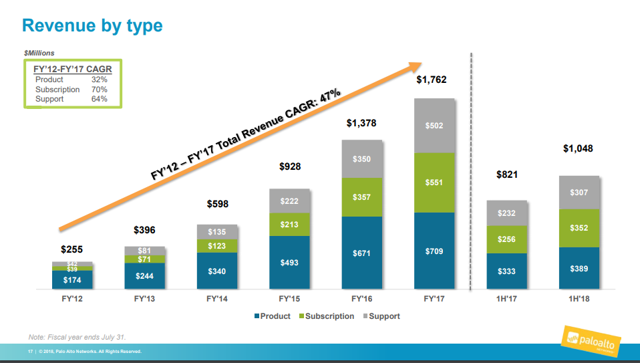 What excites me about this stock is the company's fairly recent acquisitions. Seemingly recognizing the potential for growth in the cybersecurity market, Palo Alto Networks closed deals to acquire Secdo and Evident.io within the last one and a half months. Secdo, acquired very recently, will be used to bolster the Traps EDR (endpoint detection and response) abilities. This should increase the ability to defend against the stealthiest attacks. Evident.io, acquired to improve Palo Alto's cloud security. The cloud security market is an intriguing one if Palo Alto can get stable footing. Expected to nearly triple from now to 2021, this $300 million purchase could pay for itself quickly. My main concern with this acquisition is the competition, specifically companies with cloud security that can be dealt to existing customers, such as Salesforce or Cisco. Palo Alto will need to carve a space for itself in this market.
Disclosure: I/we have no positions in any stocks mentioned, and no plans to initiate any positions within the next 72 hours.