Overview
I wanted to run through some data on my dashboard this weekend and remind you that there are only two days left to sign up for EPB Macro Research for free using a 14-day free trial. The free trial will only be available until tomorrow, November 26th. 
My Dashboard
The yield curve continues to contract at an accelerating pace. This contraction is going to put severe downward pressure on bank lending as there is little profitability left with such a tight spread. 
Bank lending is already contracting down to 1% from over 10% in 2015. This massive change in lending, from 10% to 1% growth, is directly related to the flattening of the yield curve and therefore less profitable loans. 
Treasury Yield Curve:
With fractional-reserve banking, money creation follows a two-stage process. First, a central bank introduces new reserves into the economy by purchasing financial assets from or lending money to financial institutions. Commercial banks multiply the new reserves presented by the central bank due to the process of fractional reserve banking; this expands the amount of broad money (i.e., cash plus demand deposits) in the economy so that it is a multiple of the amount initially created by the central bank. Money is in essence pushed from central banks to commercial banks, and then to borrowers. 

The issue that arises is that money cannot be pushed from the central bank to borrowers if they do not wish to borrow.

Commercial banks extend loans, and borrowers take out loans, both parties believe this loan to be profitable. The borrower expects to make a higher rate of return on his investment than the loan and the bank makes a profit by charging a 'spread' over their cost for not lending it out (a proxy for this profitability spread is the 10-2 treasury curve). 

These loans must, in turn, be backed by reserves. This is a legal requirement. Otherwise, banks could print unlimited quantities of money – and banks are allowed to extend as loans some multiple of reserves: in a fractional-reserve banking system banks are allowed to extend more loans than they have reserves (the ratio is called the money multiplier, and is greater than 1. This ratio is calculated as M2/Monetary Base (Reserves). That ratio is currently 3.5 down from 8 in the early 2000's.  


Central banks can limit money creation by either limiting the amount of reserves they create thus denying reserves and preventing commercial banks from extending further loans. They also can limit money supply growth by raising the interest rates paid on reserves, thus making loans less profitable for the bank (contracting the spread between longer-dated bonds and shorter-dated bonds 10-2 Spread).

While relaxing these constraints can encourage money creation, central banks cannot force commercial banks to extend credit – monetary policy can pull but not push.
If there is unmet demand for credit money, then credit money is pulling, and monetary policy can be effective. If, conversely, all demand for credit money is being met, either because banks do not wish to lend (finding it too risky or unprofitable) or borrowers do not wish to borrow (having zero use for added debt, such as due to lack of business opportunities), then monetary policy is ineffective.
The central bank can encourage bank lending and money creation but not force it.
The rate of bank lending is falling drastically indicating that there is a lack of demand for loans and future money supply will contract.
Total Loan Growth:
Over the past two years, loan growth has fallen from 12% down to 0.74%. In dollar terms, loans creation was $200 billion in 2015. The annual figure is down to $15 billion dollars a year as of this past Friday's update. 
Total Loan Growth:
___________________________________________________________
This was an exerpt from the full Weekend Dashboard I posted for subscribers.
As a reminder, there are only two days left to get EPB Macro Research for Free!



A Membership Includes:
Weekly Round-up's on the most relevant economic data
Model Asset Allocation, using only ETFs, for current economic conditions
Monthly Asset Allocation changes
Fully transparent and accountable track record
Economic Heat-map
A library of custom and proprietary economic charts

Make The Strategy Work For You:
The asset allocation I use, each month only contains ETFs and allows you to fully customize your portfolio with stocks/trading strategies of your choice within the recommended asset allocation. 

For example, if the model asset allocation has 40% allocation to stocks in the form of ETF (SPY), feel free to pick and choose your own stocks or use your own strategy within that basket. You can replace the ETF in the asset allocation with individual stocks, in the case of (SPY) or other securities that are better suited for your individual circumstance. 

Everyone has different approaches to stock selection; some use dividend stocks, some favor growth stocks. The EPB Macro Research model asset allocation attempts to give you a framework of which to use your preferred stock selection strategy within.
In my personal portfolio, I simply use the ETFs exactly as it appears in the asset allocation.
The goal is to be overweight the best asset class (Stocks, bonds or commodities) and be underweight the worst performing assets over the next 12 months. 
With a subscription, you have immediate access to the EPB Macro Research chat room where you can ask any questions, or post any general market comments and expect a direct response from Eric or one of the other members in the chat room. 
Chat Room For Questions: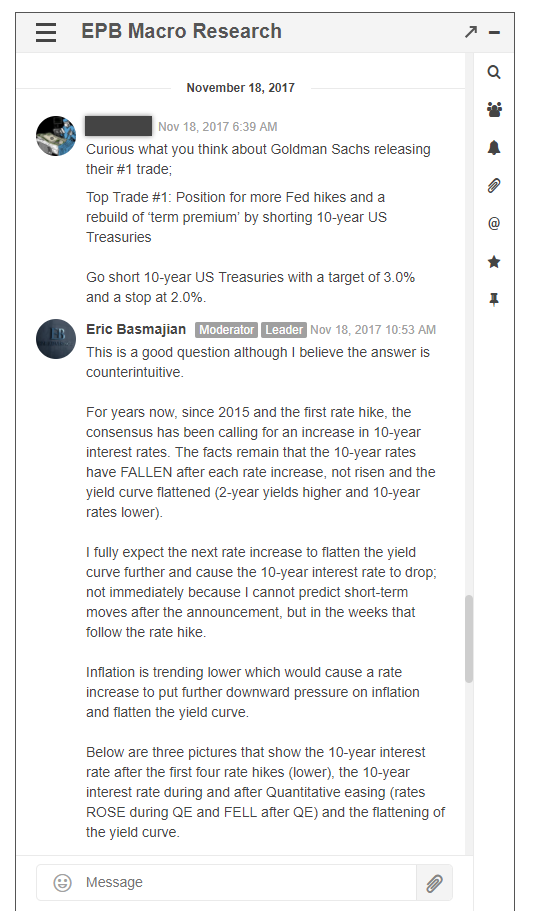 Please click here for more information and to learn about how the additional features of EPB Macro Research, including several proprietary economic indicators, can help your existing portfolio achieve better results will less hassle. 
There is a two-week free trial available for two more days, so there is no risk in testing out how these indicators and asset allocation may help your investments. This investment style may fit well into your current strategy so there is a huge potential upside to learning more about how EPB Macro Research can protect your portfolio. 
You can also follow me on twitter for macroeconomic charts and quick analysis. Click here to follow me on twitter.
Thanks & Talk Soon, 
Eric Basmajian
EPB Macro Research
Twitter: @EPBResearch