The Bureau of Labor Statistics published the Consumer Price Index (inflation) report today which details monthly data on changes in the prices paid by urban consumers for a representative basket of goods and services.
Inflation is one element to the Federal Reserves dual mandate (unemployment and price stability) so the developing trends that can be seen in the CPI report can provide insight into the next move for the Federal Reserve as far as tightening or loosening monetary policy.
Inflation is a lagging indicator and is the last to move in the money, income, price spiral. The move higher in inflation today is representative of GDP (income) several quarters ago and money movements of over one year ago.
Today's changes in money flow (money supply, monetary base, yield curve etc.) will flow through to growth (income) with a six to eight-month lag and into the price (inflation) with a 12-18 month lag, on average.
Headline inflation matched expectations, rising 2.8% year over year.
US Headline Inflation Rate: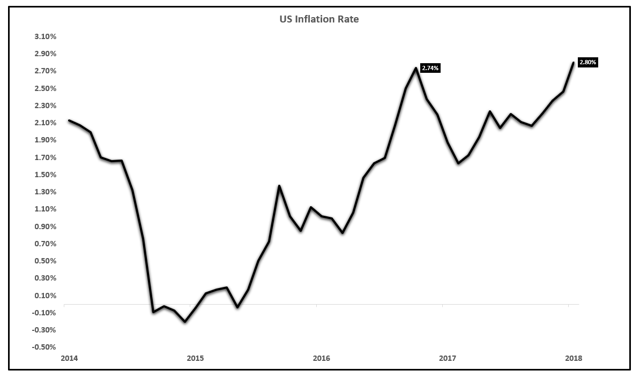 Source: BLS, EPB Macro Research
The headline inflation rate has now surpassed the previous high seen in February 2017 of 2.74%. The market reaction to this news was largely muted as the market was expecting the inflation figures to come in as they did.
Core inflation (ex. food and energy), which is a better measure than headline inflation for measuring underlying trends, increased to 2.21% year over year, up from 2.12% last month.
Core Consumer Price Index Year over Year Change: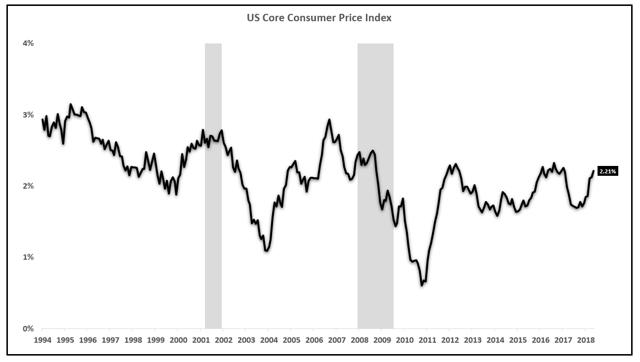 Source: BLS, EPB Macro Research
Unlike headline inflation, core inflation has not yet moved above the high seen in August 2016 or February 2017.
Headline inflation increased 2.8% compared to one year ago but 70% of the gain or nearly 2% was "shelter" prices and gasoline, due to rising oil prices.
Oil prices are volatile and can skew the overall inflation reading. As oil prices come down in the future, all of the gains that flowed into the CPI reading will be reversed and oil prices will be a drag on CPI rather than a boost.
----
With the inflation narrative thoroughly priced into the bond market, the other factor to watch is growth, which given the declines in real wages and monetary policy tightening, which we cover frequently, a lid will be kept on long-term rates. The high for the 30-year yield over the past several months was roughly 3.22%. The yield is currently 12 basis points lower with inflation that is 40 basis points higher.
This was a brief excerpt from a [Daily Data Flash] report, released to members of EPB Macro Research.
---------------------------------
To read all premium research and to receive all updates in real-time, become a member today. We seek to maximize returns per unit of risk, a new method of risk management. There is a two-week free trial available so you can have time with the EPB Macro Research process and decide if it is right for you and your investment strategy.
Click Here To Learn More, It Is Free To Join
Currently, members of EPB Macro Research benefit from:
Weekly Updates: 3-5 Weekly Posts To Stay Up To Date
Model Portfolios: Two Long-Term Model Portfolios (Long/Short & Long-Only)
Sectors To Avoid: A List of 'Sectors To Avoid'
Sectors I Like: A List of 'Sectors I like'
Unlimited Acess: 24-Hour Chatroom
Track Record: A Fully Transparent Track Record With Multiple Benchmarks
Fully Stocked Library: Archive of Over 100 Past Research Notes
Early Access: Early Access To All New Ideas, Covered More In-Depth
Coming Soon: Customizable Portfolio Analytics Tools
The goal of EPB Macro Research is to model economic trends and build a low volatility portfolio to limit losses and maximize total return over a 12-36 month time horizon.
EPB Macro Research is a new community and I've been thrilled with the early reviews. For example:

Join EPB Macro Research: Click Here To Learn More, It Is Free To Join
If you have any questions about the service or would like to learn more, visit the EPB Macro Research page (Click Here) or send me a direct message and I would be happy to talk about how you can benefit from EPB Macro Research.
I look forward to hearing from you in the chatroom!
Eric Basmajian