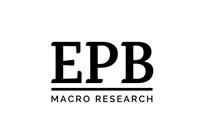 Leading Index Of Employment
Earlier today, the ADP nonfarm payrolls report was released which showed one of the larger disappointments relative to expectations in nearly a decade. 
The consensus was hoping for a gain of 185,000 jobs after a big print last month of 275,000 jobs but the actual number came in at just 27,000, a substantial miss. More important than the headline number, the growth rate in the ADP nonfarm payrolls number decelerated sharply to 1.92% year over year. 
ADP Year over Year: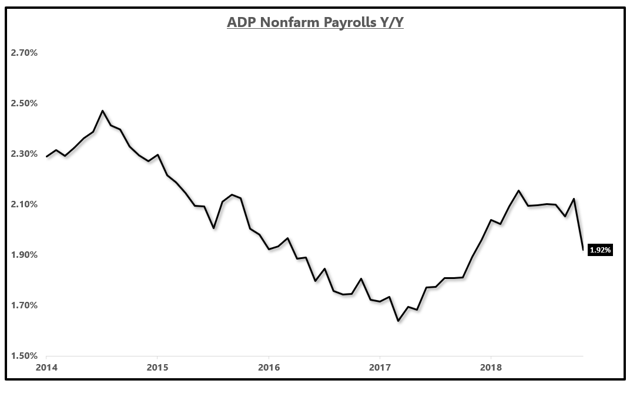 Source: ADP, EPB Macro Research
While the ADP employment report is not a major factor for me and the analysis at EPB Macro Research, our leading index of employment has been on top of this deceleration in employment growth from both the ADP and NFP reports. 
The EPB Leading Index of Employment has decelerated from 6.42% year over year to 0.86%, signaling a sharp slowdown in employment growth was on the horizon. 
Leading Employment Index: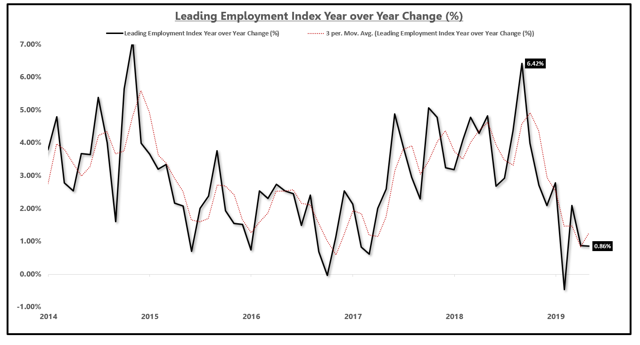 Source: EPB Macro Research
The consensus and mainstream analysts continue to say to "short bonds" or that "bonds are a great short here" because they have rallied significantly. Well, after the report, now that the market is worried about the employment sector, something members of EPB Macro Research have seen coming for months, the 2-year Treasury rate, a long position of ours, has hit a new cyclical low, falling below 1.80%. 
Consensus analysts and those who do not do cyclical work will continue to be on the wrong side of cyclical inflection points. 
A bad ADP report does not predict a bad NFP report. These are actually not related on a month to month basis. The leading index of employment, however, does suggest that the trending direction in the year over year growth rate of employment will be one of continued deceleration. 
How To Profit From The Economic Cycle
If you understand the economic cycle, you can profit from the opportunities that emerge from its ebb and flow.
At EPB Macro Research, in addition to the elite level macroeconomic research, model asset allocations, and risk management system, you will gain confidence in your understanding of economic cycles and your ability to profit in any economic environment.
You will understand where to put your money and when to move it in all stages of the economic cycle.
Take advantage of the 14-day free trial and join the community before the price increase.