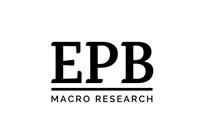 Disinflationary Pressure Is Building
As part of the [Weekend Dashboard] report, published to members of EPB Macro Research each week, we cover the trends in inflation expectations very closely. 
This week, one area we looked at was the signal from less liquid industrial commodity prices. 
Below is an excerpt of the weekend report as well as a reminder that today you can still join EPB Macro Research before the membership fee increases. Today, you can lock in the 2-year anniversary sale rate for the entire life of your membership.
Click this link for a FREE TRIAL
Inflationary Trends / Commodity Trends
As noted earlier, while interest rates rose over the past month, driven mostly by the real rate, inflation expectations continue to fall, nearing a new cyclical low.
10-Year Breakeven Inflation Rate: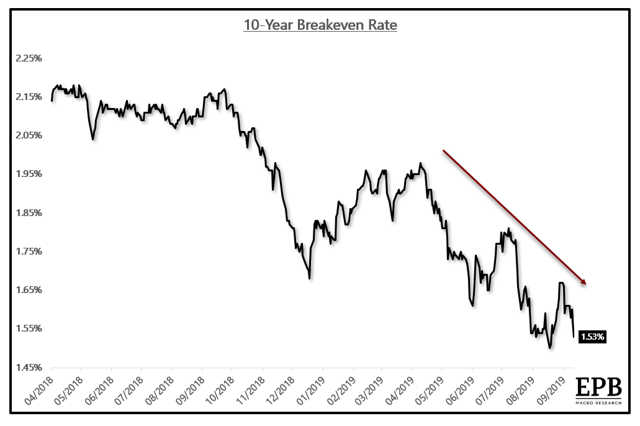 Source: Bloomberg, EPB Macro Research
...
...
...
After a geopolitical scare drove oil to $60 per barrel, the move entirely retraced, falling back down below $56. A seemingly permanent geopolitical bid under oil is keeping the price higher than what is being signaled from other industrial commodities that are not traded via liquid futures.
Crude Oil: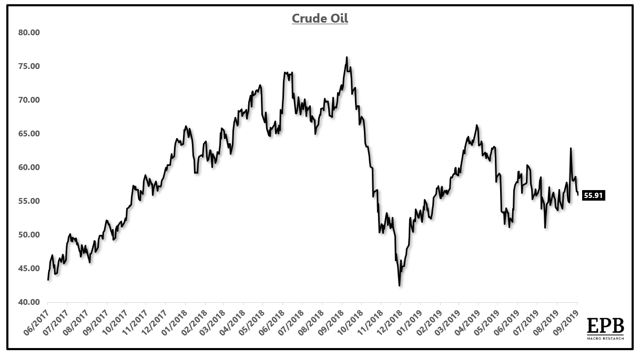 Source: Bloomberg, EPB Macro Research
In a risk-on trade two weeks ago, we saw a pop in the CRB industrial metals equity index, a measure that is easily influenced by market sentiment and "trade headlines."
Despite these factors, the bounce gave way to a continued decline in the price of industrial metals equities. This index is less important to the long-term cyclical outlook as compared to the CRB indexes of commodities that contain commodities not traded via liquid futures such as oil and copper.
CRB Index Industrial Metals Equity Index: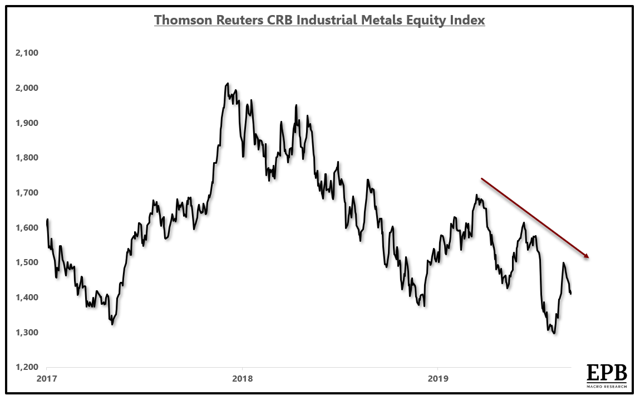 Source: Bloomberg, EPB Macro Research
The CRB index basket of raw industrial materials, which contains items outlined in the graph below, continues to decline and hit new cyclical lows each week.
There have been several instances of rising exchange-traded commodities that have not been confirmed by their less-traded counterparts. In most cases, the reversion favors the data below.
A persistent decline in the price of industrially sensitive materials, not easily influenced by headlines, suggest that price pressure is weak and demand for these industrial materials is unlikely to be overwhelmingly strong.
Industrial Materials Spot Index: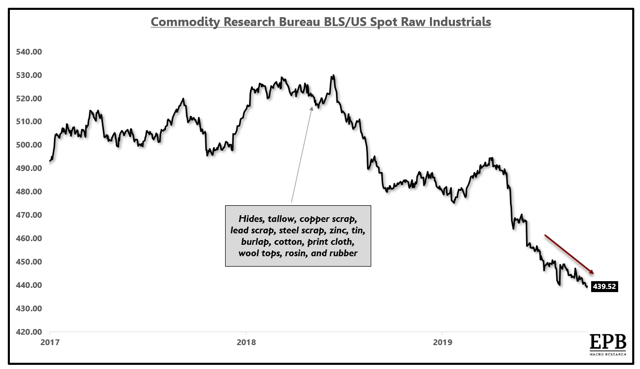 Source: Bloomberg, EPB Macro Research
If we pull the chart of industrial materials back to 2013, we can see that the disinflationary impulse today is almost as strong as the 2015-2016 episode which resulted in outright deflation in some cyclical industries.
Industrial Materials Spot Index: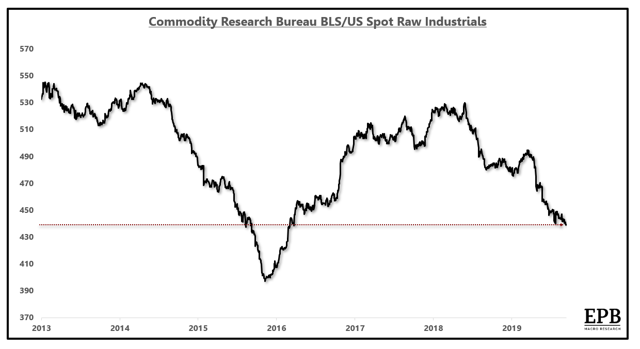 Source: Bloomberg, EPB Macro Research
While the Federal Reserve and mainstream analysts have finally accepted the slowdown in growth, the cyclical downturn in inflation is not something that has garnered the same attention because the disinflationary pressure has not yet filtered through to the lagging metrics that most follow such as headline and core CPI.
...
...
To read this week's full [Weekend Dashboard] report, click the link below.
Click this link for a FREE TRIAL
Start Using The Economic Cycle To Your Advantage
If you understand the economic cycle, you can profit from the opportunities that emerge from its ebb and flow.

With a membership to EPB Macro Research, you will understand where to put your money and when to move it in virtually all stages of the economic cycle.
Using an easy-to-understand process of long-leading and short-leading economic indicators, all you have to do is follow the economic cycle and allocate accordingly.
Cycles last several quarters on average so once you identify the turning points, which the leading indicators will do, all you have to do is ride the cycle with the proper asset allocation.
Take advantage of the 14-day free trial today before the price increase!
You have nothing to lose by joining for free but if you learn how to navigate the economic cycle, it will change the way you invest forever.
Click this link for a FREE TRIAL