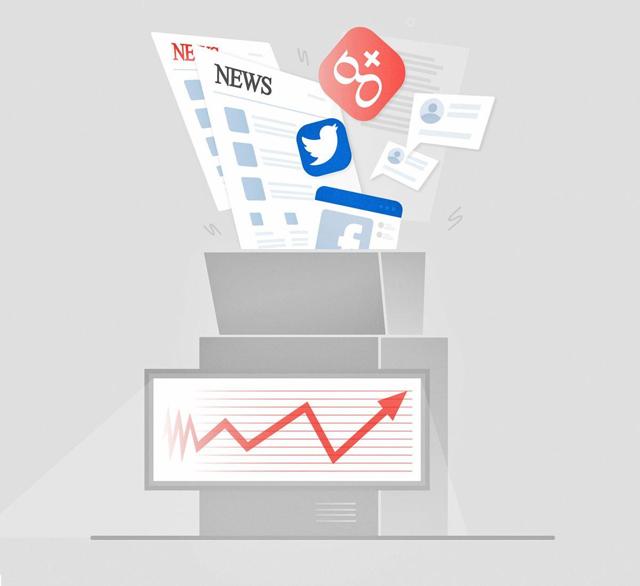 Money is the magic wand that no one can live without. People understand its importance, and many individuals and organizations involved in different financial markets trying to increase their wealth. The competition among participants is fierce, and they use any piece of information that may help them to excel rivals in the every day's battle.
Stock markets are a good example of a financial market. Giving players access to stocks of publicly traded companies, they are an important part of the financial ecosystem. There are two common approaches defining factors that impact stock market price movements. Those who keep to the technical school look at price movements of a security to predict its future movements. Fundamentalists, however, pay attention to a wide array of factors (e.g. ratios and earnings) to make predictions.
Facts and beliefs do have a huge impact on stock prices in today's information age. Any events and/or rumors go viral right after someone hears about them. It is a common practice that investors adjust their behavior to the most recent news, and many of them get updates from different newswires. Still, some important news may be unnoticed if they are published elsewhere (e.g. on social networking websites).
It is impossible to stay always online to hunt for the latest news. And this will not work with social media either, taking into account the huge number of posts made by users on a daily basis. The usage of technology solutions is the right approach in this case as they can constantly search for relevant news and social media posts on the Internet and analyze this data.
The Importance of Data from the Internet
Data and text mining have turned into one of the most promising fields of computer science. Researchers have been paying much attention to it. For instance, some of them discussed how to use text mining for identifying terrorist networks.
Social media are gaining growing attention as they contain the ocean of new data that can be beneficial for those who are the first one to access it. E.g. Facebook alone has 1.18 billion daily active users on average.
News and Social Media Posts' Impact on Financial Markets
Printed newspapers and magazines have been a major source of the latest news for people for centuries. The technological revolution of the 20th century resulted in the emergence of new methods of communications and devices.
The invention of the Internet significantly changed the business landscape, as it provided new opportunities for individuals and organizations. Digital publishing is one of the new businesses that emerged following the launch of the Internet. Nowadays, newspapers and magazines (both printed and digital ones) continue to impact different business fields, and financial markets are no exception.
The reaction to news articles was confirmed by researchers. In short, they found out that salient political and economic news influenced the trading activity measures, such as return volatility, a trading frequency, etc. Another study supporting the similar idea also proved to be successful.
Not only news articles themselves have an impact on financial markets, but also financial columnists may affect investor behavior. The later suggestion is based on the idea that the interpretation of public news may have a different influence on the markets, and it depends on a journalist who describes an event.
The study showed that subjective news articles are easier to predict the price direction, and articles with negative sentiment are the easiest to predict.
Social media are among the most popular websites. Facebook, for instance, holds the third position in the list of top 25 sites by Ranking.com. Millions of people from different corners of the world visit social networking websites, and it is vivid that posts made there do have an effect on people's minds.
Prediction and tracking disease outbreaks are one of the emerging uses of such data. Some health professionals already use Twitter to track flu epidemics and other health issues. For instance, Dr. Brownstein's team used such data for tracking the Haitian cholera outbreak.
The question is whether social media posts affect prices in financial markets. Some cases support the suggestion that there is a link between such posts and price movements. E.g., the fake tweet (see below) that was posted a couple of years ago caused the stocks to briefly plunge.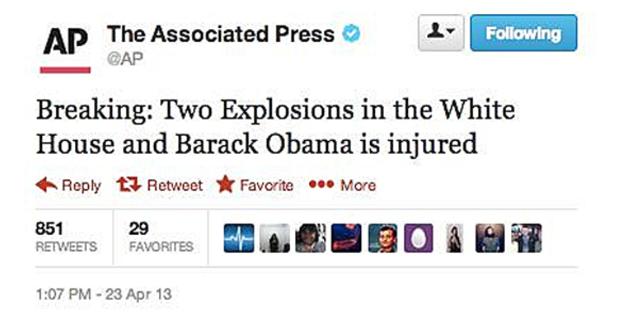 Many researchers believe that Twitter is the number one social network that can be used to predict stock movements since Twitter reacts to information quicker than the markets. Here is an example: the resignation of Steve Jobs as CEO of Apple became a buzz topic on the Internet, including social media. 4 out of the 5 trending topics on Twitter were Apple-related, and Apple's shares rose on the following day.
Some experts suggest that Twitter can predict stock movements 15 minutes ahead of the actual price.
Challenges that Researchers Face
There are a number of issues that those who try to predict a shift in prices have to solve:
The time of publication of news and social media posts should be considered, as the time of day strongly affects the return volatility. There is one more challenge associated with the shortage of time-stamped news. Dates of some company-related news articles and press releases are not determined, and therefore the information contained in them cannot be used for making short-term predictions. Many researchers use the BoW model in their studies, but they do not take into account the fact that this approach does not allow them to identify the target that sentiment refers to (e.g., Company X defeated Company Y) as well as the causality among the variables being studied without semantic information.
The scarcity of news sources is also an important issue. Many experts limit their sources of online news to Yahoo! Finance, but the usage of other websites may be advantageous, as they may contain unique pieces of information.
The quality of news sources should be carefully examined first: the accuracy of predictions can depend on media that are used by researchers. So, it is important to separate valuable information from the noise. The same approach can be applied to social media posts. If possible, a greater weight should be added to posts made by above average advisors enjoying high interest among other users. Media sources may contain similar or even identical news. So, it is vital to remove such pieces before analyzing the data. The lack of software that can be used to mine data for financial markets is also a burning issue. Results of predictions primarily depend on information gathered by such solutions. So, customized financial apps development is of crucial importance.
Price movement predictions often lack human interpretation. As a result, some vital results may be omitted. It is better to combine NLP techniques with human expertise.
Conclusion
Financial markets are mature ones, with an enormous turnover of money being involved. Despite a large number of active players, new companies and individuals continue to join the race, thus, making the competition increasingly tough.
The players are trying to predict price movements to win the battle. They have used printed newspapers and magazines to glean the required information for centuries. Being sources of immediate data, digital publications and social media provide new opportunities for financial analysts.
The introduction of software able to collect online information can help analysts to tackle the problem of data mining and making predictions. The common usage of such technology solutions can become a crucial point for the financial industry.