Is OWC Pharmaceutical Research Corp. a good bet, at this price?
Summary
OWC is on fire with over a 1200% gain in 4 months.
Will it go higher? Its market cap is less than 50% players in the industry.
Higher product profit margin is available in the pharmacological cannabis space.
Its professional management could drive this penny stock much higher.
OWC Pharmaceutical Research Corp. (OTCMKTS:OCWP) is a long term play with short term advantage. Given the industry, it has some risks, but the long term benefits to shareholders could be exceptional. The company, though a wholly owned Israel subsidiary, One World Cannabis Ltd., engages in medical research of cannabis-based products and treatments. Current research and clinical trials are both underway and planned for therapies that address conditions associated with psoriasis, multiple myeloma, fibromyalgia, PTSD (post-traumatic stress disorder), and migraines. In addition, it has under development a unique and effective delivery system for accurate dosages of cannabis.
Why an Israeli company? Because research and development of cannabis have been going on in this country since the mid-1960's. In 1964 Dr. Rafael Mechoulam first discovered and synthesized THC, (tetrahydrocannabinol). It is the principal psychoactive constituent of cannabis. Often considered the father of cannabis research, he is quoted as saying that if marijuana were legal, it could replace 10-20% of all pharmaceutical medicines. The Israeli government took his conclusions to heart, and under strict but reasonable regulations, has allowed research to advance.
OWC mission and aspiration is to become a world leader in the area of medical cannabis by providing the prerequisite element of scientific validity for cannabis based products. Its commitment includes the highest standards of integrity and ethics in proposing, conducting and reporting research. The company has stated that its aim is to produce pharmaceutical-grade cannabis-based products and treatments that are: s tandardized in composition, formulation and dose; administered by means of the appropriate and efficient innovative delivery systems; and, t ested in properly controlled pre-clinical and clinical studies.
Its targeted market areas are Israel, the European Union, South America, Canada and the U.S. Its a big market for a good product. As an example, Statista forecasts that the cannabinoid-based pharmaceuticals market in the U.S will be $2 billion in 2020 and increase to $50 billion by 2029. There is no telling how large the worldwide market will become.
Investors have found OWC Pharmaceutical Research Corp., a micro-capital security raising its value from $0.03 to over $0.70 in the last year, with most of this gain coming in the last three months of 2016. Given a market cap of around $94 million, approximately 50% of other major players in this industry, a significant upside seems very reasonable. However the stock's low float should warn any investor to be cautious.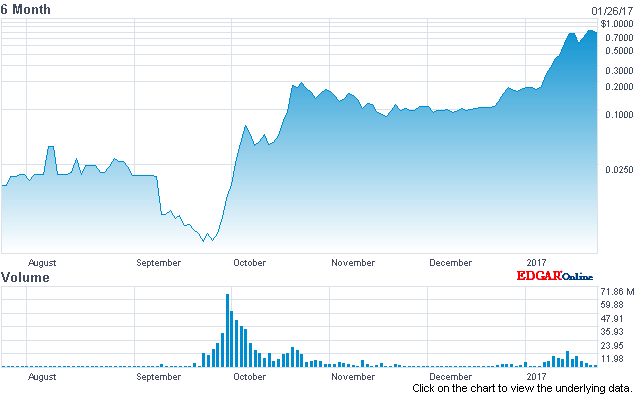 An investor considering any newer company with little or no revenue, must focus on the senior management team and the business plan. Both should be evaluated as above average to exceptional, before an investment is plausible.
CWO has assembled an experienced and impressive team. As CEO and President, Mr. Mordechai Bignitz brings over 30 years experience in economic consulting, planning and execution. Over the years he has held senior and director r of several operational and investment companies.
As Director of Research and Regulator Affairs, Dr. Med. Yehuda Baruch is charged with guiding the relevant research, clinical trails for the products, procedures and therapeutic applications. For 10 years he served as Head of the Israeli Ministry of Health's Medical Marijuana Program and managed efforts on regulation and protocols for medical research.
Alon Sinai, Chief Operating Officer, retired as a senior officer from the Medical Corps of Israeli Defense Force. His most recent assignment was as Head of the Doctrine, Instruction and Training Department where he commanded development of emergency medical facilities, and development of policies.
Jeffrey Friedland is an Advisory Board Member and heads up his own investment company, and is an Seeking Alpha contributor. He is also an early outside investor in OWC. He authored the book: Marijuana: The World's Most Misunderstood Plant. Beyond his extensive experienced in emerging markets, and investment consultancy, his companies own cannabis retail outlets and a growing enterprises in Colorado.
Ziv Turner is Vice President of Sales and Business Development. He brings over twenty years experience in the sales and marketing field from the telecommunication industry.
OWC Pharmaceutical Research's has created a comprehensive business plan that prioritizes activities and expenditures to achieve both short term and long term strategies and goals. These include establishing the capacity and infrastructure to research and market its propriety products.
The company is engaged in research collaboration and license agreements with several organizations, including Sheba Academic Medical Center, Sheba is a university-affiliated hospital that serves as Israel's national medical center and considered by many as the most comprehensive medical center in the Middle East. Studies will be conducted at the Sheba facilities to explore the effect of formulations on multiple myeloma, psoriasis and fibromyalgia (a specific formulation to each indication).
Previously, OWC developed a proprietary, cannabinoid-enriched sublingual tablet for the administration of medical cannabis. It allows for the ingestion of virtually any dosage of medical cannabis with a sublingual delivery mechanism. In such a case, the compounds are absorbed directly into the patient's blood through oral epithelial tissue. Further, this delivery system permits a physician to accurately monitor the dosage and treatment of each individual patient.
It has initiated a Memorandum of Understanding with Emilia Cosmetics Ltd., a large Israeli private label manufacturer, for the development, manufacture and marketing of a unique cannabinoid-based topical cream to treat the autoimmune disease psoriasis. This may be one of the first controlled tests of this type of product for this affliction. The clinical testing is primarily to demonstrate safety, and should be of short duration. Therefore, it is quite possible the product will be on the market within a year.
The United States Patent and Regulatory Office has received the applications for eight patents, (provisional patents issued), related to cannabis-based medical products. If all trials are successful, OWC believes that it will be able to retain the intellectual rights and secure patent protections.
OWC has aligned itself with MedMar LLC, based in the United States to establish medical cannabis treatment programs throughout its marketing area. The arrangement includes licensing and cooperative marketing and training throughout the U.S.
Finally, the company provides consulting to advise and assist marijuana businesses. The services include helping government officials, policy-makers and regulatory agencies develop and implement tailor-made comprehensive medical cannabis programs. Also, it offers medical cannabis regulatory compliance and patient-care consultancy services.
Longer-term objectives for OWC are to obtain approvals for cannabinoid-based drugs in North America and Europe. This would involve trials and double blind studies under U.S. Food and Drug Administration and other agency protocols. With successful award of regulatory approval, which OWC is actively pursuing, the company's cannabinoid-based drugs would be available through traditional pharmaceutical distribution channels, including pharmacies to treat a wide variety of medical conditions.
It all looks good. Right? Time to pull the trigger? Oh, Oh, Hold on Speedy! There are some issues to consider. Caution is in order.
First, BIG plans usually require BIG money, particularly in pharma. OWC may have sufficient capital to begin and continue research on a smaller scale as outlined above. But, it seems additional capital will be required to do the big ticket testing and trials, and aggressively market the successfully approved therapies.
Secondly, OWC Pharmaceutical Research Corp. outlined in its September 2016 10Q report the risks of the pharmaceutical research business. It said:
Clinical trials are expensive, time consuming and difficult to design and implement. We, as well as the regulatory authorities in Israel and elsewhere, such as an IRB (Helsinki committee), IMCU - Israel Medical Cannabis Unit, or the FDA, may suspend, delay or terminate our clinical trials at any time, may require us, for various reasons, to conduct additional clinical trials, or may require a particular clinical trial to continue for a longer duration than originally planned.
The company went on to list over 10 possible problems that would cost both time and money. Several could actually invalidate or nullify the possible use of the product as a medical therapy.
Then, of course, there is the legal issue. Marijuana is still an illicit schedule 1 substance at the United States federal level, This is true even though a majority of individual states have legalized it, or a derivative in one form or another. This illegality causes significant business problems. These are in the areas of banking and taxation, and affect business expansion, location and marketing opportunities.
In conclusion, the market expansion is very exciting to watch, and certainly has grabbed the attention of US Investors. It is still an immature industry. That being said, OWC is approaching it in a sophisticated manner, with a very experienced management team. As a bet, this stock at less that a $1.00 per share, should be seriously considered. It is not unlike an option or future, with the possibility that such an investment may be lost. Remember that this is a low float stock at this time, vulnerable to wide variation. However, as the company fulfills its plans and aspirations, an upside is quite possible, and could be rewarding in both the short and long term.
Disclosure: I/we have no positions in any stocks mentioned, and no plans to initiate any positions within the next 72 hours.
I wrote this article myself, and it expresses my own opinions. I am not receiving compensation for it (other than from Seeking Alpha). I have no business relationship with any company whose stock is mentioned in this article.
Additional disclosure: Not investment advice. I am not an investment adviser.
Disclosure: I/we have no positions in any stocks mentioned, and no plans to initiate any positions within the next 72 hours.