The title paraphrases Mark Twain's quote and is certainly appropriate for AgriEuro Corporation,(OTCPK: EURI). Currently trading at a little more than $0.02 a share in early 2017, having fallen from over $2.00 a share in mid 2015, one would think this company is toast. But is it? Let take a look at the company today, what is has done, what potential exists, and what might be the constraints. Then decide.
AgriEuro Corporation started its existence in June 2015, after a series of stock exchanges various entities in July 2015. In the process it assumed the business assets of the previous firms. These were located on the UNESCO World Heritage Site in the country of Romania. It is a 1,700 hectare area located in the Danube Delta, where the river meets the Black Sea. It is the largest and considered the best preserved of all European deltas, having well over 300 species of birds and 45 species of fish.
The company is organized to do business in agriculture, aquaculture and hospitality and tourism. It operates a reed farm on over 700 hectares, (1,600 acres), and a fish farm that spreads over 1,000 hectares, (2,400 acres). In addition, it has four existing buildings that are on two and one half acres on the shore of the Black Sea. It operates the Island Holiday Complex that is located inside the Natural Reserve of the Danube in the Channel Area. In addition, the property includes a significant number of infrastructure upgrades made in the late 1970's and 1980's to facilitate the reed harvest and aquaculture businesses, including dams, levies, etc. Maintenance and repair of these facilities are needed, but provide much of the basic topology for both reed farming and aquaculture.
This venture started when an AgriEuro predecessor company entered a concession agreement with the local government of the Tulcea County in 2014. This agreement allows the company to do business and engage in trade for a minimum of 10 years, with an extension of five additional years if it makes a substantial investment to improve the structures on the property. AgriEuro has made the appropriate payment for improvement and therefore has extended its arrangement for a total of 15 years. It is not known at this time if this concession can be extend further.
During 2016, only reed farming produced revenue. The reeds are used for insulation and roofing throughout northern Europe. Reeds grown in the Danube Delta are in great demand. Beginning sales of its winter crop in June, it has completely sold its entire harvest for 2016 and has in hand multiple requests for addition product in following years. This first year, AgriEuro had not acquired automated harvesting equipment, having to rely on mostly manual labor. The net effect was a reduction of 85% of the potential yield, and increasing the cost of the harvest. For the first 9 months of 2016, revenue from the reed farming was $144,000 at a direct cost of $63,000. The gross profit of $82,000 represented a gross margin of 57%. With the addition of automated harvesting equipment, this margin should be maintained or even improved, resulting in a possible revenue of approximately $960,000 and gross profit of at least $550,000. Expansion of the reed farming acres, very achievable with automation, will substantially increase both revenue and gross profit.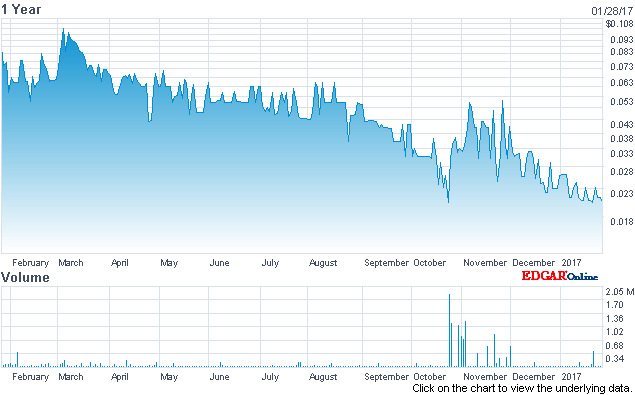 A second source of revenue and income is the rehabilitation and new construction of vacation accommodations and amenities. Ultimately, the buildings located on the Black Sea coastline, the Island Holiday complex and the planned new construction of cabins will accommodate approximately 600 + guests daily. The company has engaged Tehnomontaj, a large Romanian construction company, to design and prepare the plans for a resort project. This included Geo-technical studies and 2C mapping for a layout of holiday cabins on existing cabins. They will be designed for the 5 acre site and constructed using AgriEuro reed roofing and solar panels, consistent with the plan to be green, energy efficient and blend in with the surrounding nature. Additionally, the company plans to commission the development on the Black Sea shore. This will consist a hotel and spa where tourists will be able to enjoy a premium beach experience. The cabin and hotel areas will be linked with a 5 kilometer promenade, designed for walking. bicycling, and other modes of environmental transportation. This will allow tourists to easily participate in such recreational activities such as bird watching, fishing and photography.
The third source of revenue and income is aquaculture. It should be noted that aquaculture provides approximately 50% of all fish consumed world-wide. The company plans to efficiently utilize its 25 km dam, tanks and canals to maximize aquaculture production. The current plan is to use the tanks to farm Pike, Crucian, Carp and Bream. The area can also accommodate the harvesting of other non-fish species such as clams, crabs, frogs, ducks and geese. The company has estimated that it will be able to utilize 3.3 million cubic meters of water, with a production ratio of approximately one half kilogram of fish per cubic meter. It can farm about 1,600 tons a year, which has an estimated 2.5 euros per kilogram resulting in potential revenues approaching reaching 4 million euros annually. This does not include revenue available from non-fish sales.
It should be noted that AgriEuro has applied for EU-BIO accreditation for its fisheries. The president is quoted as follows, "This is an accreditation that most fisheries in Europe don't have. It requires that we raise our fish responsibly and will contribute to our ability to sell the product to premium markets, at a premium price."
However, not all is well with AgriEuro. Agriculture, aquaculture and hospitality facilities, are all capital intensive businesses. Capital must be invested, before revenue, and particularly, profit can be realized. However, with sufficient capital, it seems that all AgriEuro business can be quite profitable with minimal cost of goods sold. Reed farming does not require planting and continual tilling nor cultivation. Only harvesting, and then the crop grows back naturally. Once seeded, aquaculture can sustain itself if proper methods are used to balance the environment of the fisheries. Finally, once built, hospitality facilities need only to be maintained and cleaned to produce revenue over the life of the structures.
AgriEuro needs capital to invest into its business. Currently it is not producing the gross revenue to cover its administrative and debt servicing cost. Although the company has reported in August 2015, a substantial reduction in operating expenses, (58%), it is not generating enough gross revenue to reflect a positive result. More capital will allow it to increase revenue, marginally increasing its cost of goods sold and operating expenses.
AgriEuro is currently trading at an all-time low (2 cents per share) with a current market cap of approximately $6 million but has approximately $4.1 million in tangible assets on the books. Based on that, I believe that the company's share price is currently undervalued and trading at a considerable discount especially when we factor in that its stock price was at over $2 per share in 2015.
The company has all in place to show a positive annual income from operations, service its debt, current and future, and return value to stockholders. The main hurdle is capital generation, through either fundraising, partnering, or other means to allow it to invest sufficiently in expanding its business.
Disclosure: I/we have no positions in any stocks mentioned, and no plans to initiate any positions within the next 72 hours.
I wrote this article myself, and it expresses my own opinions. I am not receiving compensation for it (other than from Seeking Alpha). I have no business relationship with any company whose stock is mentioned in this article.