Airborne Wireless Network Inc. (OTCPK: OTCQB:ABWN) is a "disruptor" and one way or another will change wireless transmission. The stock price is beginning to reflect this and has moved from $0.25 in July 2016 to approximately $3.00 today, over 1000%. Many will soon be writing about this stock. Let's review some movement in this development company.
Airborne Wireless Network is a new player in the space of world-wide internet communication. It has created a product labeled Infinitus to be used on existing aircraft to replace low-earth orbit communication satellites. The company states that this product will provide a low-cost, broadband wireless communication infrastructure, by using and modifying existing, small, lightweight, low-power, low-cost microwave relay station equipment on board commercial aircraft. In combination with ground stations, Infinitus will create a "digital superhighway in the sky." It is intended to replace, compete with and compliment undersea cables, ground based fiber and low-earth orbit communication satellites.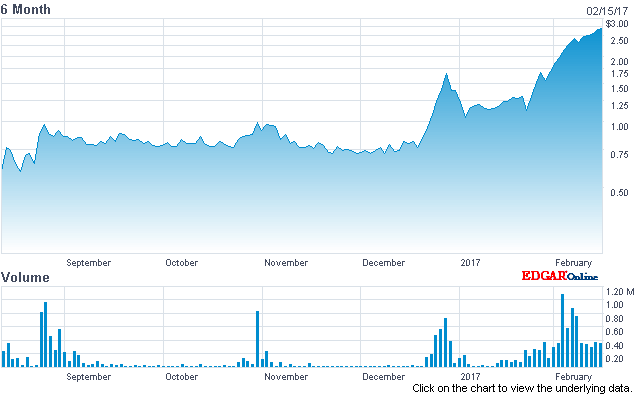 A daunting task! Where is the competitive advantage? Actually, there are two. Both relate to cost of service.
First, as new software becomes available, Infinitus can be easily updated with new software as it is upgraded. It may be as simple as replacing a single module, making ready for the future. Satellite technology, on the other hand, often becomes out of date, and once the satellite is launched, the software cannot be upgraded easily or in a cost effective manner.
Second, Infinitus can provide service anywhere in the world where airlines fly or where it can locate an inexpensive repeater. Presently the company is looking at aircraft, but seems also to be able to install repeaters on ships at sea, trucks, oil rigs, etc. At a modest cost, it seems able to provide wireless infrastructure to the most isolated continental areas, as well as remote islands and rural areas.
The key to this company's launch was its acquisition of a patent. The patent is its most valuable asset, and will make it a contender in this space. It warrants discussion. US 6,285,878 B1 was issued in September 2001. AWN has acquired this patent for an initial payment, and continuing royalty. The current patent has a 20 year life to 2021. It describes in detail the use of aircraft to form a chain of seamless airborne repeaters providing broadband wireless communication gateways along the entire flight path.
The patent might actually be seminal in nature. It has been referenced by 163 later patents, while citing only 19 as prior art. Follow-on patents were granted to the likes of Motorola, Sprint, Rockwell, AT&T Wireless, Honeywell, Boeing, IBM, and Microsoft among others. It seems any other company seeking to use aircraft as repeater stations will have to contend with the Airborne Wireless Network patent. It has not as yet been tested in court, but given its seminal nature, it value should still be recognized. The problem is that the current patent has only four more years of exclusivity. The company would be wise to do additional patent work, make modifications where needed and extend the exclusivity as much as possible.
Since July, the company has been aggressively creating the infrastructure, solictiting partners and recruiting management to create its business. It has partnered with Concept Development Inc, to manufacture Airborne's equipment; In-Flight Canada for system design and installation; and, a MOU with Jet Midwest Group to provide test aircraft for FAA Certification. It has entered into a contract with Areo Certification and Engineering, an FAA consulting firm, and retained an FAA consultant to prepare for certification. It has received a FAA Project Number for its Supplemental Type Certificate (NYSE:STC) application to install a Broadband Transceiver System on Boeing 757-200 aircraft.
In December 2016, ABWN negotiated a MOU with Electric Lightwave Holdings, Inc. to provide the ground segment of the Infinitus network. Lightwave is a network service for the western US though a 12,500 mile fiber optics cable and data centered network.
Also the company negotiated a MOU with Air Lease Corporation to be an exclusive, strategic marketing partner. The plan is that it will use its extensive network of airline customers to market to multiple airline customers throughout the world. In addition Air Lease owns 240 of its own planes on which the repeaters can be installed.
Marketing efforts are increasing. Television advertisements are now airing to promote both the flexibility and cost effectiveness of the Airborne technology.
As of November 30, 2016, the company had approximately $1.3 million cash on hand, and less than $200 thousand in liabilities. It has successfully raised about $1.5 million in private placement, and presently is using both stock and options to compensate its senior personnel. Raising capital will become an issue, yet the company is creating operational capacity and is adding senior managers and advisers who add credibility to this effort, including one of the founders of Packard Bell.
It is important to note, that a world-wide internet is not a new idea. Iridium Communications Inc. states it offers complete coverage with its network of 66 low earth orbiting (NYSE:LEO), cross-linked satellites. It currently has approximately 800 thousand subscribers, with its major customer being the US government. Its cost has caused some users concern. Additionally, a decade ago, the FAA did demonstrate a similar technology called Airborne Internet. It conducted a series of flight tests using aircraft and ground stations. At the time, however, it seems airlines could not put together a business case for using such a system. In addition, SpaceX has also demonstrated an interest in deploying a satellite communication service though its application for space station authorization with the FCC.
Airborne Wireless Network Inc. is less that one year old, yet it has accomplished significant strides to create an internet pipeline to improve cost effective connectivity. It does not intend to attract retail customers, but rather be a wholesale carrier with customers such as internet service providers and telecommunication companies.
It has a way to go. It will need more capital. But it seems to be correctly approaching the situation, building its capability through proprietary property, partnerships and management. It is a company to watch, and give serious consideration for investment. Where does it go from here? My guess, the stock value will increase. If it is able to demonstrate its system, and is able to extend its patent through modification and enhancement, its value will increase substantially. Watch closely.
Disclosure: I/we have no positions in any stocks mentioned, and no plans to initiate any positions within the next 72 hours.
I wrote this article myself, and it expresses my own opinions. I am not receiving compensation for it (other than from Seeking Alpha). I have no business relationship with any company whose stock is mentioned in this article.