Summary
Four Economic Indicators are used to describe the current economic profile.
Using historic economic profile data, periods of expansion and contraction within the business cycle were created and labeled.
A Bayesian network was then used to relate the current economic profile to the highest probability fit business cycle phase.
ITN analysis shows that we are currently at the very end of Phase 2 or the beginning of Phase 3 of the business cycle.
Establishing the current phase of the business cycle helps investors determine their investment risk and sector allocation scheme. In this study the current rate of change for four economic indicators were obtained from the St. Louis Federal Reserve Bank - FRED. The four indicators used were:
The Yield Curve Spread (GS10 - TB3MS)
Wage Activity (PAYEMS)
The Labor Market (UNRATE)
Leading Economic Indicators (USSLIND)
As an example a view of the current yield curve spread relative to the created business cycle phases is given below.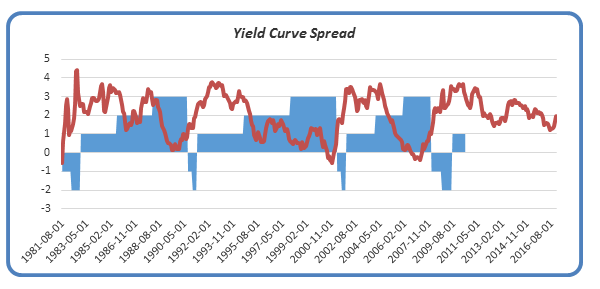 The economic data was then binned to look at its individual position relative to historical data. From the binned data the current economic profile and relative historic position of each indicator can be seen.

The current economic profile was then compared to historical data and the business cycle phase predicted.
The ITN Bayesian network data indicates that the current business cycle is at the very end of Phase 2 or the very beginning of Phase 3. The graph below depicts Phase 3.
Bottom Line
The stock market has been advancing for almost 8 years. This long advance makes one wonder if we are near the top of the business cycle. The ITN analysis would suggest that we are approaching the final and third phase of the expansion. We also have a number of other indictors to assess market risk. At present the economy looks like it has room to grow.
You can learn more at itneconomics.com where data and a prediction for business cycle phase are updated monthly .
Disclosure: I am/we are long SPY.
Additional disclosure: ITN,LLC is not your financial advisor and does not provide you with financial advice. The information given is NOT for the purchase or selling of securities. This publication is for educational purposes only and not to be construed as an offer to buy or sell securities of any kind. All investors should consult a qualified professional before trading any security. The information provided has been obtained from sources believed to be reliable but there is no guarantee as to the accuracy or completeness of the data and conclusions given.