Chipotle Mexican Grill (CMG) used to be Wall Street's favorite fast food growth stock, that was 2 years ago, since then, the picture has changed dramatically. Although they are no longer affected by the myriad of health related problems that engulfed the company in 2015, Chipotle has not been able to recover and return to it's former glory. Just 2 years ago, shares traded north of $750, today they trade at $419, a 42 percent difference. New leadership and board members such as Bill Ackman have so far failed to make any progress in turning the company around. Chipotle's ramped up marketing efforts have been costly and have, in general, failed to fix Chipotle's tarnished brand. Recently, Chipotle issued a dire sales forecast which sent Chipotle's stock price tumbling down reaffirming the negative trajectory the company is on. It seems like things will get worse before things get better.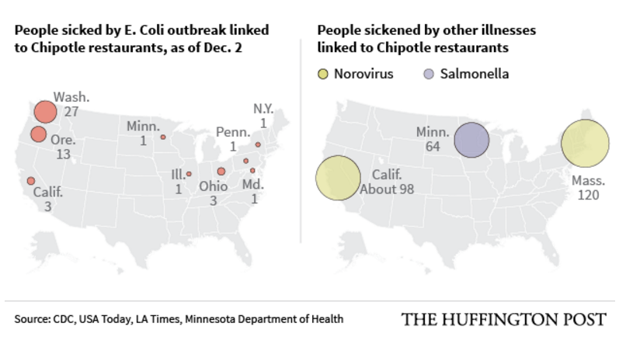 In 2015, Chipotle experienced health scandal after health scandal, it seemed like it would never end. People began to get sick after eating at Chipotle, outbreaks of food poisoning began happening everywhere across the country. People came into contact with pathogens such as E-coli, Norovirus, and Samonella. These outbreaks were not centralized too, they occurred everywhere in the country ranging from Massachusetts to California. In the end, there were over 500 people with confirmed cases of food poisoning across the country. 

Chipotle scrambled to try to mitigate the fallout from this disaster and win back consumer trust. Chipotle completely changed their food preparation and handling practices while also implementing internal safety training for their employees. Produce now also goes through DNA-based safety tests in order to certify that they are free of any potential pathogens. With new safety programs and standards along with an expensive marketing campaign to win back customer faith, Chipotle shareholders were optimistic about the potential turnaround. 
However, Only recently has Chipotle shareholders managed to see any real turnaround progress. They beat first quarter earnings expectations easily, but when you look at the big picture this beat was not that impressive. The beat came after Chipotle missed analyst expectations for every single quarter in 2016. Chipotle still is not making as much revenue as they used to when you compare last quarter to the same quarter two years ago. Diluted EPS for the first quarter of 2017 was also $1.60, two years ago, they reported a first quarter diluted EPS of $3.88. Net income for the first quarter of 2015 was $126.6 million dollars while net income for the first quarter of 2017 was a mere $46.1 million dollars. New marketing campaigns and customer deals to increase sales are hurting earnings margins significantly. It should also be noted that even though revenue is nearing 2015 levels again, Chipotle has added more restaurants since 2015. So, when you factor in the new stores, Chipotle's revenue growth is inorganic and not that impressive. The expenses from these new stores and other marketing/promotional campaigns will continue to add up, it is hard to say if this type of cash fueled growth is actually sustainable or not long term. Once these expensive marketing campaigns and customer promotions end, the hard part will be retaining customers. If this becomes the new normal, it put's Chipotle's entire valuation into question.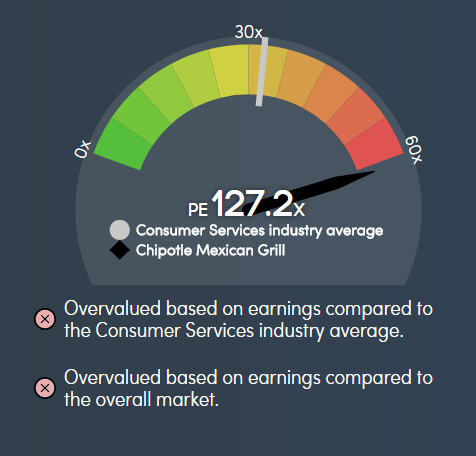 Image Source- Simply Wall Street
Chipotle is currently trading at a PE ratio of 127.2, well above the customer services industry average. Analysts are expecting a lot of growth in the next two years to justify the price. It is impossible to say whether or not Chipotle can produce the growth the market is currently pricing in. For value investors, buying Chipotle stock would make no sense, even for growth investors, it is not looking good. 
On the 20th of June, Chipotle issued a grim sales warning, Chipotle stated that same store sales would increase in the high single digits over 2016 levels. This fell below most analyst expectations, the consensus analyst expectation on FactSet was that same store sales growth would be in the double digits. As if that was not enough bad news, Chipotle also announced that second quarter marketing/promotional costs would see a 0.20 to 0.30 percentages point increase from the quarter before. With operating expenses up and sales lagging below expectations, it is hard to say that Chipotle is recovering. Analysts cut their price targets and earnings projections following this unexpected announcement further adding fuel to the fire. Chipotle shares are down over 9 percent since the announcement. 
With Chipotle shares trading near the $400 range, it seems like a good entry price. But, if you dig deeper, Chipotle still faces growth problems and has not been able to recover from their health fiasco in 2015. Unless Chipotle consistently produce earnings which exceed analyst expectations and improve profit margins, Chipotle is fundamentally overvalued. We give Chipotle shares a strong sell rating and a short term price target of $375. 
Disclosure: I/we have no positions in any stocks mentioned, and no plans to initiate any positions within the next 72 hours.