Amazon - An Urge To Expand Its Horizons
Summary:
The gigantic e-commerce brand is providing services to limited countries.
Amazon should pay heed to some developing countries which can prove to be a potential market for growth.
There are some developing countries where consumers are abundant and most of them make good earnings but doesn't have much to get as the resources are scarce.
People in the developing countries trust Amazon and wants to utilize its services
The Current Structure:
Lucky are those people who get what they want from Amazon. The story is all way around in the developing countries. Amazon is currently serving limited countries; it serves only 3 countries in Asia which are China, India and Japan. In Europe it is providing services to 6 countries which include France, Germany, Italy, Netherlands, Spain and United Kingdom. Countries like Australia and Brazil are also enjoying the services of Amazon. North American countries being benefitted from the services of Amazon are Canada, Mexico and the Unites States, which is a home to the company. Even economically stable countries like UAE, Saudi Arabia, Turkey and many more lacks the privilege of shopping at Amazon.
What Makes Amazon So Special:
The world has witnessed an upsurge in online shopping because of its convenience. Amazon being one of the pioneers of online shopping touched the heart of millions by providing extraordinary services. By the passage of time Amazon observed enormous growth, the services simultaneously grew with it. Great quality and huge variety is one of the factors of Amazon's success which only a few can deny. Providing services initially to the United States, The Company then expanded its operations to some other countries. Leaving the developing countries behind
A Call For Heed:
There are some potential countries which can prove to be lucrative for Amazon. Middle East is specifically the region which requires utmost heed. United Arab Emirates and Saudi Arabia are one of the wealthiest countries in the world where online shopping is growing steadily. Stats reveal that 72% of Middle East online consumers made their first online purchase within the past two years. Moreover, it has been found that 63% of Middle East consumers are willing to pay for same day delivery. However, people in the Middle East are found reluctant to shop online due to lack of trust but here Amazon can play a vital role. The general perception about Amazon among the people in the Middle East is impressively positive.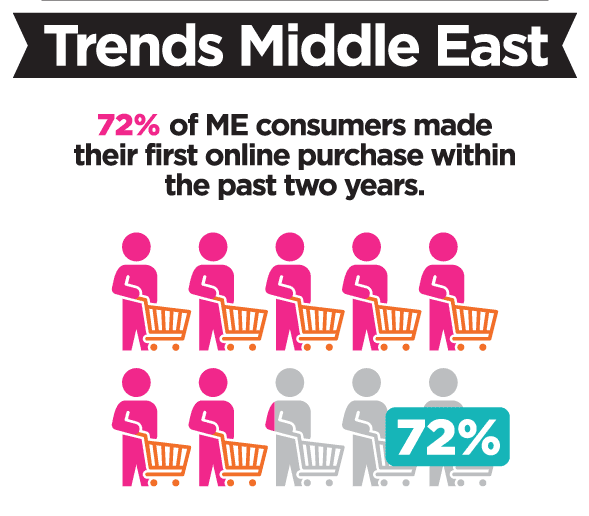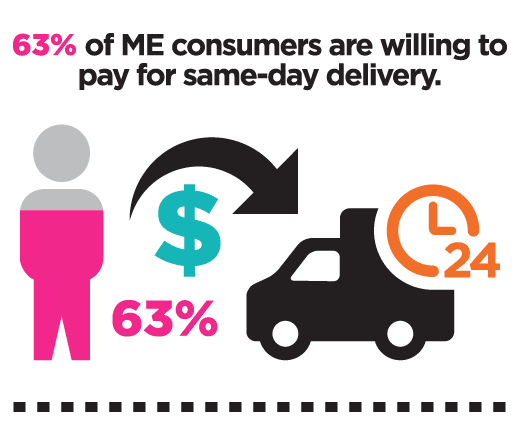 The aforementioned pictures show the potential of the Middle Eastern market. Amazon should now consider it as an imperative to grow its business out of the current jurisdiction.
Prudent Measures Are Required:
Never settle even if you have achieved more than you desire, there must be an urge for more. This urge keeps us alive. We have seen this kind of philosophy in the eyes of shrewd entrepreneurs, who with their leadership and dedication has made our world a better place to live in. With the rise of e-commerce industry, we have also witnessed other entities which have grown up to be an empire. Alibaba.com is one of them. For me the best part of Alibaba.com is its worldwide approach, which makes it an e-commerce giant. For now, we have found Alibaba.com as the only justified belligerent to stand against Amazon. Alibaba.com a company based in China provides services worldwide making it a true competitor of Amazon. The daily sales made at Alibaba.com are much higher than Amazon's. Alibaba, of course, has a much larger customer base: There are about 1.4 billion people living in China, compared to 319 million in the U.S. But still Amazon has to play prudent if it wants to retain the title of the leading e-commerce site.
Conclusion:
Amazon surely needs to expand its operations and should take keen interest in investing in developing countries. There is still a huge market undiscovered waiting to be explored.
Disclosure: I am/we are long I WROTE THIS ARTICLE MYSELF, AND IT EXPRESSES MY OWN OPINIONS. I AM NOT RECEIVING COMPENSATION FOR IT (OTHER THAN FROM SEEKING ALPHA). I HAVE NO BUSINESS RELATIONSHIP WITH ANY COMPANY WHOSE STOCK IS MENTIONED IN THIS ARTICLE.