After this year's february's monthly candle turned up it was clear there is not going to be any good for shorts this year. But 2012 could the reversal candle for the entire year, which is I think going to happen.
On the monthly chart we see a clear double top pattern.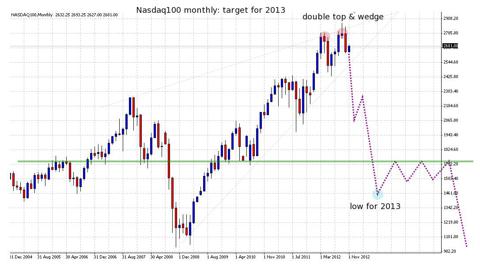 There is also a rising wedge. According candlestick patterns double top will be confirmed by November closing down. However, the wedge still has space to trade and close December up inside November's candle. But whatever the outlook will be, the top on US indices is in, so a short position can be put now. My target for the next year is 1450 level.
Just to remind, this target is calculated as inverse relation to the target on the USD index, which has to achieve either 95 or 105 next year. (Nasdaq's 1450 corresponds to 95 on USD) Fundamentals are deflationary and has been since 2008, but we have a lot of speculative money playing, this why we have years of rising prices on all the instruments.
Good luck to all the bears.