I has been 2 years since USD has stuck in a trading range without any signal at all making it impossible to do some long term trading. But 5 weeks ago I finally sensed a big trend is about to start. However I couldn't call it completely until current week has closed, because there was no clear pattern on the chart, but now it is. So lets see the big picture first. The yearly chart of USD: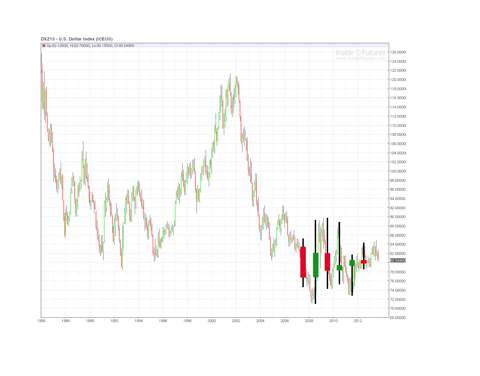 What we can see here, is completely random trading over the last 4 years. and the 5th year being the bullish engulfing candle. So , from here the market could go both ways, the bearish way would look something like this: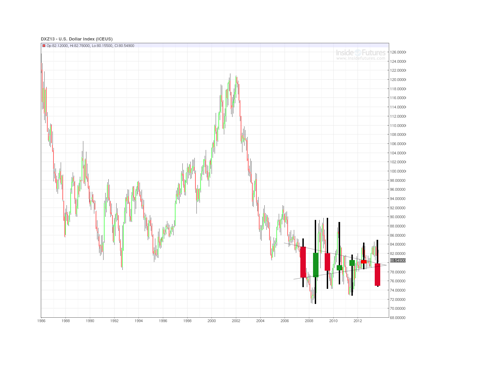 I am projecting a close to 75 on the index by the year end, because it is a major pivot point in a range 50-100. Also, note the triangle here, drawn on the open/close prices, it is pretty clear market is going to do a breakout and start a long term trend from here.
And the bullish case: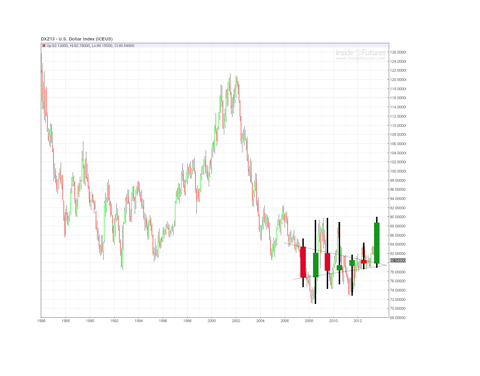 Here I am projecting the year close at around 88 because it is a target aligned with the 2008,2009 and 2010 highs.
Now lets take a close look to EUR/USD pair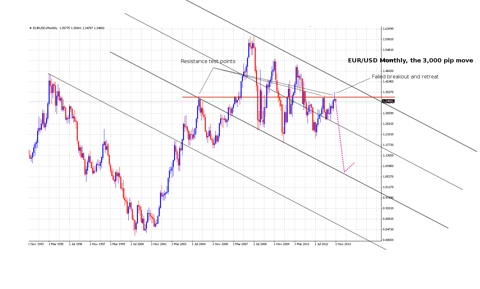 Note that in October, market tried to break a considerable resistance line that has been first marked in 2003, but disrespected later. Well, now this resistance is firmly established. Market tested it twice recently and the last time we had a very clear failure to break it out. Note also, that this attempt happened a the mid-point of the sub channel, which is also a good reversal sign. The channel alignment is also pretty strong it is aligned with trading over 20 years, so these lines have a considerable meaning. And this is why my target for the move is around 1.05 on EUR/USD. Because from that level we could have a considerable bounce.
Now, lets remember my unusual head and shoulders pattern on the euro, which is a "Rotated Head & Shoulder" , my invention, patent pending.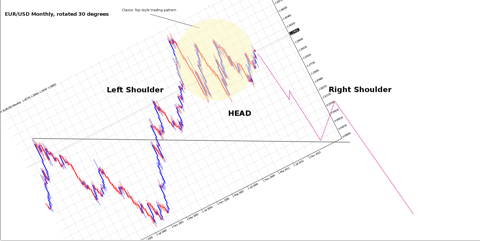 If you see the monthly EUR/USD chart along last 5 years you won't match it to any known pattern, it makes the trader clueless about where the market should go. But if you rotate it, about 30 degrees, you will clearly see the massive head and shoulders top. This is why we can have easily a huge move right to the 0.84 level on EUR/USD during the next 16 months, ending this move in about May of 2015, with a subsequent 2 years of retracement, before advancing further. (the right shoulder) Of course, the neckline may be incorrect, and we could have a bounce from 1.05 to 1.18 but given that we had stuck 4 years in trading range at the bottom on the USD, a 16 months move is more likely than just the minimum 3,000 pip move to 1.05
Good luck and I wish you make many pips on this move
Disclosure: I am long UUP.