Today (like many other subscribers) i received a newsletter to my email from Casey Research.

The subject was:


"The No Risk Precious Metals Investment"


Here is the quote:
What if you could invest in gold — and silver and platinum — in a way that fully protects your principal even if prices fall, yet still gains when they rise?

Sound too good to be true? In fact, we've found just such an investment.

Our associates at EverBank have just rolled out their MarketSafe Diversified Metals CD, a unique product that lets you invest in precious metals with 100% of your principal protected.

Using a virtually risk-free futures strategy, EverBank is able to capture the gains in each commodity without risking any of your principal. It's an investment with:

1. High rewards — if metal prices increase, you receive an upside payment up to 50% of your investment
2. No downside — if metal prices decrease or stay the same, you get 100% of your principal back at maturity
3. Low cost — with a low minimum deposit of $1,500, and FDIC insurance up to $250,000, you can invest the right amount for you

Few alternatives can provide you with the security or piece of mind that owning gold can in these uncertain economic times. Physical gold alone may offer tremendous benefits, but it comes with its risks as well. Diversifying the ways you invest is a key to success in precious metals.

This safe new way to participate in the spot price appreciation of gold, silver, and platinum is an excellent tool for investors looking to capitalize on the gains in precious metals without the risks of other alternatives.


This is amazing. See, when I open a position I have to put a stop/loss, and if I get it wrong I lose. But these guys are geniuses, they have found a solution to all my problems, a NO RISK trade! Where do I sign?
I call it a 'New Paradigm'. It usually appears at the last stage of the bubble, just before the bubble pops: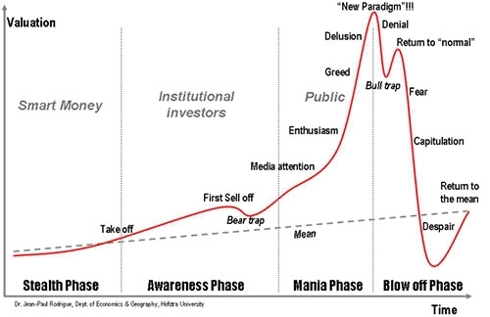 Back in 2007 Everbank sold investors Iceland CDs. These were the results:
On July 8, 2009, EverBank's Executive Vice President, Frank Trotter filed a declaration to the court in response to the lawsuit. In the declaration, Trotter admitted that a total of 225 investors lost $4,007,662.81 as a result of Everbank's forced closing of their Icelandic Krona denominated "CDs". That averages out to a loss of about $18,000 per account.
Source: en.wikipedia.org/wiki/EverBank
Today Everbank is offering gold bugs an instrument linked to a commodity that is highly leveraged and very volatile. How is it going to end? I don't know and that's not my point. My point is 'New Paradigm!!!' is here and it fundamentally supports my
forecast for the top in gold.
Disclosure:
Short Gold and Silver