Quick introduction: Charting the gold's bear market, long term charts
here
Last daily update:
here
Previously I have found a good channel alignment which I liked very much and we have been following it pretty well, but we never broke into the second lower half of it as I have been expecting. This is how it looks like right now: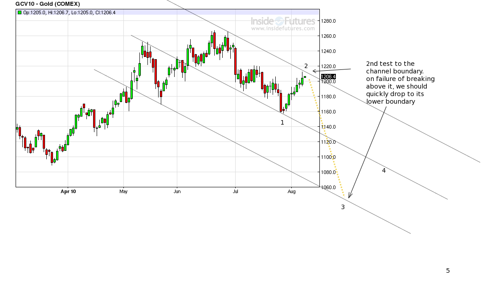 Now, big guys already noted that shorting gold could be profitable, and I beleive they took this chance of gold's pullback to 1200 to short some gold. This , and the other motive is that we had a lot of lag in gold's downside, I believe market is set to do a big move. Here we are talking about 150 point drop in about 2 weeks.
The Elliot Wave count isn't  very clear right now, but if gold is going to make an impulsive wave down, it has to be the third one, so we probably concluded the 1st and 2nd waves, which are labeled. Right now we would do the third wave and after dropping to 1055 / 1045 we would do a correction to the middle channel line and have a stronger move (i beleive this would be wave 5) to break 1060 support for good. I recall, the 1066 level in gold is critical, it is the separator between long term bull and bear trend(as discussed in long term review)
Watch out: if market breaks above the channel, you should cover all your shorts. 1222/1224 is the stop/loss level.
Disclosure:
Short of course