Recommendation:
IPG Photonics Corporation has a lot of room for potential growth. The Q4 report is considered to have higher numbers than previous reports, which can grab the attention of investors, and thus spark an increase in price right before the event. Moreover, the P/E and DCF valuations present values of the stock as $141 and $123, respectively, compared to the current price of $116.38. In addition, the P/E of IPG is lower than the P/E of the industry. This means that IPGP is an undervalued stock with great potential for growth. After the announcement of the Q4 financial numbers, the valuations of the stock will have to be recalculated with high probability of an increase in the intrinsic value of the company. Based on research made in this analysis, IPGP stock is a buy security.
Overview:
IPG Photonics Corporation was established in 1990 and is headquartered in Oxford, Massachusetts. It is the world leader in distribution, production, development, and design of high-performance fiber lasers which are up to 15 times more efficient than conventional lasers, diode lasers, laser systems, fiber amplifiers, and related optical components. The company offers a line of amplifiers and lasers, which are used in medical applications, advanced communication, and material processing (nearly 90% of sales) such as welding, cutting, marking, and engraving. Its fiber lasers are used in 3D printing and telecommunications. IPG Photonics Corporation derives about 85% of its sales outside North America.
One of the biggest concerns of manufactures is that competitors will copy successful designs of their products. IPG Photonics tries to fight this problem by using a vertically integrated production model. It designs and produces all essential components that go into its laser products, Photonics Corporation saves on cost and is able clamp down on security.
Company Data:
| | |
| --- | --- |
| P/E | 24.76 |
| Market Cap | 6.02B |
| ROA (NYSE:TTM) | 13.81% |
| ROE | 18.12% |
| Current Price | 116.38 |
| Stock Market | Nasdaq |
Source: Yahoo Finance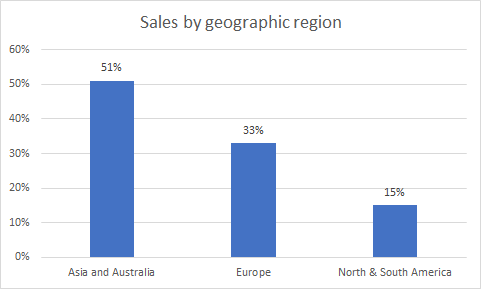 Source: IPG 2016 Investor Day Presentation
Fiber Laser Industry Overview:
In 2016-2020, the global industrial laser revenue is expected to grow at a CAGR of 7.7%. The Chinese market started late, but nevertheless grew radically with a year-on-year growth rate of 18.9% in 2015. This happened for several reasons: China introduced several policies to encourage the development of the laser industry; Chinese enterprises realized technological breakthroughs to break the monopoly of foreign enterprises and intensify the market competitiveness. The market share of fiber lasers is expected to rise from 34.5% in 2015 to 44.3% in 2020 in China. IPG's major sales come from China, thus growth of the laser industry in China is good news. However, increased competition can have a negative impact on Photonics sales in China, especially so in a country that tries to support national production by any means. It is very important to keep an eye on news about Chinese policies regarding the laser industry.
Company Expectations:
The Q4 earnings announcement will take place on February 14, 2017. In the end of January, IPG Photonics Corporation presented a report with expected revenue and earnings for Q4. The company estimates $280 million in revenue for Q4 compared to previously guided range of $255 million to $270 million, and record of $1 billion in revenue for 2016. Also, earnings per diluted share are in the range of $1.39 to $1.42, including a benefit of $0.02 from foreign exchange, compared to previous estimates of $1.17 and $1.32 per diluted share.
Potential Growth:
IPG Photonics Corporation is a recognized leader in the rapidly growing fiber laser market with an estimated 12% CAGR from 2015 to 2020. Expanding opportunities are approximately $4.8 billion for all lasers, which creates an approximate average annual growth rate of 6%. More and more companies are switching to fiber lasers because they provide high beam quality, take up less space, are easily scalable, and have a lower total cost of ownership than traditional CO2 laser systems. Moreover, Photonics has significant competitive advantages, such as:
being a first mover; Having a wide product range; Reliability and performance; Lowest cost due to vertical integrated mode which drives higher growth margin (54.43% as of September, 2016); Strong IP position.
Regardless of the slowing of the world's economic growth, IPG has showed impressive growth numbers. On the charts below, we see steady growth of EPS and revenue for 5 years.
IPG estimates the market of fiber lasers to be 39% of all lasers by 2020, compared to 31% in 2015. This gives plenty of room for IPG to increase its market share.
Moreover, Photonics Corporation can play one of the major roles in 3D printing, with a couple of areas in which it can excel. One of them is that lasers allow 3D printers to melt metal powder, which results in greater design complexity than traditional methods like casting. Another area where IPG is looking to exceed in is metalworking applications for 3D printing, because high-power lasers can turn an existing piece of raw material and burn away unwanted layers to create a desired form, instead of adding material step by step like traditional 3D printers. According to Wohlers Report, the 3D printing industry has grown by $1 billion for the second year in a row, to a total of $5,165 billion.


Source: YCharts
Other Opportunities:
Laser projection for entertainment is a $50M opportunity (advertising campaigns, theme parks, concerts, other performances); Cinema players want to upgrade image quality and overall moviegoers experience (~200M opportunity) The Flat Panel market is an opportunity for IPG UV fiber lasers ($500M opportunity);
Major Shareholders:
As of the 7th of February, there are several shareholders who increased their share in the IPG Photonics Corporation. Some of them are DekaBank +2,500 shares; BancorpSouth +66 shares JPMorgan +807 shares and others.
Corporate insiders own 34.20% of the company's stock, valued at approximately $36,657,169.50. This indicates that the company's employees own a big enough piece of the corporation to keep them motivated to work hard on the value of the stock.
What Analysts Say:
Zacks Investment Research moved shares of IPG Photonics Corporation from a "hold" rating to a "buy". Also, Needham & Company LLC increased their price objective from $110 to $120 and rated the company's shares as a "buy". Other companies that gave "buy" ratings to IPGP were Benchmark Co., and Summit Redstone. Similarly, according to Yahoo Finance, 4 out of 12 analysts rated IPGP as a "strong buy". The same number of analysts rated it as a "buy", and the other 4 rated it as "hold", which gives IPGP stock rating of a "buy". Analyst estimate that the company will have a growth rate of 12% for the next 5 years.
Decision "Buy" or "hold" using DCF and P/E:
The P/E of IPG is 24.75, while industry average is 29.9, according to Morningstar, which means that the stock is undervalued.
The P/E and DCF support that IPG Photonics Corporation is an undervalued stock, giving valuations of $141 and $123, respectively, compared to the current price of $116.38. The WACC I got from my calculation is 1.96%, and it is used as the discount rate. For the DCF valuation, I used 15% expected growth rate, because given the opportunity said in this analysis I believe that the company will exceed expectations. Moreover, taking into consideration steady growth, opportunities in China, introduction of new products, and more industries interested in the products that IPGP offers, the Photonics Corporation can be a great long term investment.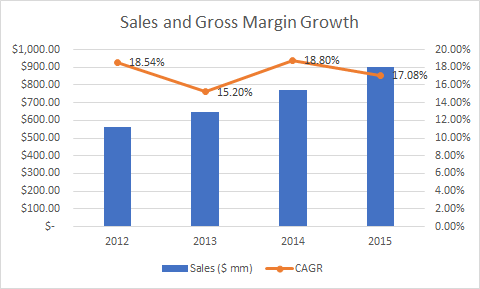 P/E valuation: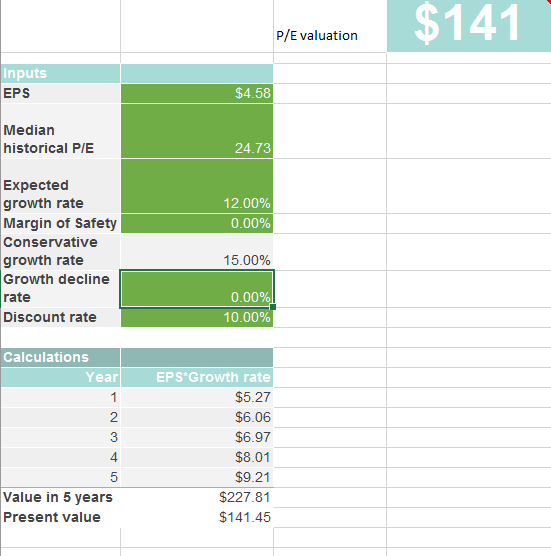 DCF Valuation: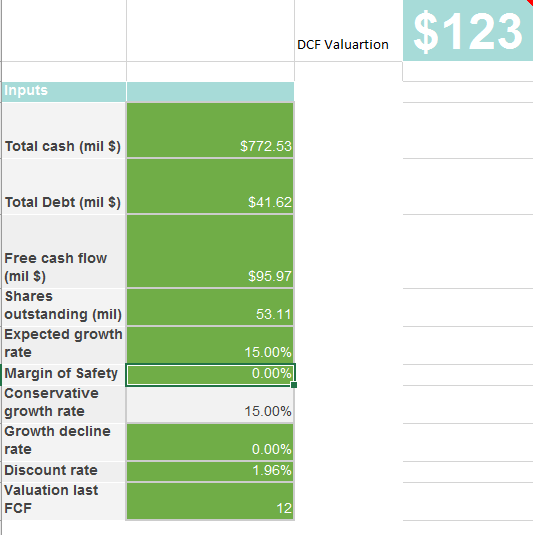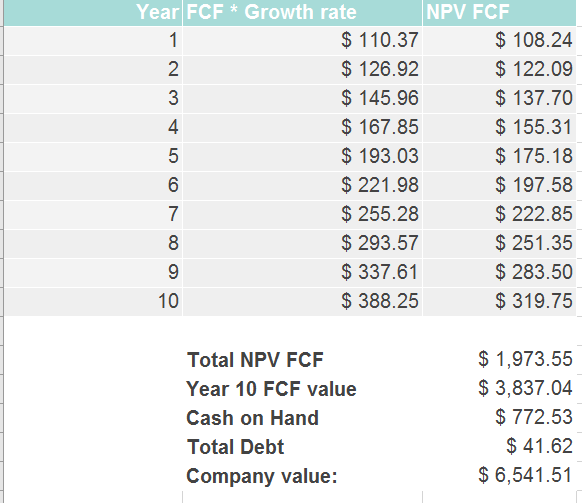 WACC: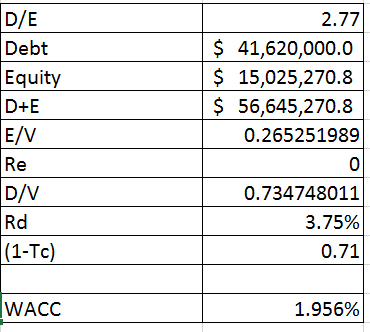 Disclosure: I/we have no positions in any stocks mentioned, and no plans to initiate any positions within the next 72 hours.
I wrote this article myself, and it expresses my own opinions. I am not receiving compensation for it (other than from Seeking Alpha). I have no business relationship with any company whose stock is mentioned in this article.