Everybody's seen the headlines about the death of retail investing, the "retail apocalypse." A Bloomberg story from earlier this month summarized the phenomenon:
"In the last 48 hours alone, several shopping-center staples unveiled plans to trim their footprints across the U.S. Gap Inc. said it would slash the store count of its struggling namesake brand by 230 locations over the next two years, just hours after J.C. Penney Co. confirmed it would shutter 18 department stores. That news came on the heels of L Brands Inc.'s decision to close 53 Victoria's Secrets in North America this year. And it's not just apparel: Tesla Inc., whose galleries are often inside shopping centers, just said it's moving all its sales online."
[Source: Bloomberg]
After reading stories about Toys "R" Us and Sears shutting down stores, not to mention the disappearance of malls, you might wonder why you should invest in retail at all.
While the "retail apocalypse" story is true in part, it misses a major trend: some tech companies, Apple in particular, are expanding their retail locations.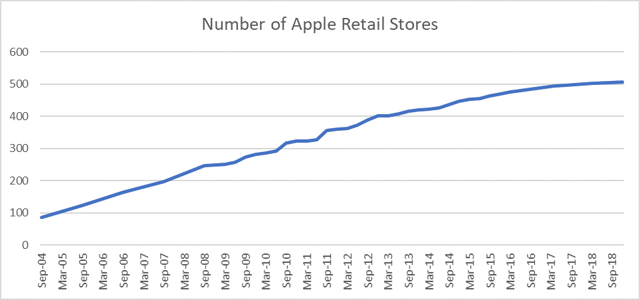 (Source: Bloomberg, Bowyer Research)
Apple has been consistently increasing its total number of stores, even as sentiment about retail has become more pessimistic. Some tech companies, in this case Apple, are to some degree revitalizing that sector.
As we see, Apple is busy opening physical stores, which tells us that they still see potential in brick-and-mortar retail. We can also learn more from Apple by looking at where they're opening stores.
As you can see in the chart below, our index, PPTYX, tends to be overweight in the locations where Apple stores are most prevalent.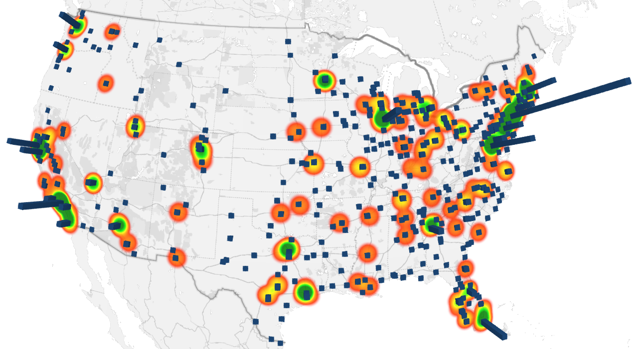 (Source: Apple Inc., Vident Financial, Bowyer Research)
This a heatmap of Apple stores overlaid with PPTYX weightings. The green locations represent a higher concentration of Apple stores, and the blue bars represent our weighting in that city.
We can infer from this heatmap which cities Apple sees the most potential in. Naturally, Apple would build stores in the cities where they expect to make the most money, and those places where Apple evidently anticipates the highest return on their investment also tend to be the cities where our index is highly invested.