A snapshot of PV industry
In the past decade, there has been a large increase in the production of PV products. Such growth can be attributed to Chinese companies backed by Chinese government loans, tax credits and other incentives. The result, a decrease in selling prices and bankruptcies for many solar companies.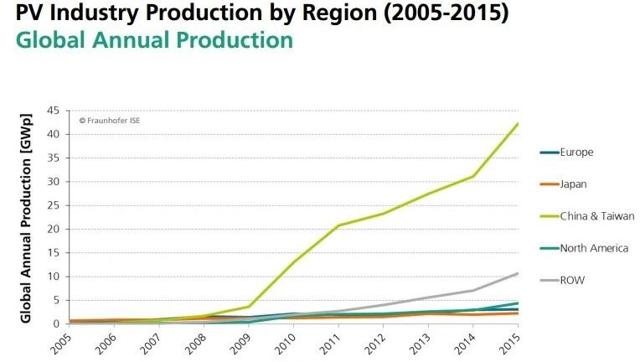 Source: Fraunhhoser ISE
Thin-film solar modules make up about 5% to the total production.
About FSLR
First Solar (NASDAQ:FSLR) is the largest global provider of thin-film PV modules. They design and manufacture thin-film CdTe solar modules, which are then sold separately or as part of a larger solar power system. Their business model focuses on being one of the lowest cost producer in the industry. They are currently in the process of developing a new cost-efficient solar module dubbed "Series 6".
A company facing macro and micro headwinds such as; the departure of two key directors, highly competitive market experiencing a supply glut, decrease in PV solar system projects, insider selling and uncertainty over "Series 6" development and future success. These are some of the many factors that have turned the market against FSLR and resulted in a depressed price, an opportunity.
Returns & margins
The continuous decrease in price for solar modules has had a large impact on FSLR's solar module margins and a slight effect on PV systems margins.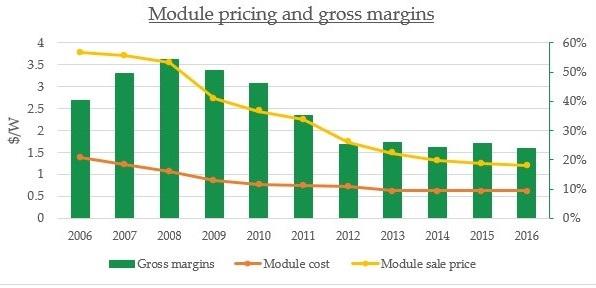 Source: Company filings
As a technology company in a competitive industry, FSLR unsurprisingly has a history of volatile earnings. So far, changes in earnings have been erratic, moving from one extreme to the other in a cyclical nature.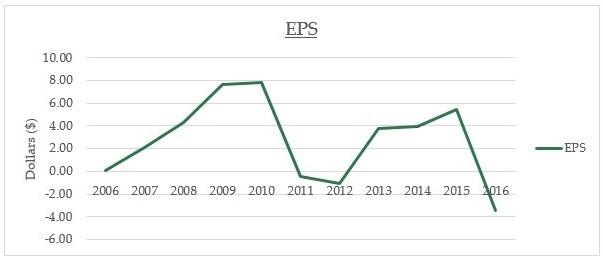 Source: Company filings
Although 2016 produced disappointing earnings, it is important to remember that a large sum of $640 million ($6.4 per share) was charged as an asset impairment. A non-cash item with no effect on the business fundamentals. Between 2015 and 2016 solar module revenues rose by almost 200% from $227 million to $675. The reason being a 211% increase in the volume of watts sold, a glimmer of hope in terms of future demand.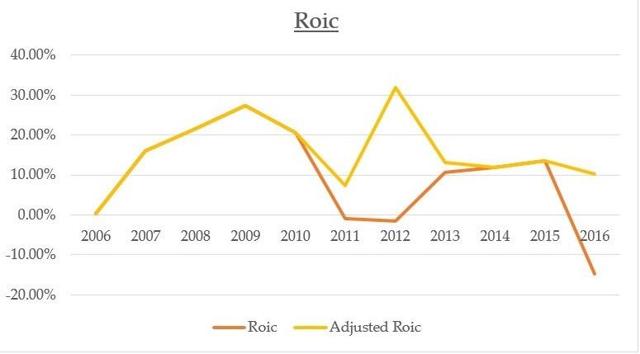 Source: Company filings
Above, is the typical historical ROIC (Return on invested capital) chart for any business that has experienced high returns on capital without a protective moat around its business model. Attractive returns will always attract competitors if there are no barriers to entry. Being the lowest cost producer only works as a moat when no competitor can match your skill at decreasing costs.
The good news is FSLR has been earning a reasonable ROIC around 10% when adjusted for one-off charges unrelated to business performance.
Uncertainty
2016 saw the departure of former CEO James A. Hughes and president of international business development, Joseph Kishkill. Experienced former Enron employees who had extensive business know-how in the energy sector and connections in the emerging markets. From their start in 2013 until 2016, FSLR managed to secure many projects that amounted to 1400+ MW. At the end of 2016, FSLR only had two projects amounting to 275 MW.
The frequency of insider selling and the number of stock grants has been disheartening. Management has been behaving like a bunch of swing traders and the CEO seems to be supporting this behavour. The trades may be small but the frequency is too much for a group of individuals who should be focused on the business. Management refusing to buy shares with their own money shows a lack of confidence in the business and leads to a formation of negative sentiment across market participants.
Growth
We are unsure whether FSLR can beat its 2016 volume of watts sold this year, it's still unclear when the markets will begin to balance out. However, the fact remains that the solar industry is growing and will continue to do so at a rapid pace and FSLR needs to remain in a position where it is able to survive longer than its competitors.
Valuation
A large portion of FSLR's balance sheet consists of multiple line items related to its project assets. We believe the value of some of these line items to be severely overstated, especially for a company with few projects in the pipeline and an unclear future. That is why we have opted to discount most of their assets. Thus, lowering our chances of getting excited over what could possibly be a value trap. It is also important to remember that most assets lose their value if a company has little use for them. We would not be surprised if FSLR were to engage in numerous asset write-downs due to inhospitable business conditions.
The adjustments we made were simple. We subtracted $575 million cash, the midpoint between the company's expected capex of $525 - $625 million. Current assets with the least liquidity were given a 30% discount and non-current assets where given a 40% discount. We believe these are conservative values we can rely on should FSLR decide to sell some assets in efforts to cut costs.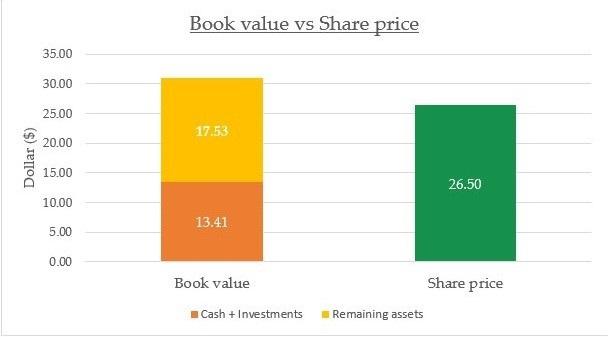 Source: Company filings
FSLR trades at a 14% discount to BV. Cash and investments account for 44% of total book value, this liquidity provides a good foundation.
Conclusion
FSLR is a company that has experienced one too many setbacks and continues to face many headwinds. The departure of key directors and insider trading behaviour make it increasingly difficult to support a company whose management seems to lack focus. This is the stage where the share price should be the last thing on the minds of management. It is unclear how well the "Series 6" solar modules will perform, a risky endeavour in a market experiencing a supply glut.
All this drama spawning from uncertainty is the reason why we believe FSLR is currently selling at a discount, which could possibly continue to increase. Although there is a lot of uncertainty, this is not the typical high uncertainty, low risk stock. But we believe the risk/reward is worth it at these low prices.
The solar industry is not stopping, FSLR is a cash rich global leader with low debt. If it can survive long enough for business conditions to improve, this asset play can turn into a growth play.
Thank you for your time
Supporting Documents
Disclosure: I am/we are long FSLR.