Microsoft: Up In The Cloud (Part 1)
Please Note: Blog posts are not selected, edited or screened by Seeking Alpha editors.
Summary
Microsoft changed computing in the 90's, but slowed down.
Missing the smartphone revolution made them almost irrelevant.
Their strategic shift to the cloud turned the company around, and may be the best business decision of the millennium.
A Real Story
Oftentimes, companies exaggerate their story. I don't just mean the startup giving their elevator pitch on a spork that will solve world hunger (they's definitely one out there somewhere), I mean calling them 'stories'. Tesla tells the 'story' that they will make a computer on wheels that has a battery that will charge from the tiles of your roof. But this is more so a vision or a dream than a story. A vision is imagining how things can be different. A story is epic. Dramatic. A story has twists and turns. A story will make you jump with joy one moment and rip your heart out the next. A story has characters you cheer for and villains you despise.
Okay, Tesla might fit this description shockingly well, but that because of Elon's unorthodox style. Their core narrative doesn't change. Most company's core narrative doesn't change. Ford doesn't have a story; Exxon doesn't have a story; Netflix doesn't have a story. They have a vision, not a story.
Microsoft is different. Microsoft is a story of change a renewal. Microsoft is a story of humiliating defeat and rising from the ashes. Microsoft sees itself become the villain, then, against all odds, repents and recreates themselves into a new company.
Let's now go into the story of Microsoft.
Rise and Fall
The history of Microsoft is fascinating. HBO should put out a whole series on how the company evolved. Until then, I recommend you read their page on Wikipedia. For those who are too lazy for even that, I'll try to do justice and bring you up to speed.
Before Microsoft, computers were all coding (you can see Mathew Broderick use them here). Microsoft basically came along and made the GUI- Graphic User Interface (this is part of the drama worthy of the HBO series; Bill Gates and Steve Jobs didn't get along), a key part of how they made computers a consumer item. Initially, computers were only used by big corporations or governments; Microsoft changed that. By the mid 90's, they were the dominant operating system for PCs. They also became evil, using their dominance to quash competition before they got started. Apple gave them serious competition in the early 2000's (embodied by their iconic 'PC vs. Mac commercials), but there were always the quirky high-end computers, while Windows was still essentially a staple. Boring and evil, but still a staple.
Then, in 2007, disaster struck. Apple came out with the iPhone- arguably the most successful consumer product in recorded history. Steve Ballmer, former Microsoft CEO, said that missing this product was the company's biggest failure. Understandably so. Smartphones revolutionized the way we live our lives. They digitized our world. Don't get me wrong, they cause damage too, but only because they were so successful. The simplest yet most telling sign of how smartphones pushed computers aside is how internet companies shifted their strategy to be mobile-first, instead of desktop-based (i.e. Facebook).
Microsoft tried playing catchup by acquiring Nokia- another company that missed the boat on the smartphone revolution- for a whopping $7.2 billion; but it was too little, too late.
Moreover, their moat was collapsing. Apple, with their dominant iPhone, gave consumers and businesses a real appeal to migrate off the Windows operating system. Google created a viable alternative to Microsoft Office with their suite of productivity tools. In other words, Microsoft was becoming less and less essential.
This should have been the beginning of the end for Microsoft. Just as IBM was dethroned when Microsoft came out with the personal computer, Microsoft had been slain by Apple. Naturally, they would have pursued a 'strategic retreat' strategy- cutting costs to maintain profitability as revenues recede, and maintaining a steady dividend to keep shareholders satisfied.
But then, just as hope seemed like a distant fantasy, a hero arrived.
Rise from the Ashes
Satya Nadella became CEO of Microsoft in 2014. Here's a look at how Microsoft has performed since he took the reigns: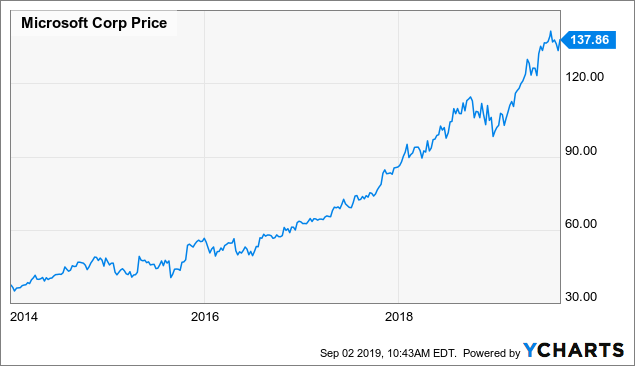 He made several important decisions early on, such as acquiring Minecraft, LinkedIn, and GitHub. One of his trademark decisions, indeed, one of his first ones as CEO, was to open Office apps on non-Windows devices such as iPads. His most influential decision- the one that saved Microsoft- was his shift to the cloud (for a sneak peek, you can see the results here, here, here, here, and here).
Nadella foresaw that enterprises were switching to the cloud. This is where their digital infrastructure- like their website, ERP, CRM, and analytics tool (in Microsoft's case, Office365 and Azure)- is provided over the internet instead of installed on company servers. This is a win-win for both the customer and the vendor: the customer has a lighter IT investment and gets updates regularly over the internet; and the vendor gets more predictable, recurring revenues.
This also expanded to the consumer market, where people store the files on the cloud, and instead of installing Office, pay a monthly service fee (Software as a Service).
Make no mistake, this strategic shift turned Microsoft around. Nadella made other important changes. He made the culture at Microsoft more open to change and less pigeonholed. But the strategic shift to cloud computing turned the company from a last-generation behemoth that was slowly waning into a young, ambitious company that couldn't be ignored. Most importantly, it made Microsoft essential again, embedding them deeper than ever into Businesses.
Because of Nadella, Microsoft- humbly and graciously- became the most valuable company in the world.
Upside Down
What would a story be without an ironic ending? And while Microsoft has many chapters ahead, if we leave now, it's ending is oh so sweet. The company's biggest failure was not making the strategic shift to smartphones. Apple simply ran circles around them with the iPhone. Well, now Apple is the one chasing Microsoft.
The smartphone industry is becoming commoditized: meaning there is less innovation as all models are basically the same. This translates into companies winning over customers through out-pricing them. This is evident in Apple launching several models of iPhones at several price points, instead of just one, high-end, flagship phone. Consequently, Apple needs to search for new sources of revenue.
In comes a strategic shift, as Apple tries to draw recurring revenues by offering software services to their customers; straight out of Microsoft's playbook.
The robustness of Microsoft's strategy and execution translates into the company outperforming their flashy competitors- the FAANG stocks (Facebook, Apple, Amazon, Netflix, Google). Microsoft was omitted from the group. Now, they're above them.
Conclusion
This story is exciting! It's also a compelling investment story. Narrative alone isn't enough though; you need to back it with hard numbers.
I hope to do just that in part 2 of Microsoft's story.
Analyst's Disclosure: I am/we are long MSFT.
Seeking Alpha's Disclosure: Past performance is no guarantee of future results. No recommendation or advice is being given as to whether any investment is suitable for a particular investor. Any views or opinions expressed above may not reflect those of Seeking Alpha as a whole. Seeking Alpha is not a licensed securities dealer, broker or US investment adviser or investment bank. Our analysts are third party authors that include both professional investors and individual investors who may not be licensed or certified by any institute or regulatory body.