Lumber, also known as timber, is a type of wood that has been processed into beams and planks. One can trade it in form of Random Length Lumber futures and options at Chicago Mercantile Exchange within the agriculture asset class under the ticker $LBS. Currently, we see commodities in general, and metals and energy in particular turning higher. Lumber, which is mainly used in a construction, has gained 4x in price within less than 1 year. Will the rally in lumber prices make the real estate market to explode?
Lumber Monthly Elliott Wave Analysis 03.06.2021
The monthly chart below shows the lumber front contract LBS #F. From the all-time lows, the prices have developed a cycle higher in blue wave (W) of a super cycle degree. It is a choppy and overlapping structure in series of 3. Therefore, the best count is to see the advance towards May 2018 highs at 648.5 as a double three pattern. From there, a correction lower in wave (X) has ended in April 2020 at 251.5. From the lows, a break to the new all-time highs has confirmed a new cycle higher in blue wave (Y). Hereby, wave (Y) should reach in 3 swings towards 900.4-1301.5 area. In fact, the minimum target being 900.4 has been already accomplished. However, based on the shorter cycles, still more upside can be expected, before a larger cycle in black wave ((W)) will end.
For 2021-2030, the expectations are to see more upside while the pullbacks should find support in 3, 7, 11 swings. Investors should not chase the market as of right now and can be looking to buy a larger pullback in black wave ((X)) for another extension higher in black wave ((Y)).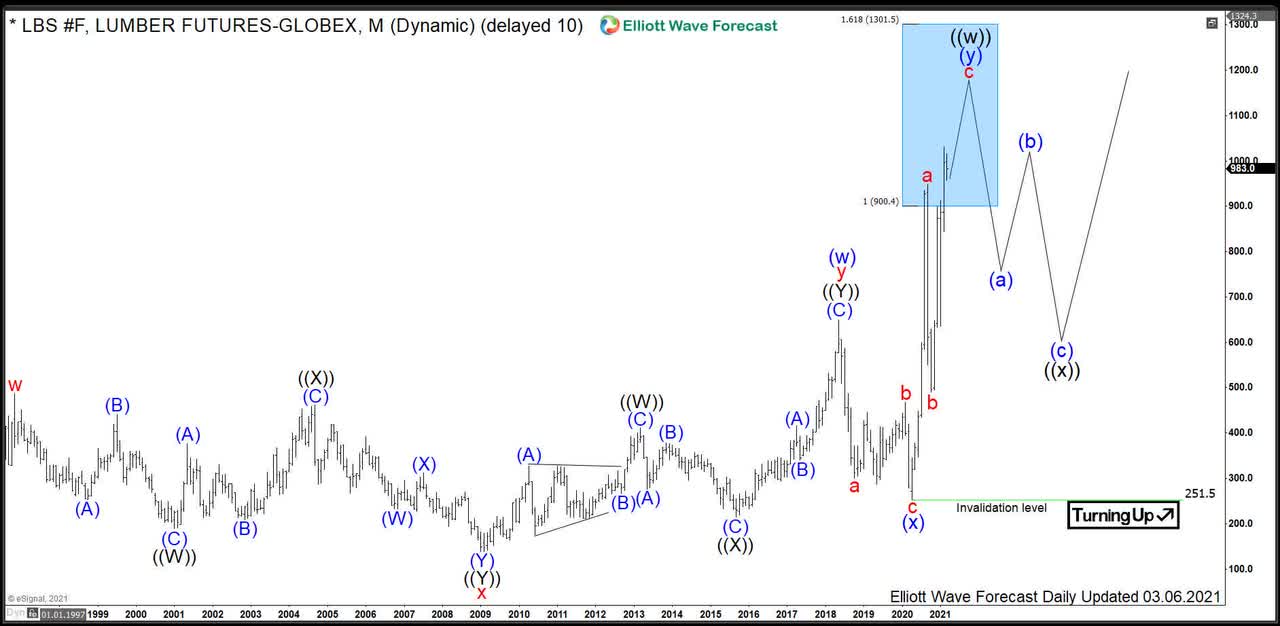 Lumber Daily Elliott Wave Analysis 03.06.2021
The daily chart below shows in more detail the advance from the April 2020 lows. From the bottom at 648.5, red waves a and b have ended. While above 490.8, red wave c can extend higher towards 1188.2-1353.0 area to end the blue wave (Y) of black wave ((W)). Therefore, traders can be looking buying short term pullbacks against 634.9 lows in first degree for more upside towards 1188.2 level at least.