In my previous articles (here, here and here), I present hard evidences and materials regarding the following points about China MediaExpress:

China MediaExpress does not have "exclusive license" with the Ministry of Transport as it claimed.
China MediaExpress falsely claimed two national awards for its on-bus TV patent. 
China MediaExpress' SAIC numbers do not match what it provided to SEC significantly.
The only advertising brokers China MediaExpress made known to the public, Shanghai Apollo Culture and Art Company, reported revenues and book value 1/1000th of the revenue it supposedly had with China MediaExpress, RMB 50m.
In this article, I discuss its questionable use of CTR, a research firm in China, to exaggerate its business size and market size.
CTR Report on the Company Website Missed 3 Pages
In 2008, China MediaExpress engaged
CTR Media Intelligence
, an independent third party, to study CCME's effectiveness as well as its market size. The report can be found
here
. In particular the report on its market size can be found
here
 on CCME's official website. 
Few knows that this report is not the original report that CTR provided to China MediaExpress, which was provided to the early investors and can be found
here
. 
The original document has 57 pages and the Company provided copy has 54 pages. The missing three pages, page 5, page 13 and page 54, are presented below.
(Click to Enlarge)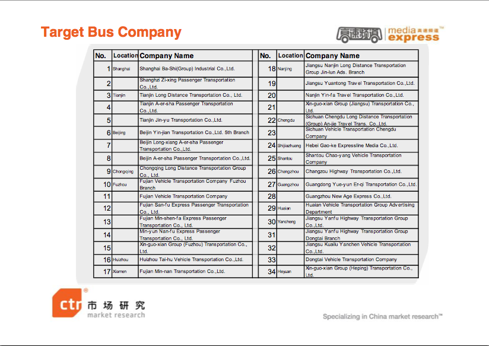 It is unknown why the Company decided to remove these three pages, but it looks like that they did not want to provide the bus operator breakdown by region and they do not want to provide the direct competitor information, which does not support their claim for "exclusive license".
CTR Report Reported Bus Count Not Matched To CCME's Marketing Kit
In
the official CTR document
provided by CCME website, we can find page 8 describes the bus count breakdown for different areas and the screenshot is provided below.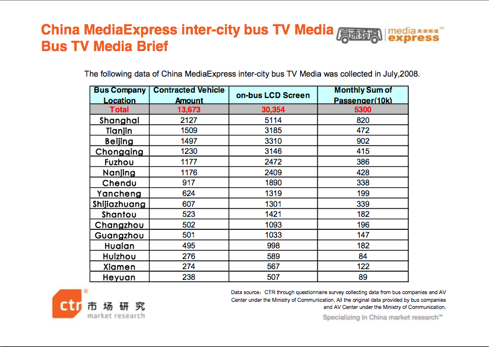 A 2009 marketing kit provided by CCME on allchina.cn, an advertising exchange platform, can be found
here
. A 2010 marketing kit can be found directly on allchina.cn, and the address is here (
page link
and
file link
). 
They presented somewhat different stories. Screenshots for their bus counts are attached below -- the first two are from 2009 marketing kit, and the last one is from 2010 market kit. For 2010, only several big cities are picked for sanity check, but that applies to the rest. 
(Click to Enlarge)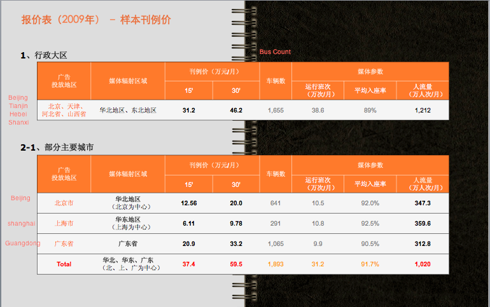 We can find that the CTR report claims a much higher bus count than the marketing kits, especially for the first tier cities. Below is a summary table.
(Click to Enlarge)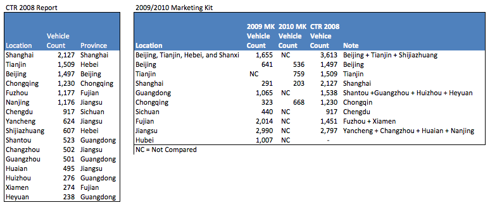 Take Shanghai for example, CTR reported 2,127 buses, but the 2009 market kit quoted 291 and 2010 market kit quoted 203. This agrees with
what Muddy Waters research found
-- that Shanghai Bashi did not recognize CCME as a partner. 
Is CTR Research a Reliable Source?
First Financial Daily in China interviewed CTR and found something interesting. The original news has been quoted in numerous sources, and
here is a link
to Hexun, a popular Chinese financial site. Interested readers can use Google Translate to find out the content. 
Two issues jumped up as eye catching.
CTR Fuzhou, which is located in the same town where China MediaExpress is, will randomly sample the hard drives provided by the Company to generate the research report in March. The researcher claimed that it was impossible for her to investigate on-site nationwide, and can only rely on data provided by CCME.
CTR has a loose structure. Its Beijing office, the headquarter, did not recognize CCME as a customer; its Shanghai office has not had business with CCME since 2008; its Fuzhou office is the one who is currently involved. 

So far my research points to the suggestion that the CTR report seems inaccurate and its investigation method is flawed. 

Again, investors be cautious!



 
Disclosure:
I am short
OTCPK:CCME
.