When Oil Slips, Equities Will Fall
Summary:
· U.S. & Canadian oil rigs are continuing to produce more and more inventory.
· U.S. inventories for crude and gasoline are at or near historical high levels.
· Oil prices will decline based on oversupply and weak demand.
· When oil prices slip, the equity market will fall with it.
U.S. & Canadian oil rigs are continuing to produce more and more inventory. U.S. inventories for crude and gasoline are at or near historical high levels. Oil prices will decline based on oversupply and weak demand. When oil prices slip, the equity market will fall with it.
Are you ready for a pullback in the equities market? Oil is about to take a tumble and will take the DOW ( UDOW) with it. Too much oil supply and not enough outlets for oil demand means the price of oil is set for a major correction. This is not going to bode well for your equity heavy 401k, so it's time to evaluate your holding weights in your portfolio if you haven't already.
U.S. and Canadian oil supply
U.S. and Canadian oil production dropped significantly in recent years when the price of oil fell. That trend ended in May 2016 when the price of oil had returned to $50 (see figure below). U.S. and Canadian oil rigs started drilling again in the spring of last year and they just keep coming on. WTI crude oil(NYSEARCA: USO) has only risen a few dollars since that time, because it takes a while for the market to properly respond to the new oil rigs coming on. According to research done by Morgan Stanley, over the last ten years, oil rig count and crude oil price bottoms have been three to four months apart meaning the rise in rig count data that we are seeing now will look to have an impact three to four months from now.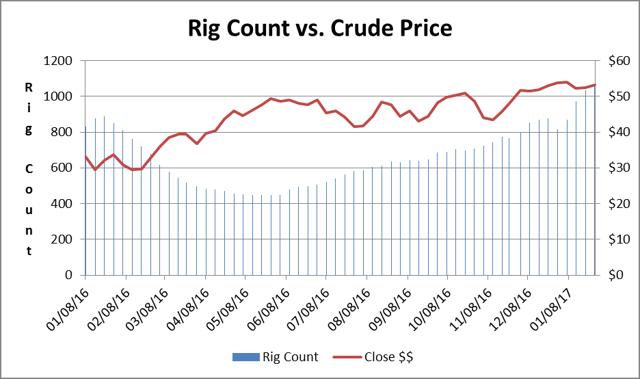 The other piece of info that also impacts crude oil prices is inventory levels. The United States is at all-time highs dating back to 1990 for inventory. From looking at the graph below, one can easily see that crude oil inventories have not been this high in the last 25 years.
One could argue that refineries will start processing more crude oil to get rid of the high inventory levels, but that logic does not fit the refinery utilization data. Utilization rates are currently right around 90%. It is very hard to hit 100% utilization as a refiner especially across an entire industry as you can see from the historical trends. There is some capacity to increase production, but it is not much.
The odds that refiners are able to crank up production in order to flush out the high inventory levels of crude oil is very unlikely; however, just to further prove the point that crude oil has to fall we will look at gasoline inventories in the U.S..
The data released by Department of Energy on January 27, 2017 indicated that gasoline inventories are at their second highest point since January of 1990. If refiners could ramp up refinery production to bring down the excessive crude oil inventories it would only create more gasoline, which clearly the market is flush with already.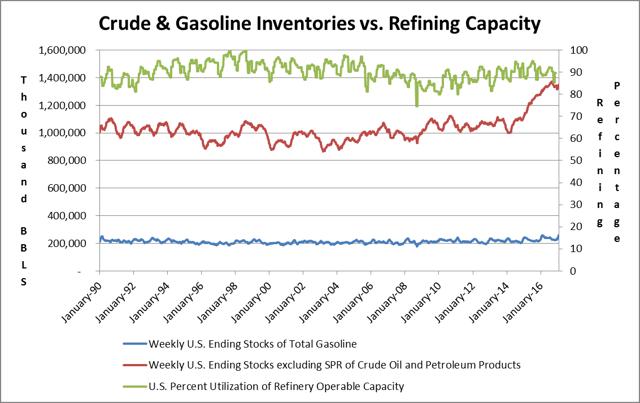 International oil supply and demand
In order to get rid of all the excess crude oil and gasoline the U.S. would have to turn into an exporter of both products, which wasn't even legal for crude oil again until December 18 th, 2015. The U.S. banned exporting crude oil back in 1975 after an OPEC oil embargo barred oil sales to the U.S.
So why are so many drillers bringing on more rigs each week when the future seems so abysmal? Supply and demand cannot justify it, especially in the U.S.; however, there are a couple reasons. Drillers are taking advantage of the current market prices by producing the barrels at a price that is above their breakeven and then hedging their positions to lock in cash. This helps explain the dramatic build in crude oil inventories. It has been a long time since shale producers were able to drill at a crude oil price that is above their breakeven so they are taking every opportunity they can to lock in a profit.
The other reason is based on the decision by OPEC to cut global production in early 2017. The cartel announced it will cut production by 4.5%. Crude oil rallied almost 8% on this news, which enabled more and more of the U.S. & Canadian drillers into action. OPEC has always struggled to enforce these broad production cuts. As the prices rise and the temptation to collect more revenue continue, OPEC has struggled mightily in keeping to their production targets. The lack of trust between the OPEC nations is apparent. On top of all this the OPEC production cut hinges on a major non-OPEC country, Russia, keeping their word and agreeing to cut production by 300 kb/d. None of this is a sure thing especially when you consider crude oil is the main and sometimes only economic driver of those countries. The rules are too loose, consequences too weak, and the economic implications too strong for all of OPEC's nations to abide by the production cut.
The coming equity pullback
Crude oil is set for a pull back, which is going to have a large impact on the equities market.
Crude oil shares a strong positive correlation with the U.S. equity markets performance and when a significant price change hits oil, equity market would react in a similar fashion. So what does positive correlation mean? Literately it means that the equity market would tend to move in the same direction in response to a change in the price of oil. Whenever a large correction takes place in crude oil prices, the equities market is very likely to get pulled down as well. Crude oil, as a benchmark for the global economy, has a major influence over the performance of U.S. equity market.
To present a visible proof, a chart of weekly average change comparison from July 2014 to January 2017 between oil price and Dow Jones Industrial Average index (NYSEARCA:UDOW) is created based on data from Federal Reserve Bank of St. Louis. For visualization purpose, price comparison level is set as weekly average ending on Fridays, and changes in Dow Jones Industrial Average is divided by 100. Here, a thing to note is that only the Dow was chosen for comparison, but the more representative index, the S&P500 also shows similar result. Therefore, the setting for comparison is legit.
A couple quick points can be drawn from the chart. First, overall the two curves tend to fluctuate in the same direction and the shape matches in most parts, despite some differences in magnitude and time lag. Second, the shape of oil is steeper than that of the Dow, or to say that oil price tends to be more volatile. Third, price change in oil seems to take place prior to corresponding changes in the Dow. Albeit straight predicting equity market performance based on oil price are not sufficient at most times since interest rate, growth expectation and other factors also can influence market performance.
However, in some extreme scenarios it might be just enough to assess market performance. Empirically, on July 30, 2014 the oil price fell $6.06 in one day and the market panicked with a 317-point free-fall in Dow. Then the oil price stopped free-falling and fluctuated in a relatively stable range temporarily so the Dow climbed back from 16,368 on August 7 th 2014 to 17,071 on September 29, 2014. Then oil price free-fell again and the Dow dropped 954 points until October 16, 2014. From June 26, 2015 to August 24, 2015 oil prices dropped $21.39 or 35.8% and the Dow fell from 17,946 to 15,871. Similar effects occurred time and time again at end of year 2015 and during February and March of 2016, proving oil prices have a great impact on the equity market and they are positively correlated especially under significant changes. Therefore, to take a step further, if you smell a storm in oil price and not many people pay attention to it, then you may have a hint on what's coming in the equity market.
Bibliography
http://marketrealist.com/2016/05/crude-oil-prices-related-rig-count/
http://www.eia.gov/dnav/pet/pet_stoc_wstk_dcu_nus_w.htm
https://www.eia.gov/dnav/pet/pet_pnp_unc_dcu_nus_m.htm
http://www.macrotrends.net/1369/crude-oil-price-history-chart
http://www.macrotrends.net/1358/dow-jones-industrial-average-last-10-years
Supporting Documents