Elevator Pitch
As we all know, Oil's price has been incredibly volatile over the past two years. Between OPEC and non-OPEC oil groups cutting oil production in a landmark deal and the boom in North American oil production, we've seen a 12-month oil high-low of $46.22-$60.09 (CO1: COM).
Thesis & Catalyst For SPDR S&P Oil & Gas Exploration & Production ETF (NYSEARCA:XOP)
Currently, we are sitting at $48.38 per barrel. The effects of this volatile market have both made the price of the SPDR S&P Oil and Gas Exploration and Production ETF rise and fall. The YTD return rate of $XOP (in 2016) was approximately 37.1%. This is largely due to an OPEC which capped production, thus allowing prices to increase due to lower oil supplies. However, North American oil production has RAPIDLY increased over the past few months. This has led to a -15.91% change in $XOP's price, since the beginning of the year.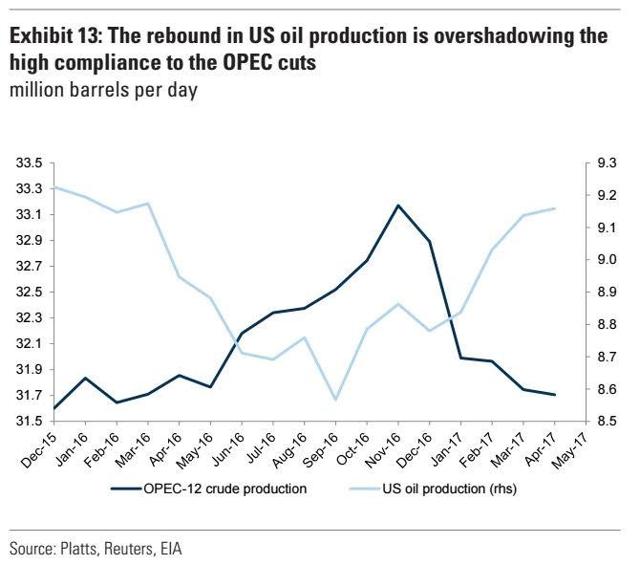 (Courtesy of Goldman Sachs)
Contango has been making its face known in the crude oil industry. For those unfamiliar, Contango is a time where the futures price of a commodity is higher than the spot price.
"In a contango situation, hedgers (commodity producers and commodity users) or arbitrageurs/speculators (non-commercial investors), are willing to pay more [now] for a commodity at some point in the future than the actual expected price of the commodity [at that future point]. This may be due to people's desire to pay a premium to have the commodity in the future rather than paying the costs of storage and carry costs of buying the commodity today."
The result of contango will likely have an effect on the market.
Consumers, investors, and companies may opt to purchase the commodity in the present, which the expectation of selling it later, due to appreciation.
This would have a myriad of effects. Demand would increase, which could inflate prices (thus, improving XOP's performance). However, this will continue to push North American oil into the market which may begin to counteract the price inflation, due to an increase in an already upward-trending supply.
The reason the supply would increase more is that people will begin to purchase fewer oil futures, and their opting to purchase in the short term will increase the amount of oil moving into the market.
Price Target
All in all, the price of oil will likely go down towards $47.80, until a new OPEC oil deal comes through, which extends cuts for more global oil production (particularly in North America). On May 25th, OPEC and non-OPEC ministers are meeting to discuss one such extension. If we do see one, expect oil to balloon back up to around $54.
An increase in oil prices will see revenues jump, because, for oil companies such as Exxon and Chevron, an increase in the price of oil means much higher profits. I believe $XOP will outperform its competition from other ETFs, as it has in the past.
Since the OPEC cuts last year, XOP's shares have risen a considerable 37.1%. An extension of cuts would only further boost shares of $XOP. Currently, $XOP sits at $34.83. I would expect the price to rise to $48 over the next 12 months. In fact, I believe $XOP may rise higher over even more time. Watch this May 21st meeting closely, but make sure to invest prior, because a rumor of a reached deal will likely increase share prices.
As for me, I'm purchasing shares of $XOP on Monday or tuesday morning.
Disclosure: I/we have no positions in any stocks mentioned, but may initiate a long position in XOP over the next 72 hours.
Additional disclosure: In the next week, I will likely initiate a position in XOP.