Yum China Holdings, Inc. (NYSE:YUMC)
YUMC, as of April 7 th 2017 at close (after hours), trades at $31.15.
1) Recommendation
I recommend YUMC as a buy with a 52-week target of $42.00.
2) Company Background
Yum China Holdings, Inc. operates as a restaurant company in China. The company operates primarily through KFC and Pizza Hut Casual Dining segments. It operates approximately 7,500 restaurants in approximately 1,100 cities. It holds right to operate and sub-license the KFC, Pizza Hut, and Taco Bell brands in China, as well as owns the East Dawning and Little Sheep concepts. The company was incorporated in 2016 and is headquartered in Shanghai, China.
The company was spun off from its U.S. parent Yum! Brands, Inc. in October 2016, letting that business focus on improving its domestic operations.
3) Investment Thesis
Yum China is the largest restaurant operator in the world's most populous country. Boasting over 7,500 locations consisting mainly of KFC and Pizza Hut restaurants, the company still has a long runway of growth ahead of it as China's middle class continues to grow. I am long on Yum China for multiple reasons. First, Yum China's Q1 earnings were a pleasant surprise and I believe the company will carry this momentum throughout 2017. Second, Yum China has reiterated its commitment to continue building many new restaurants this year, which I believe will increase revenue. Third, China's middle class continues to grow at an impressive rate and this will lead to more potential customers for Yum China. Fourth, the company has embraced the recent trend of mobile ordering and payment. Yum China has created two apps (KFC, Pizza Hut) which makes the customer's experience more convenient and interactive than ever. Finally, Yum China's financial health is very solid.
4) Catalysts
a) New Restaurants, New cities
Yum China has opened 133 new restaurants, remodeled 32 stores and plans to open between 550 and 600 restaurants this year. Management understands the huge opportunity the Chinese market presents and is doing its best to reach more customers as quickly as possible.
b) Rise of Middle class
For the first time in China's history, a huge middle class now sits between the ruling elite and the masses. McKinsey, a top consulting firm, estimates its size at around 225m households, compared with just 5m in 2000, using an annual income of 75,000-280,000 yuan ($11,500-43,000) as a yardstick. It predicts that between now and 2020 another 50m households will join its ranks. They are spread across the country, but are highly concentrated in urban areas. Around 80% of them own property and they include many of the Communist Party's 88m members.
What this means for Yum China is more potential customers which will lead to a steady rise in revenue. Why you may ask? Because as China's middle class continues to grow, so will each of these families' disposable income, which will lead to an increase in food spending.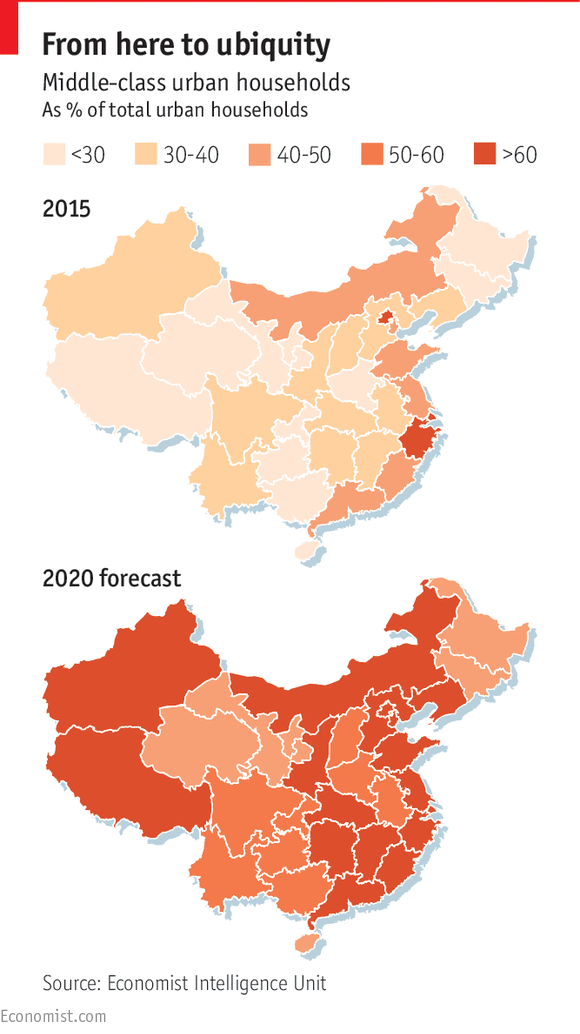 c) Incorporation of Mobile Eco-system
Yum China has made a conscious effort to improve the customer experience by creating an app which allows you to pre-order your food in advance. Through this, mobile payments as a % of sales has gone up from 14% in Q1 2016 to 31% in Q1 2017.
Yum China has also put in place a loyalty membership program which has seen its membership steadily increase. This program allows Yum China to interact with its customers through targeted promotions and to receive customer feedback in order to improve their experience.
5) Earnings results Q1
A) Strong Q1
Yum China Holdings Inc. reported a 20.7 percent rise in quarterly earnings, as margins improved. Net income rose to $175 million or 44 cents per share in the first quarter ending on Feb. 28, from $145 million or 40 cents per share a year earlier. The company's same-store sales rose 1 percent while total revenue fell to $1.28 billion from $1.30 billion. Per share earnings came in at 0.44 which beat analysts' estimates of 0.38.
B) Strong Margins
KFC'S margins went up 2.4% from 21.2% in Q4 2016 to 23.6% in Q1 2017 while KFC'S operating profit went up 9% during the same time period
Pizza Hut's margins went up 7.2% from 15.8% in Q4 2016 to 23.0% in Q1 2017 while Pizza Hut's operating profit went up 67% during the same time period. These numbers are promising and show Yum China's focus on efficiency.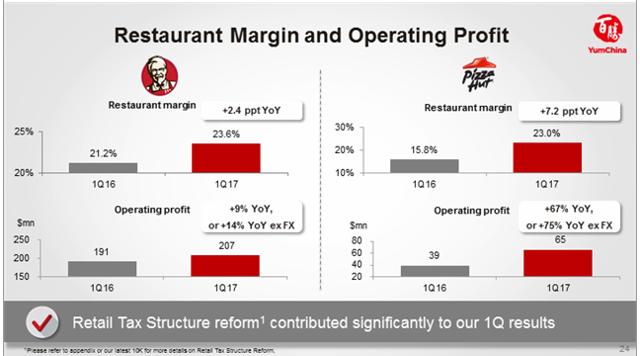 Source: Yum China Q1 2017 Earnings Release Conference Call
6) Financial Health
Net income has grown from 126M in 2013 to 502M in 2016. EBIT has grown from 524M in 2013 to 647M in 2016.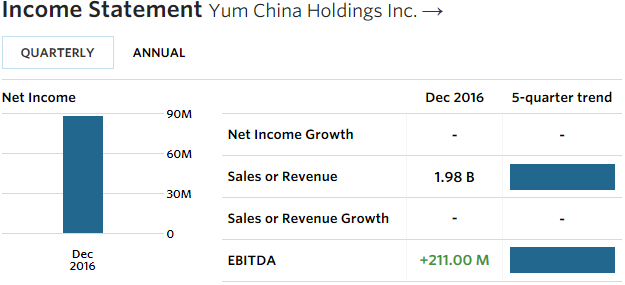 Source: Wsj.com
Total assets for Yum China have grown by 11.76% between 2015 and 2016 to 3.7B while Cash & Short-Term Investments has gone up from 425M to 964M during the same time period. Yum China's liabilities and total debt have remained under control which is a good sign for the company.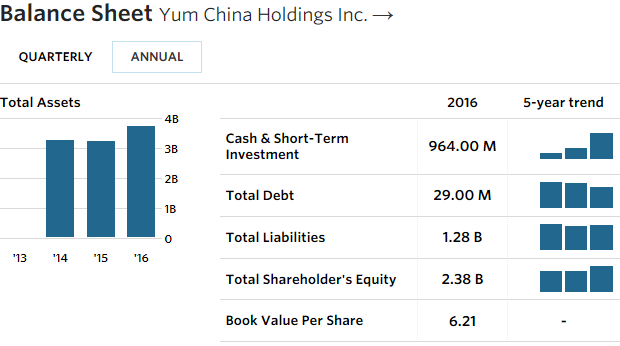 Source: Wsj.com
Free Cash Flow has increased steadily from 214M to 428M in 2016. Free Cash Flow measures a company's ability to generate cash, which is a fundamental basis for stock pricing. The presence of Free Cash Flow indicates that Yum China has cash to expand, develop new products, buy back stock, pay dividends, or reduce its debt.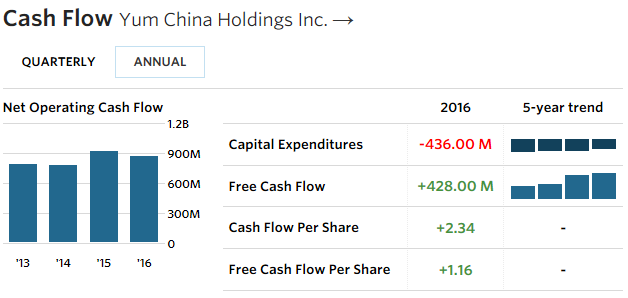 Source: Wsj.com
7) Management
Ms. Joey Wat is President & Chief Operating Officer at Yum China Holdings, Inc. Ms. Wat was previously employed as CEO-KFC China by Yum! Brands, Inc. She received her MBA from Kellogg School of Management. She is only 45 years old and has a strong background in both Chinese and Western cultures, which I believe will be key for Yum China's growth.
Her last position at AS Watson was the Managing Director of Superdrug & Savers, two U.K. prominent chains (pharmacy, health and beauty retail). As the Managing Director, Joey successfully led both companies through very impressive turnarounds and then significant growth, on the strength of continuous innovation and team capability building.
8) Risk Factors
The biggest risk relating to the food industry in my opinion is food safety and food-borne illnesses issues. We have seen the devastating effects this has had on Chipotle and so this is definitely something to keep in mind.
The second risk I see is changes in Chinese political policies and/or economic and social policies which may adversely affect Yum China. Uncertainties with respect to the interpretation and enforcement of Chinese laws, rules and regulations could have a material adverse effect Yum China.
Conclusion:
Yum China will be a large player in the Chinese restaurant market for a long time as I believe it has the tools to capitalize on China's middle class boom. Yum China has been building restaurants all over the country while increasing customer loyalty through mobile integration and advertising campaigns. The company has been off to a great start in 2017 and I believe now is the time for investors to jump on this stock.
Disclosure: I/we have no positions in any stocks mentioned, and no plans to initiate any positions within the next 72 hours.