Foot Locker (NYSE: FL) has suffered recently due to the online and mobile disruption in the retail industry. At $39.70, Foot Locker's stock price has dropped to nearly half its 52-week high of $79.43. However, it's P/E ratio of ⅓ the industry average, combined with favorable industry trends, and a new direction for the company make Foot Locker a buy.
Industry Sweet Spot
The athletic apparel and footwear industry saw double the growth of the broader apparel and footwear industry last year, at 6% for athletic compared to 3% for general. Furthermore, increased health and wellness awareness and insulation from seasonality places athletic apparel and footwear as the highest growth industry segment.
Excluding companies that produce their own products such as Nike and Adidas, Foot Locker owns 66% of the market share for athletic retailers, followed by Finish Line at 31%. With continued growth in the athleisure trend, Foot Locker is primed to enjoy steady revenues over the coming years.
Stock Price Analysis
Foot Locker's current stock price of $39.70 stands at half its 52-week high of $79.43. Although Foot Locker missed on its recent Q3 Earnings target, its earnings still exceeded analyst expectations by fallings 1.1% as opposed to an expected 1.5%. A quick DCF analysis using the company's 2016 10K reveals the following: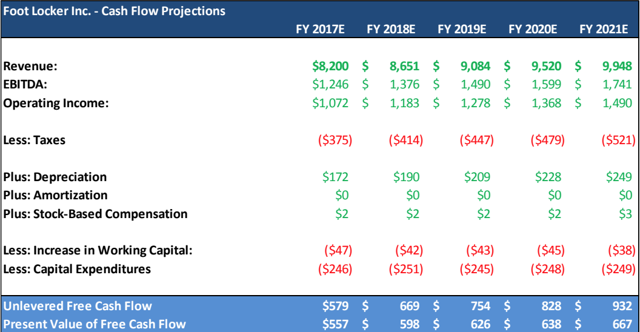 With a 5.5% revenue growth rate assumption based on historical earnings, Foot Locker is expected to continue to ride the athleisure trend.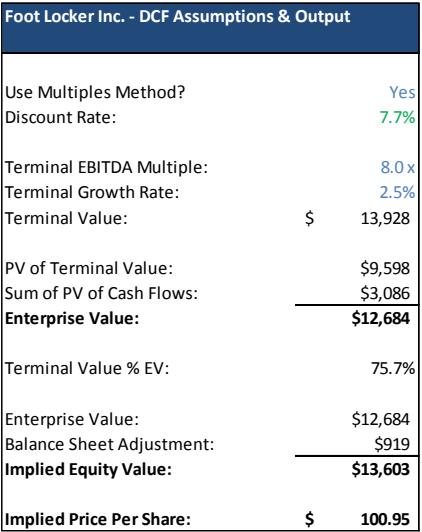 Using a 7.7% discount rate, and Terminal EBITDA Multiple of 8.0x, Foot Locker's Intrinsic Value per share should be around $100.95. The below sensitivity analysis shows even if Foot Locker's cost of capital rises to 11.0% and Terminal EBITDA drops to 5.0x, the stock should still be valued at $66.38.
Compared to the current stock price of $39.70, Foot Locker's true value makes the stock a buy.

Future Plans to Mitigate Disruption
Despite its intrinsic valuation based on analyst projections, Foot Locker's stock price has been negatively impacted by Amazon's increasing retail disruption. With more and more customers switching to online orders or high end sneaker boutiques to do their shopping, Foot Locker's outlook has suffered. Yet, the company's new direction should mitigate some of this disruption.
In order to turn things around following an awful H1 2017, Foot Locker plans to shed capital expenditures and increase their mobile presence. Expanding their mobile app features to include exclusive sneaker releases, and VIP member privileges should increase mobile traffic and customer loyalty to the brand. Brand loyalty will be particularly important as Foot Locker needs to enhance their user experience to make customers prefer shopping on Foot Locker's platforms rather than other brands'.
Disclosure: I/we have no positions in any stocks mentioned, and no plans to initiate any positions within the next 72 hours.