Despite downturn in the mono Bluetooth headset market, Plantronics expects 2017 to be a year of increased revenues, according to the 2016 Annual Report.
In fiscal year 2016, revenues grew by 2 percent compared to fiscal year 2015. The enterprise business for 2016 remained stable compared to 2015. Also, United Communications operations reported 11 percent increase in revenues over 2015. The company expects United Communications to continuing growing in 2017.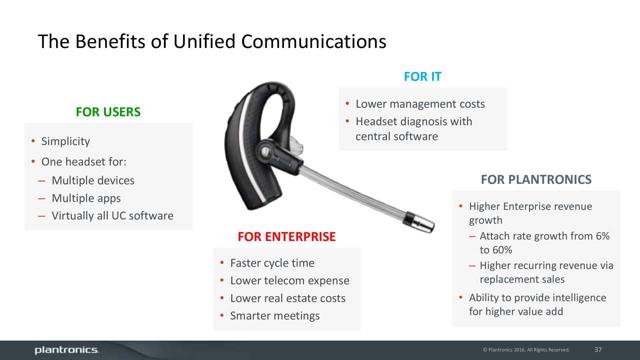 While the consumer business represents a low percentage of the annual revenues and declined in 2016 compared to 2015, the operations have stabilized. The projection is either to remain steady or to show an increase by the end of fiscal year 2017. In addition, the company is looking at new opportunities for office headset services. Soundscaping is expected to boost revenues in fiscal year 2017. Plantronics' competitive edge in the Bluetooth headset market is high, and it looks toward capturing part of the stereo headset market to continue its growth.
"We completed restructuring activities announced in February and have taken steps to further reduce our expenses to position us for additional operating marginal improvement in fiscal year 2017," said Ken Kannappan, chief executive officer of Plantronics Inc. "Long term, we remain committed to achieving nonGAAP operating margins of 20 percent to 23 percent."
Enterprise Results
Robust United Communications revenues rose more than 10 percent in fiscal year 2016. Average selling prices and competitive position remain strong. The office headsets continue to receive a price premium compared with competitors. United Communications will continue to drive headset adoption even though the market growth is slowing. The company has had success with its EncorePro Series, Voyager Focus UC and line of digital adapters. The company is currently capturing meaningful data from customers, which helps with design. United Communications plans to deliver a hardware and software solution, giving more value to customers. This new line is expected to bring in revenue for years to come, Kannappan said.
Consumer Results
Plantonics' market share of the mono Bluetooth headset market jumped to record levels in the United States in fiscal year 2016, but the overall market declined during the same period. The drop in the market overtook the revenue gains. Gaming and Clarity products experienced a high growth in the fourth quarter of fiscal year 2016 over 2015. Three headsets -- Voyager 5200, BackBeat Go 3 and virtual reality headsets -- launched in 2017 have received favorable criticism and market reception.
Plantronics Device as a Service
Like others in electronics industry, Plantronics is adopting an "as a service" business practice. This would reduce complexity and costs associated with upgrading internal software and hardware infrastructures. During fiscal year 2016, Plantronics began offering Plantronics Device as a Service, which satisfies customers' need for hardware flexibility and reliability. Therefore, customers can buy the premium products available in subscription-style model. This move is designed to capture more of the small- and medium-sized businesses, the CEO said.
Soundscaping
The company has moved into developing sound plans for new building construction. Currently, open floor plans are popular but provide problems with sound. Plantronics have been working to create a way to manage sound throughout a building beyond just noise-cancellation. This area looks to boost revenues in coming years.
For fiscal 2017, Plantronics expects to continue to improve profitability. Operating margins look to be steady or increase over 2016.