Investment thesis
Lannett (LCI) is a micro-cap pharmaceutical. It carries more debts for its own good. And not that the competitive generic market was not challenging enough, three quarters ago, Lannett (LCI) lost a lucrative distribution contract for its most significant and most profitable product, Levothyroxine ('Levo'). The company was destined for the bin. No surprise the stock imploded, nose-dived from $13.50 to $3.33. Ever since, the bears have been on the back of the stock, making it the most shorted stock on the NYSE, with 80% of the float. As the market is usually correct, this makes a risky call to be a bull. 
Despite, the wound caused by Levo was not fatal. The management was bullish the new drug approvals, and cost-cutting plan could reinvigorate the operation. We were skeptical of course. At one point, share dilution was a possibility!
Three quarter into 2019 and we have been surprised by the quick turn of fate. Lannet's remaining drugs sales have proliferated, new drugs approval came faster than expected, and cost savings initiative was on track. Additionally, progress is also being made on the balance sheet side as cash balance remains strong and debts are being retired, and covenants are relaxed. Thus, the risk of dilution is also lowered. Now, we see robust evidence that the void of Levo will be filled.
As a consequence, we have made an initial position in the stock. The icing on the cake, the CEO and management team have also been buying at price ranges higher than the current $6.80/share.
Sans Levo - core operation grew
Without doubt, the most significant factor that made us pull the trigger was the strength of the overall portfolio sans Levo.
While up till now Lannett sales still has some of Levo, thus we only see a modest decline of $2M in sales, to $172M from 174M year-on-year. However, in fiscal 2019, excluding Levothyroxine, the company reported sequential quarterly increases in other product sales. Since Q1, they have increased by 17% and forecasted to increase by 21% in Q4'19.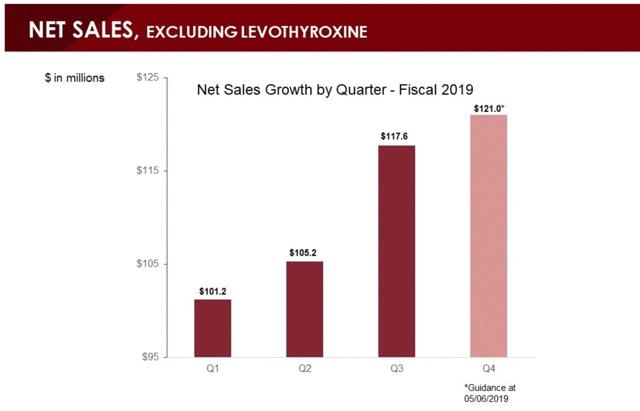 Source: Lannett, Investor relations
An equally surprising and vital fact is how resilient the gross margin was. The adjusted gross margin for the quarter was about 45%. Excluding Levothyroxine, it was a healthy 38.5%.
Moving down the income statement, the company is on track to realize $33 million of net cost savings. In fact, without the 3x increase in R&D, operating expenses would have decreased by almost 30% y-o-y. Thus, the bottom line was minimally impacted by the fall in Levo in Q3'19.
Additionally, there is a further upside as product launches are progressing well to add to further revenue and cash flow.
We plan to maintain a strong pace of product launches that targets about $75 million of new revenues annually so that we continue to grow.

Source: Lannett Q3'19 earnings call, Tim Crew
We would not be honest if we say we were optimistic with the number of product launches that the CEO laid out back in Q1. However, the company is beating the $600M+ revenue guidance.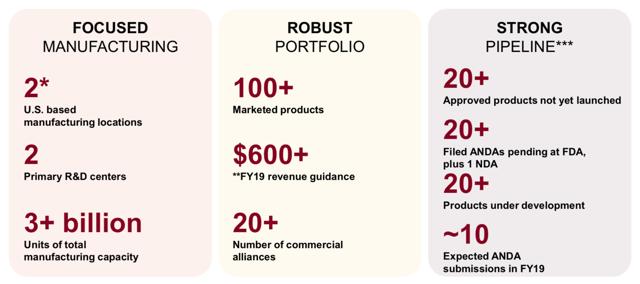 Strong FCF and guidance
In an attempt to work out the free cash flow for 2019, we used the adjusted guidance numbers below. Conservatively, for revenue, we took the lower range, and for expenses, we used the higher amount. We estimate that Lannett will generate $108M of operating cash flow in 2019. Thus, it is reasonable to believe that free cash flow will be at least about $67M.
The current stock price indicates Lannett is trading at less than 7x FCF, way below a healthy generic company should trade.

Source: Lannett, Investor relations
However, it is important to note that our estimate could be wrong as the guidance number above includes sales of recently launched products, previously approved but not yet launched products, as well as other products that the management reasonably assume will be approved and launched in the period.
Improved liquidity position
Lannett liquidity position was another pleasant surprise at Q3'19. Its cash balance on March 31st increased to about $205 million from approximately $164 million at the end of the previous quarter. The figure includes the $24 million of the term loans purchased in open market transactions during the quarter. Net debt at quarter end was $618 million.
Old news but back in December 2018, the company credit agreement was amended to increase the required secured net leverage ratio from 3.25x to 4.25x, with a step-down to 4.00 times as of September 30, 2020. In exchange, Lannett must maintain a liquidity covenant of $75M.
Today the prices of both the Term A and Term B loans have improved notably from this fiscal year earlier, which we believe is a strong market validation of the company's improved performance and outlook.
Risks 
Many things have gone right for Lannett since the turn of 2019. However, the biggest risk to our thesis remains the success of the drug approval.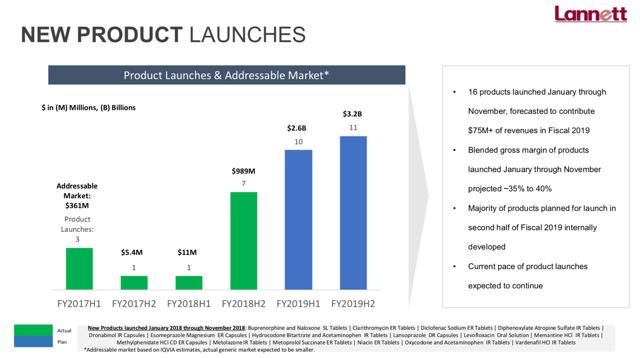 Source: Lannet, Corporate Presentation Dec 2018
During the recent earnings call, Tim Crew was right to remain cautious.
I don't recall a lot of years the generic industry has been pretty darn competitive. So setting that aside, we're pretty comfortable that we're getting where we want to go. Not every launch is success. We've had some products that we've backed away from for example, the opioid space with all the sort of issues and concerns and risks in that area. So I don't want to suggest that every single product is exactly what we might have hoped to start the year.

Source: Lannett Q3'19 earnings call, Tim Crew
However, he remained confident about the additional $75M revenue target.
But we're very comfortable that, that sort of basket of launches that we're bringing to market continues to achieve that target of about $75 million on a year-on-year basis and we don't see that changing anytime soon.

Source: Lannett Q3'19 earnings call, Tim Crew 
Take away
We hope we have shown clear evidence that the decline of Levo has been more than absorbed. First, the sales of the core products have been growing at a significant rate. Second, the cost savings progress is reaching the final stages. Lastly, the risk around the debt has reduced thanks to management's commitment to repay and also the endorsement of the creditors to amend its covenant. Finally, the icing on the cake, management are also buying in the stock at these price ranges.
Disclosure: I am/we are long LCI.
I wrote this article myself, and it expresses my own opinions. I am not receiving compensation for it (other than from Seeking Alpha). I have no business relationship with any company whose stock is mentioned in this article.