Is McDonalds Worth It?
Summary
McDonalds is moving away from the traditional business structure by introducing updated chains, new menu items, and exploring new platforms to introduce its products
McDonalds' stock is more volatile than the market, and more stable against fast food industry competitors
The company remains a good stock choice for investors
Analysis
In recent news, McDonalds has made an announcement that the company will be introducing some of its products in grocery stores and experimenting with new menu items. The announcement stated that they hope to grab peoples' attention by placing their products into different venues to reach a larger piece of the population. McDonald's biggest struggle has been the declining foot traffic in their chains over the past few years, which has a lot to do with people investing money into a healthier meal choice, like deliverable groceries or restaurants with fresher menu items. Nowadays, fast food chains are viewed as the cheap, cop-out option for people to grab some food quickly. As a result, restaurants such as McDonalds are trying to change this perception by adding fresher menu items and putting their ingredients out in the open for everyone to know.
McDonald's opened for business in 1948 in California and currently has over 36,500 locations worldwide. McDonalds was once a powerful force to be reckoned with, but does this statement remain true today? This analysis is being conducted to see if McDonalds is still a good investment of a person's money. The chart below is a comparison of McDonalds' returns against the market (S&P500 returns) over a ten-year period (2007-2017). Overall, McDonalds' stock is more volatile than the market; the company experiences more severe decreases and increases in returns than the S&P500. This signals to investors that putting money into McDonald's stock is not necessarily an adequate long-term steadily-growing investment, but rather a short-term investment if the market conditions are favorable.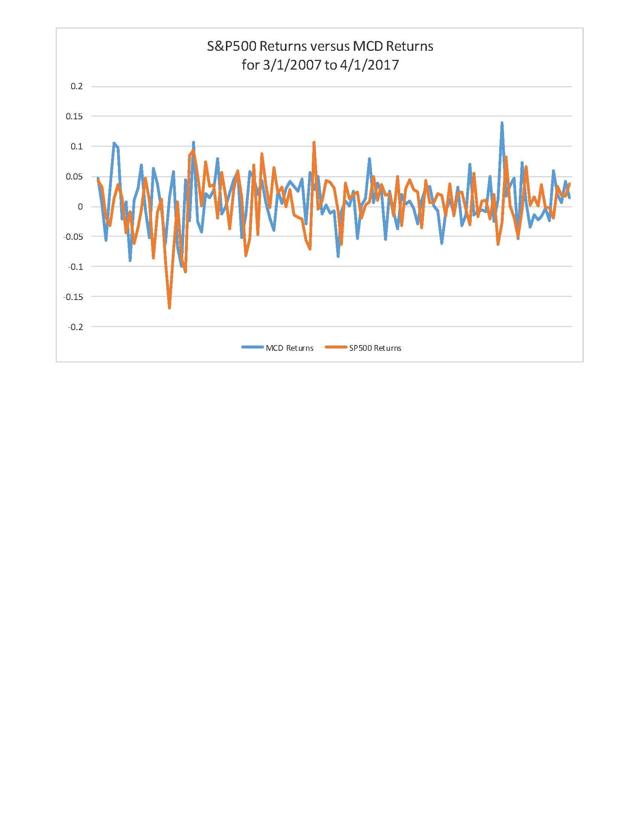 This next chart compares McDonalds' returns to one of its industry competitors, Wendy's. McDonald's has less spread in stock returns than Wendy's, making it a safer, less volatile choice of investment than Wendy's. Again, choice of investment is also dependent on what the investor is looking for: something short-term or long-term. As far as forecasting how McDonald's will do in the next five years, that is not an easy question. McDonalds' stock has seemed to have plateaued growth for the past five years and the future doesn't seem to present any increased or decreased returns. Hopefully the company's plan to introduce new products and business strategies will encourage increasing earnings and profits.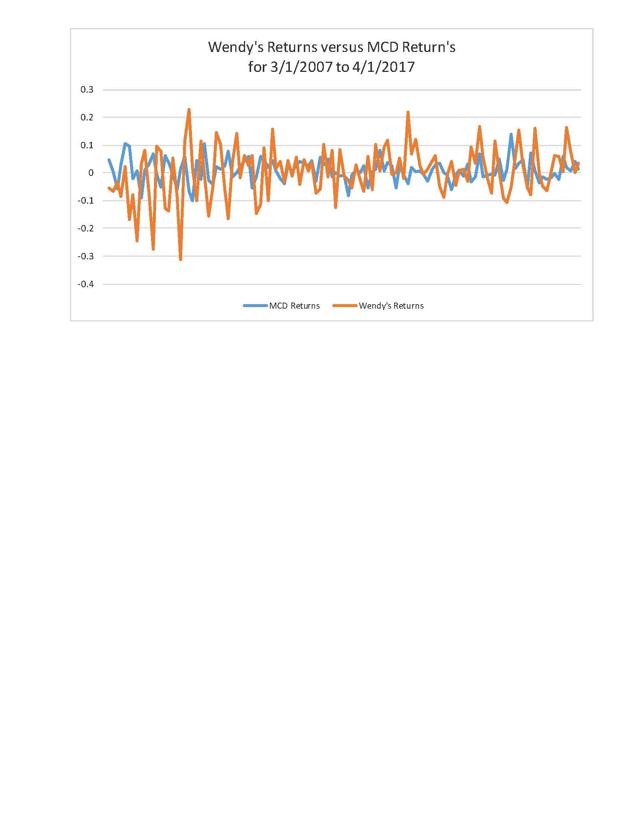 Altogether, McDonalds is doing fine. While it is more volatile than the market, it continues to be the leader in the fast food industry. So, what does this all mean? While McDonalds should not be an investor's top stock choice, it is a good stock choice which can rack in favorable returns for short periods of time. McDonalds' initiatives to divert from its traditional brand will help expand its consumer base and work towards staying up-to-date with market trends. The investor should be prepared to take a hit if the market starts doing poorly or people start to take their business elsewhere.