BlackRock Investment Stewardship released a report on sustainability this week, providing an overview of the asset manager's voting practices and engagement in 2020 connected to climate change. BlackRock (BLK), the world's largest asset manager, says that it has voted against 53 companies for not making enough progress in disclosing climate risks or integrating these risks into their business models. The report notes that BlackRock has put another 191 companies "on watch," warning that it would take voting action against these firms should they not change their practices on climate change. The report comes six months after the asset manager, which oversees approximately USD 7 trillion, announced a sweeping overhaul in its climate change strategy and pivoted to make it the center of its long-term investment plans.
While BlackRock has clearly deepened its climate dialogue and objectives in recent years, its focus has been mostly on energy and fossil fuels. It is lagging on tackling climate risks connected to agriculture, land use, and deforestation, which account for about 23 percent of global GHG emissions. Deforestation is seen as a growing risk for investors that hold shares in companies that operate in soft commodity markets in Brazil, Southeast Asia, and other high-risk areas. ESG risks such as biodiversity destruction, human rights and labour violations, and land-grabbing are also associated with deforestation. The world will not be able to reach long-term climate goals without addressing emissions in the agricultural sector. The Intergovernmental Panel on Climate Change (IPCC) has warned that eliminating deforestation is necessary to keep global warming under 1.5 degrees under any scenario.
Of the 53 companies that BlackRock voted against over climate issues, 37 were energy, while the rest were from the utility, financial, material, and industrial sectors (see graphic below).
Graphic 1: Breakdown of 53 companies where BlackRock took voting action on lack of climate progress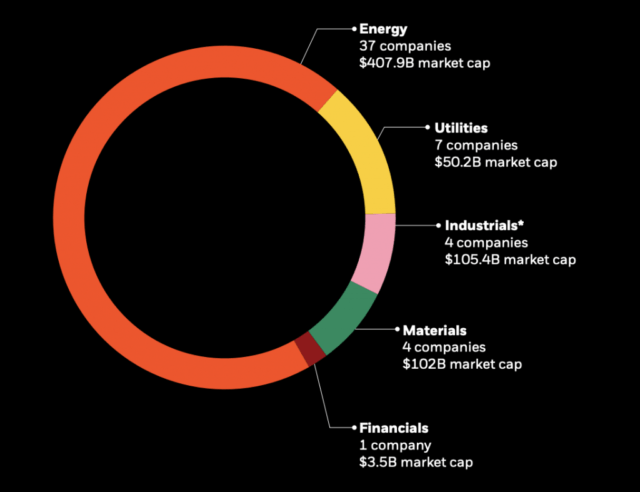 Source: BlackRock Investment Stewardship
BlackRock did not list the 191 companies that it has put on watch. "BlackRock can't claim to comprehensively address climate-related risk unless it votes in favor of resolutions that urge companies to reduce their emissions and adopt no-deforestation commitments across their supply chains," said Green Century's Jessye Waxman in a post last month labeled "Too Soon to Praise BlackRock."
BlackRock has acknowledged deforestation as a risk for investors and has begun engaging the agricultural industry, but the approach appears gradual. In February, the asset manager released a report on its engagement with agricultural firms and highlighted the climate and social risks and opportunities the industry faces over the short and long term. The report, however, came under criticism for focusing mostly on governance and transparency while not having a framework to hold companies for their emissions and/or connections to land-grabbing or violations of human and labour rights. Moreover, BlackRock has still not articulated time-bound zero-deforestation policy for commodities such as soy, cattle, or palm oil.
Late last month, Michelle Edkins, the Global Head of BlackRock's Investment Stewardship team, said that it would vote against company directors if there is not enough progress on commodity supply chains and deforestation. That would represent a reversal, as BlackRock did not vote in favor of shareholder resolutions to reduce deforestation despite 15 opportunities to do so since 2012. "With most of its assets under management in passive strategies that can't sell shares of companies that aren't environmentally adopting best practices, BlackRock's voting record is virtually the only way it can publicly signal that it means business," wrote a Reuters columnist. As a passive shareholder, BlackRock contributes to creating a systemic risk since it will automatically continue to finance companies that are deemed unsustainable even if active investors pull out. The big question is how significant its "signaling" through its voting record will be.
The incremental approach that BlackRock is taking in agriculture will likely open it to increasing criticism, particularly as other investors are becoming more vocal about deforestation risks. Fifty-eight investors have signed the Cerrado Manifesto, which calls on the private sector to eliminate soy-driven deforestation in the tropical biome. Some investors are now considering divestment from companies that do not adequately address deforestation, and just last week a group of investors, led by Norwegian Storebrand Asset Management, met with Brazilian government officials about the need to take efforts to curb deforestation. BlackRock nor any of its U.S. peers was part of the discussions, despite wide exposure to agricultural operations in the Amazon and the Cerrado. BlackRock, as highlighted in a major report from Friends of the Earth, is highly exposed to deforestation-linked commodities. It holds shares in meatpackers JBS, Marfrig, and Minerva, along with soy traders Bunge and ADM. The asset manager also holds approximately USD 470 billion in shares of 25 major palm oil companies.