Preliminary Analysis – A Wide Lens
There are 50+ S&P 500-based index funds in the market. However, many of these funds are levered (i.e. Direxion Daily S&P 500 Bull 3x Shares) or composed of short positions (i.e. ProShares Short S&P 500). Beware of these funds – levered funds inherently yield greater risk, while the reverse equity funds deserve their own article and are irrelevant to this conversation.
An appropriate sample is found below: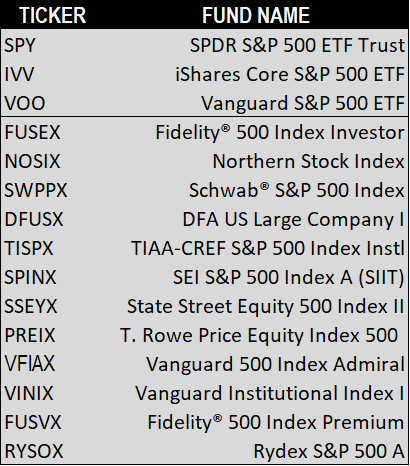 Digging Deeper
As all funds are tracking the same market index – the S&P 500 – returns and gross fees should be similar. If one fund's returns are noticeably lower, or fees noticeably higher, they can be quickly eliminated from consideration. The real sources of differentiation are the tracking error, tax liabilities, and minimum investment.
Tracking error is simply a measure of the difference between the fund's standard deviation and the underlying market index. A considerable difference in standard deviation implies that the fund is doing a poor job of tracking the underlying index. As such, the smaller the tracking error, the better.
Tax liability is a very important consideration. Morningstar cites the tax cost ratio as the appropriate metric, which measures how much a fund's annualized return is reduced by the taxes investors pay on distributions. The lower the tax cost ratio, the more tax efficient the fund is for investors.
Finally, minimum investment requirements show the accessibility of each fund. While certain funds might seem like strong candidates, setting minimum investment requirements too high can diminish the availability of the fund. For example, the TIAA-CREF S&P 500 Index Instl and SEI S&P 500 Index A (SIIT) have minimum investments of $100,000, while the Vanguard Institutional Index I has a minimum investment requirement of $5,000,000. In this scenario, the lower the minimum investment requirement, the more attractive fund.
Results

The iShares Core S&P 500 ETF (IVV) & Vanguard S&P 500 ETF (VOO) are clearly the top funds.