The past months have seen a deep correction in major treasury yields across US, Japan and Europe. These markets tend to have a close correlation and last night's rally in bonds was catalysed from lingering tensions over North Korea, as well as doubts over France's presidential election.
This resulted in US 10yr yields breaking below 2.20% and more interestingly - Japanese 10yr yields to trade back at 0% - A major psychological support level. ( We will elaborate more about technical/psychological levels in another post.)
So what happens at 0%?
Generally speaking, in most markets, we tend to see this as a line in the sand, with asymmetrical impacts. i.e. A move from 0% to 0.1% has a different impact from that of 0% to -0.1%. A major part of this can be attributed to human psychology whereby fear overtakes greed.
However, one should take into consideration the history of the JGB market and its long fought war with negative yields for years. So much that this 0% barrier really isn't worth obsessing over much anymore.
BUT this time is different.
Remember back in 2016 - BOJ came out with a somewhat radical approach with yield curve control compared to the widely expected increase in quantitative easing.
"Under a new policy called "Yield Curve Control," the central bank adopted a target of around zero percent for the 10-year government bond yield. Zero may sound low, but it's higher than the recent negative yields seen on those securities. The central bank is countering a flattening of the yield curve, which it says may have a negative effect on economic activity."
Note: Keep in mind here that the 0% target is not arbitrary, we suspect BOJ allows a leeway/float of perhaps +/- 0.1%.
The results of this turned out great in 2016, weakening the JPY across the board and relieving the deflationary pressures on BOJ.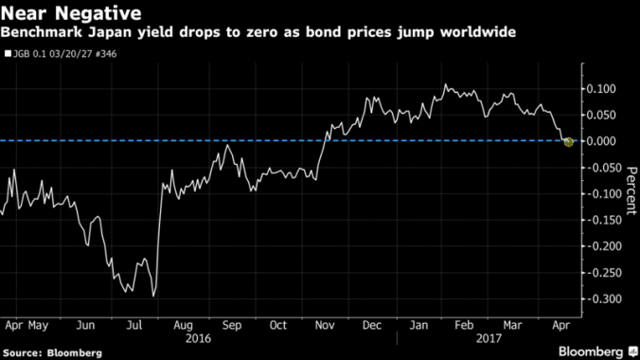 So again, we are back here at this level which BOJ promised to defend and we continue to think they will, perhaps within a -0.1% band.
Firstly, the initial strategy of targeting the yield curve was the only one which worked for them so far after repeated QEs failed to spur any signs of inflation.
To let go of this level would result in a step backwards in BOJ's conviction to boost inflation.
They have no other choice.
What does this mean and how can I profit from it?
A clear cut trade here for us from a macro perspective would be to Buy Japanese bank stocks (E.g. Topix Banks - Trading at 171 at point of writing).
Banks benefit from the steeper yield curve, borrowing cheap short-term cash and lending it out at higher longer-term rates, resulting in a better bank margin.
As such, our firm belief that BOJ would hold true to the control of the yield curve should see the recent dip in bank prices as a fantastic buying opportunity.
We would look forward to buying Japanese bank stocks and be happy to add more to the portfolio as long as Japan 10yr yield holds above -0.1%.
Trade Idea: Buy Topix Bank Index, with a stop triggered if Japan 10yr yield falls below -0.1% or in the event of an escalation in any geopolitical issues.
Disclosure: I/we have no positions in any stocks mentioned, and no plans to initiate any positions within the next 72 hours.