Congratulations to everyone with money still in the market because we are into June without a market pullback and I am sure you have done quite well. Unfortunately, we enter the second worse month for stocks of the year. I believe there is only one relative stock that has earnings this week. Dave and Busters reports on Monday, I want to see how the consumer views them. Are they seen as just another restaurant or are they an experience based venue who also services food, this is an important distinction because more and more people are turning to experience based products and with the restaurant sector getting hammered it is important to be more then just good food. PLAY could be a good indicator on how confident the consumer feels spending there money on a night out specifically ages 25-35.
From the one earnings report to a ton of reports to keep your eye on. As I have said in the past I recommend everyone follow Thomas Thornton on twitter and subscribe to his news letter, there is amazing preview of all the reports that matter for the week. This week is jam packed with reports including a number of reports from the European power house Germany, a sprinkling of other European reports and we even have a few of our very own reports this week. The US has its Jobless claim on Thursday and China reports their CPI and PPI on the same day. US wholesale inventories is on Friday so reports clearly have a lot more power over earnings this week so that could mean we probably won't see a repeat of what happened last week.
Longs for the Week:
USD (22 weeks)
I have now turned bullish on the USD. The last 4 cycles have lasted 22 weeks and I think this is the week we will start the push. Not to mention I believe we will still raise rise 2 more times this year. Even though we have gotten some poor reports as of late, the Fed does not have an option to not raise rates aggressively for the next +2 years. My thinking behind that is to get out of a recession the fed needs to cut rates by 300 to 400 bps which is far off from where we are now. With negative rates clearly becoming a failed experiment, we need to raise rates to unsure we do not fall into that territory.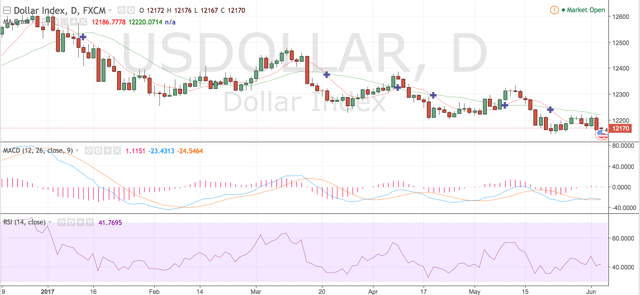 Cash (until market pullback)
Holding cash seems like it is doing nothing but in fact it could be one of the smartest decisions you could make in the current market conditions. I am sure by now you have seen people gabbing about how great the market is doing and how you will be missing out if you are not in and while we have had decent earnings so far they are not the reason that this move has pushed higher. FAANG is the real reason that this move has been sustained. These large cap stocks have been like rocket ships this year and most of them are deserving but you have to remember when everyone jumps on the boat it has a greater likely hood of something happening. The other reason I would want to hold cash is to buy when we get a big dip. I think this correction could be as big as the 2008 housing bubble crash and with the rise of passive management you may see an even bigger sell of with no buyers under the falling prices. Cash is King when everyone is selling because you hold the pricing power.
Shorts for the Week:
Carmax (dependent on technicals)
Besides me not loving where we are in the business cycle currently, Carmax showed a bearish cross a couple days ago. Car companies do not do will in a down economy, luckily Carmax is hegded by selling used cars but if the economy gets really bad and people stop spending at all then they can get hurt as well. RSI is a touch on the high side but nothing to be alarmed about but the MACD is showing the 50 day MA dipping below the 200 day MA.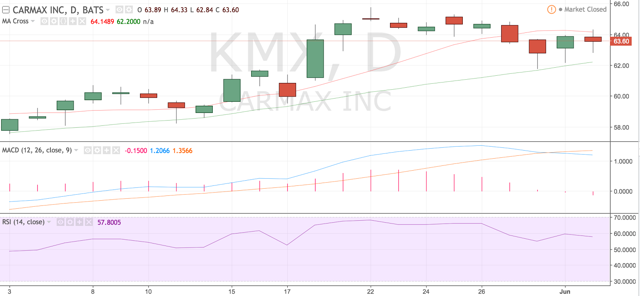 JPM-B (1 week the reevaluate)
I was a bit torn on this stock pick because banks do well on higher rates but MACD is showing bearish and financial are looking gassed after jumping after the election and into this year. I like JPM but with little hope for Trump to pass anything then I don't think this stock has much more legs.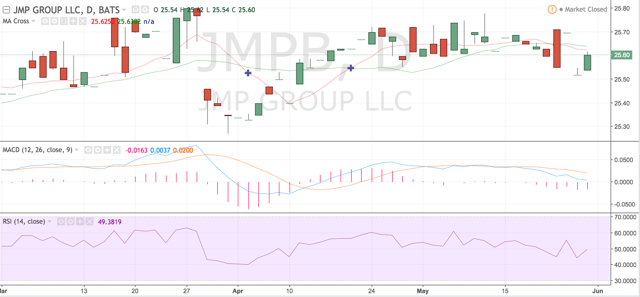 ~NZ
Disclosure: I/we have no positions in any stocks mentioned, and no plans to initiate any positions within the next 72 hours.