When it comes to forex trading it is extremely important to choose the right broker. In the past, there were other factors based on which you decided the right broker, but things have changed in the recent years. Today, it has become equally important to see what platform your broker is using for conducting the trade. There are several online platforms through which you can trade now and every broker has its preferences in choosing the platform. You can always check how good and easy to use the platform is by opting for a free demo which is available on almost every broker's website.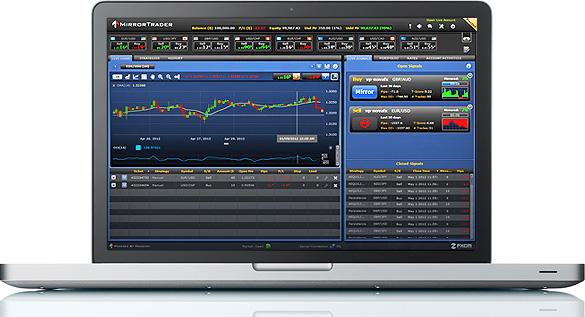 Almost all trading platforms now come with the mirror trading features too. Mirror trading is a form of social trading where traders can copy each other's strategies in order to hedge against their risks. The mirror trading feature has proved to be a great opportunity for new traders who don't have their own strategies and who are not sure about the performance of their trades. By making a choice from hundreds of available strategies of hundreds of successful traders in the market the new traders can automate their trades and benefit from following the footprints of the best.
MetaTrader 4, Zulu Trade, Tradency, MyDigiTrade etc. are some of the most amazing platforms for mirror trading with MetaTrader 4 being the most reliable one. The platform you choose from trading needs to be reliable, easy to use and provide several features to help you through your trades. Technically, your choice of broker ends up being your choice for the trading platform as well since different brokers use different platforms. It is always highly recommended that you try the online demo trading accounts in order to familiarize yourself with the trading platform, its pros and cons.
The choice of your trading platform also depends on how good the mirror trading features are on it. Some platforms are extremely easy to use and have some great features but they are not so good when it comes to mirror trading. MetaTrader 4 and 5 have come out as one of the best trading platforms for mirror trading. This particular platform allows you to automate your mirror trading completely, keep it semi-automatic or operate manually. You can select multiple strategies and see the results of your trades in almost real time. The transparency level is high and the several indicators and symbols allow you to do safe trades.
Another thing that you must see on various mirror trading platforms is the amount of training material you are getting. Some platforms can make it quite costly to obtain the online training on forex whereas some keep most of the things affordable and free. With free trials, demos, dummy trades and enough online training material you can always start well-informed and make safe trades. When nothing works for you, just go for mirror trading. Also known as social trading, mirror trading is now considered the future of forex and other types of trading.