Much has been made in recent years about the benefits to passive investment strategies as opposed to actively managed portfolios. A recent Wall Street Journal story gained headlines for declaring 82% of all U.S. stock funds trailed their respective benchmarks over the past fifteen years. In light of this trend, I feel it would be useful to explore some of the underlying trends that contribute to passively managed funds as investment managers have found alternatives to stock picking to create alpha in their portfolios.
Indexes are convenient for stock fund managers, not only because they eliminate unsystematic risk of individual securities, but also because it is much cheaper to sell index options on indexes than individual equities. Take the BXMD index which seeks to track a typical buy write strategy on the S&P 500 (SPX index). Not only has the BXMD outperformed the S&P by 18% over the past 31 years, but the fact that holding the S&P index while writing out of the money monthly calls with a 30 delta lowers volatility by 30%.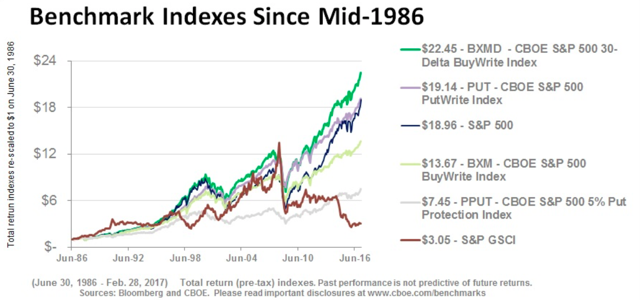 www.cboe.com/blogs/options-hub/2017/03/0...
This is a very interesting statement in and of itself from the perspective of a stock fund manager as indexes are relatively cheap to hold and they do not require teams of analysts evaluating which company is set to unlock value or grow earnings at a rate faster than the broader market.
But let's return for a moment to the Wall Street Journal thesis that actively managed funds are trailing their benchmark indexes. Perhaps the reason money managers are increasingly reluctant to invest their money in individual equities is due to a tail wagging the dog scenario where the risk mitigation properties and yield enhancing qualities of the index options create the increased demand for investing in the indexes themselves. Indeed, while average daily volume of individual equity options has declined by 33% since 2014, index options have steadily risen by 15.3%.
In other words, in an investment landscape where index options are becoming increasingly in demand by investors over individual equity options, so too are the indexes becoming the vehicle of choice for investment, and this contributes to the passive investment environment that we are in.
Of course, we are neglecting the fact that an actively managed portfolio of stocks seeks to achieve returns in excess of the market by selecting securities that outperform the market based on their attractive valuations. However with 82% of funds trailing their respective benchmarks over 15 years this clearly has not been the case.
Holding the S&P index and selling slightly out of the money calls or simply selling out of the money puts which has the same risk profile as a buywrite strategy seems to be an attractive way investors are achieving alpha in their portfolios, and this looks to be a continuing trend that has some serious traction. Perhaps passive investing has simply become too time consuming and unprofitable in a world where some serious alpha can be achieved with some simple options strategies.
Disclosure: I/we have no positions in any stocks mentioned, and no plans to initiate any positions within the next 72 hours.