In my most recent article on cryptocurrencies (Cryptocurrency Charts!) I looked at a bunch of charts across the complex from shorter time frames. In this article I wanted to take one giant step back and focus only on the longer term on each major component of the complex.

Somebody put this together with respect to bitcoin vs other 'bubbles'. I am not here to debate the merits of the chart and/or bubble other than to say clearly the price move has been historic.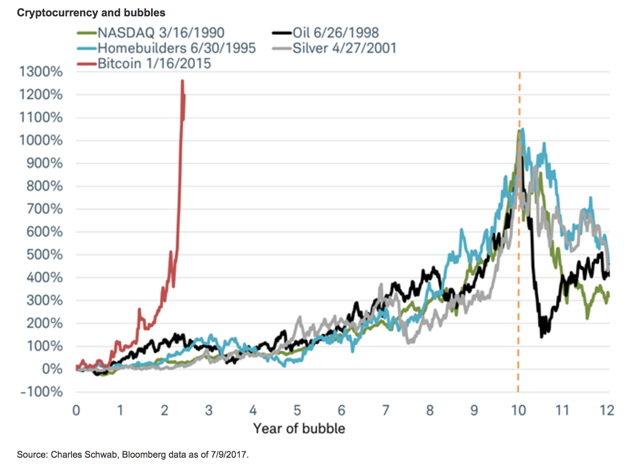 Given the above it is a good time to look at the 3 major assets on a long term weekly basis. The main point here is all 3 have reached interesting 'round figure levels'. Round figures are often just price targets that get thrown around, but can also work as a level to sell at, such as I will sell when it gets to xyz. They happen to be round figures like 100, 200 etc.  
Bitcoin
The most recent uptrend has been insanely steep. This was the move from 1800 to 5000. You can clearly see the trend under threat here with the weekly charts already showing some breaks. 
What everyone at first glance would call an obvious double top, the bottom line is 400 dollar is the round figure here that price has tagged.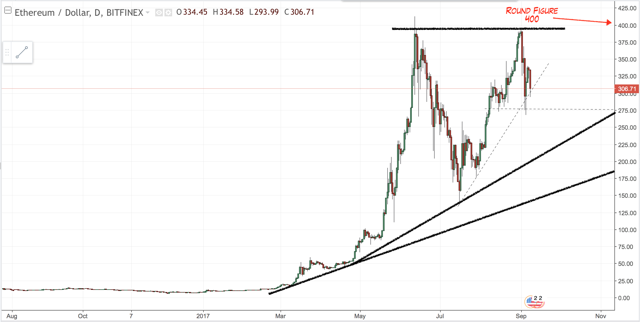 Litecoin
Of interest is last week it made an insane breakout run to 100.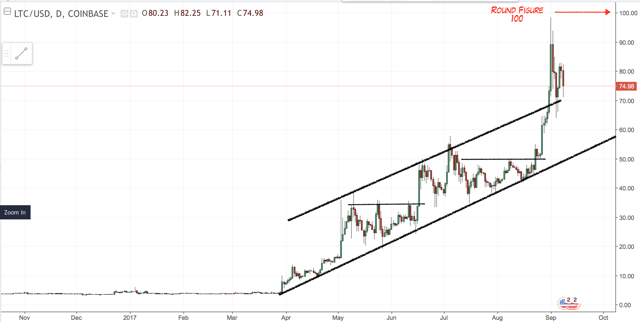 The most interesting thing about these round figures is that BTC hit 5K which really was the gold price target during the bull and 100 on LTC was the silver target as well. Time will tell on the shorter frames what setups up next but I certainly thing this moment above will be a challenging region to best for now and maybe something that we look back at as larger inflection.