I recently had the honor of speaking at the 2018 Chart Summit, an annual conference focusing some of today's active managers/traders/equity strategists. This years panel included J.C. Parets (All-Star Charts), Ryan Detrick (LPL), Greg Harmon (Dragonfly Cap), Mark Newton (Greywolf) and many others.
My presentation focused on combining fundamental factor investing with technical analysis and behavioral finance on both a macro (gold, oil, indexes, currencies) and micro (single stocks) assets.
As an active 'manager', the combination of these disciplines plus a dedicated portfolio strategy (position size, strategy exposure etc) fueled my 2017 returns to near 40%. This is the 4th year in a row of significant outperformance through this approach. 
Fusion Trading 2017 Returns*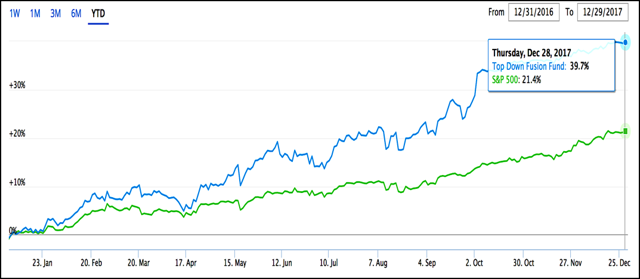 (*Personal returns, not reflective of individual member returns)
The following is the full presentation. In it I walk through some of my techniques, a few of the winning trades in 2017, and things I am currently looking at (as well as some added humor). Hope you enjoy!
Fusion Trading: The Power of Combining Fundamental Factor Investing and Technical Analysis