6 weeks ago I discussed the potential for FANG to head higher in my blog post 'FANG'. My main arguments centered around solid charts, strong fundamentals, and the potential for multiple expansion. I argued that a lot of the rally had been from NFLX and AMZN, however if GOOGL and FB got in the game the index could head higher. This is also because we simply haven't seen multiple expansion in those names like we have others. 
Well today we are going to close the week with a new all-time high in FANG. The chart below shows how this market continues to confuse many.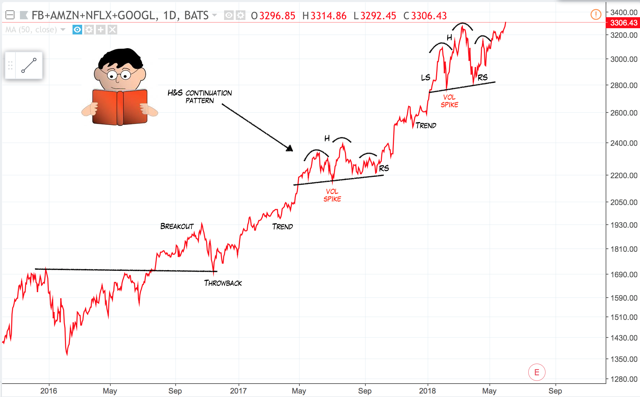 Facebook, The Backfill: A Technical Entry
The following was my technical entry into Facebook (FB). I call this technique a backfill and use it on many time frames. This will not be for everyone, yes it is highly technical but for today I want to focus on how I bought the stock, not why.
Please be aware not all fusion ideas are this advanced (our weekly reviews and chart lists are more passive) but this is the actual low so I wanted to show readers how precise trading can be. Furthermore it was a highly volatile environment so it takes some skill to get these entries. 
The following video was posted to my private twitter feed for myself and 'Fusion Trading' members during the day of the trade.
I can assure the open minded that there was much more I was watching. Within my proprietary indicators, I have never seen larger downside expectations on Facebook (FB) in the history of the company. For those with some sentiment experience, this was a bullish condition.
I then drew out how this 'backfill' process works in real time for more clarity. The key to understanding this was we knew the stock had value, the question we needed answered was 'is anyone actually buying it'?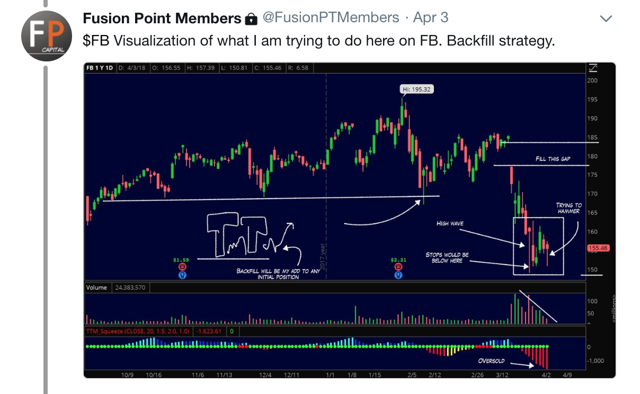 And here's how the stock has performed since:
As of last Thursdays close we continue to significantly outperform. Although not indicative of individual member returns, the combination of 'Fusion' strategies, proper portfolio construction, and risk management creates an active portfolio that continues to adds alpha. There are now 8 total 'Fusion Strategies' covering 400 stocks with our current watch list narrowed down to 30-40 names. Portfolio management consultation is included in the pro package.


Thanks for reading....