I noticed the #1 ranked IBD (Investors Business Daily) stock this month is Abiomed (ABMD). Given Abiomed (ABMD) and Ilumina (ILMN), which hit #30, have been huge winners for Fusion trading, I thought this would be a great opportunity to explain some differences in my approach. We have been in ABMD since ~$140, a nearly +180% move and ILMN since $180 for a nearly +55% gain. Here is the most recent IBD listing.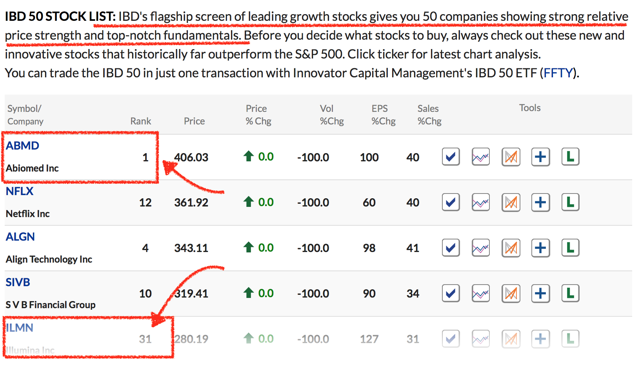 For those who are less familiar with Investor Business Daily (IBD), it is a great overall set of products, services, and investment approach created by William O'Neil. I think O'Neil is great, for numerous reasons. I learned so much from the IBD system, O'Neil's writing, and of course the CANSLIM approach (for those unaware this is essentially revenue growth, earnings growth, relative strength and so forth).
I was at the MTA's (Market Technician Association) annual conference again this year where he won the lifetime achievement award. Here is the chart they showed from the early 1900's of the 'Livermore Squeeze' on Northern Pacific. Was a great day, and his recorded words were truly inspiring.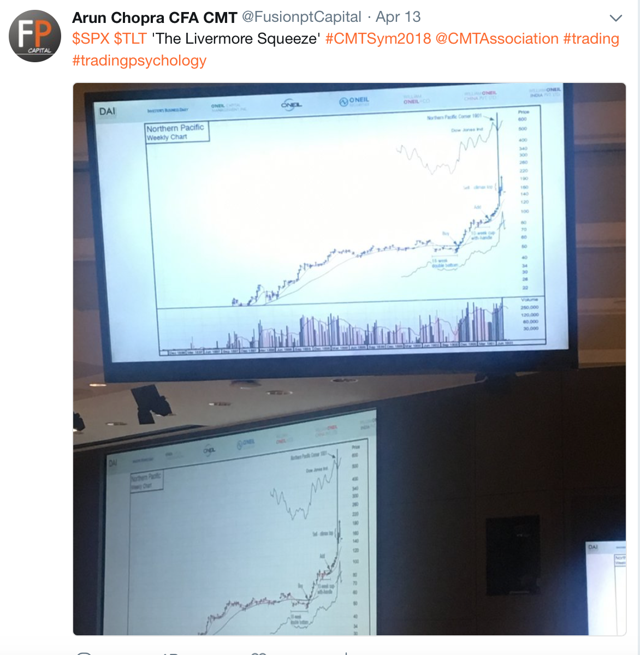 Having said that, for those who have used IBD, there are parts of the approach I find challenging. I have 3 primary issues (centered around accounting, valuation, and momentum), which is why I started looking for solutions. 'Some' of those solutions became part of what you see at Fusion Point today. I'd say 2 of my 8 overall strategies were originally derived from 'CANSLIM' type thinking.
Fusion Trading Strategy: Cash Kings 
I want to introduce you to a strategy I call "Cash Kings." Although it might sound like companies that are cash rich, cash balances are not part of the fundamental factors. A company becomes a "Cash King" essentially because the business has reached a point where for every incremental dollar of sales, a significant portion of each falls to the bottom line. Real cash, not net income. This solves the above issues for a few reasons, especially when I add the timing component.
In short I am not super surprised to see both ABMD and ILMN on the IBD leaders list almost a year after we bought them. 
ABMD and ILMN Trades
Below our the charts and my real time member communication videos. Before I get started, here is my overall the approach (note fundamentals first, technicals second):
Fundamentally identify Cash King names and other strategy stocks.
Monitor price action across numerous time frames and a variety of techniques, identifying key entry opportunities
List 30-40 stocks from all 8 strategies for members on our "Current Fusion Setups" list
ABMD
Here is the scale point for ABMD in the summer of 2017. The video below will show an entry well before the summer, but I wanted to start with this chart. Note below revenue stays relatively steady while CFO explodes higher.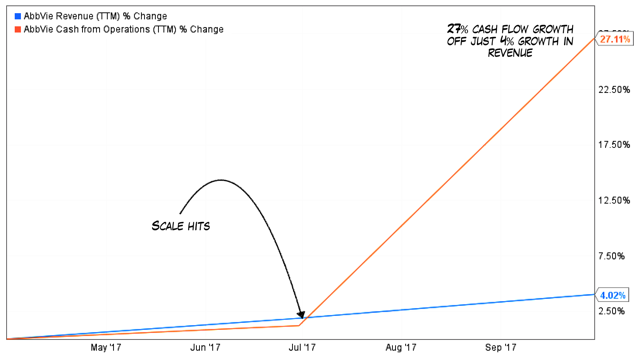 And my members video from 2017. The quarter was strong and I knew the scale potential of the business.
ILMN

Here is ILMN's fundamental 'scale point' in December of 2017. Not as strong as ABMD but still relevant.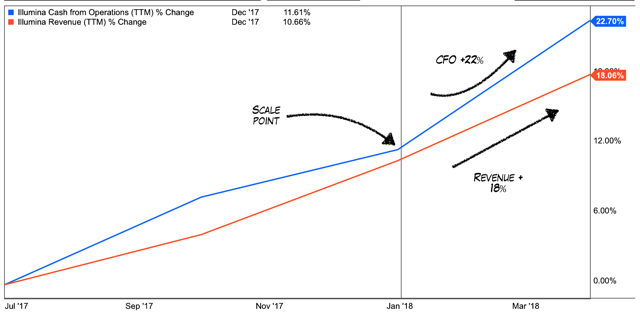 Here was our technical entry back in the summer of 2017.
Performance
As of last Thursdays close we continue to significantly outperform, hitting a new high even as the markets continue to trade sideways. Although not indicative of individual member returns, the combination of 'Fusion' strategies, proper portfolio construction, and risk management creates an active portfolio that continues to adds alpha. There are now 8 total 'Fusion Strategies' covering 400 stocks with our current watch list narrowed down to 30-40 names. Portfolio management consultation is included in the PRO package.


Thanks for reading....
Disclosure: I am/we are long ILMN.
Additional disclosure: The ABMD position has been sold