I often like to update readers here with developments and some of the week to week ideas we have generated. Today I am excited to present some interesting charts as well as an update on 'Fusion Trading' positions, performance, and reviews. Here's the agenda...
Unemployment, inflation, the Fed, and the yield curve
FANG, my models on valuation
Gold, the 70's vs now
Fusion Trading, two winning stocks
The power of Fusion PRO
Performance 
Fed Hikes
The Fed hiked this week and reiterated their 4-hike path for 2018. I put the following inter-market chart together a month or so ago. What it shows is as unemployment has fallen to a cycle and 40+ year low, rates are still low (in both absolute and relative terms), the yield curve relatively far from inversion, and the CRB below the 2008 lows. 
What this means in simple terms is that although unemployment has fallen to a level the fed usually tightens significantly, this time around they have been gradual. 
Furthermore, one important market indicator of inflation, the CRB, is still significantly lagging. From the below I expected to see the fed moderate last week, recognizing this conundrum.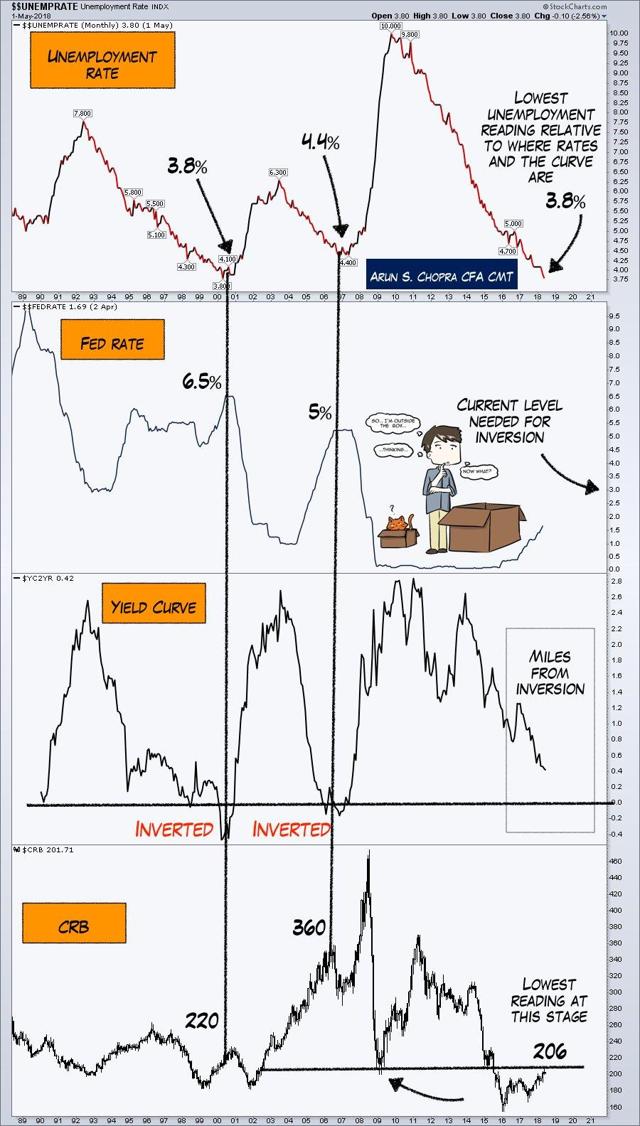 Instead the fed continued down the 4 hike path, reiterating guidance for the year. Powell explained this as the fed wanting to stay in front of any additional inflationary pressures.
Powell addressed the above concerns, stating that some of the lack of relationship between unemployment and inflation this cycle was potentially due to productivity, and the nature of a maturing economy (natural rate of unemployment drops over time). 
We shall see. I have my own opinions, but more importantly the market reacted by a continued flattening of the curve. Inversion is now approaching.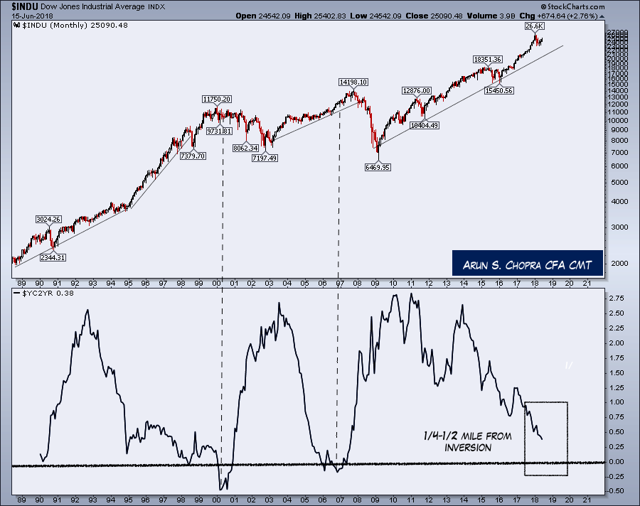 Related, we've also seen the spread between 30's and 10's come in dramatically as well. Although there is a lot to say about a flattening curve vs an inverted one, my focus on these dynamics is starting to increase.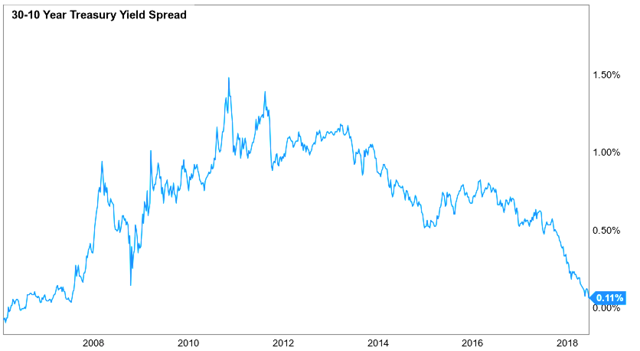 So what is going on?
Well for one the fed is likely getting increasingly concerned about valuations. Although I haven't been a total bear on valuations (see FANG next), it's impossible to deny where we are on the longer-term chart. As the fed continues to manages asset prices, we should be alert to where they are, and where they are not comfortable. I am guessing at 33X's trailing 10 year earnings, the Fed wants to reign some of this in.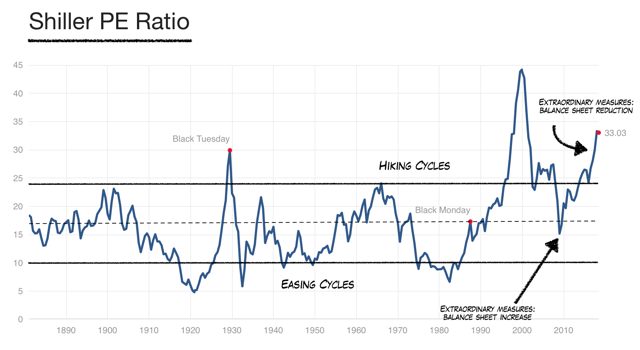 Equally impossible to deny is the price to sales ratio across the entire market. We saw the impact of the below dynamics hit staples particularly hard (down 50% on some individual names), something we were well in front of at Fusion Point.

It's not hard to argue between the unemployment rate (cycle low), PE 10 (elevated), the P/S ratio (elevated), and the CRB (muted), the fed is increasingly boxed in.
Fang 
Meanwhile the wrong place for some of the above concerns has been in the FANG stocks. Two months ago, I argued the FANG trade was intact and since then we've seen new highs.
At Fusion Point, I use fundamental factors to guide my investment approach. Although I don't divulge each factor, the model below shows where I see pricing in the FANG names post my bullish outlook and post the recent rally.  
The orange line denotes how the company is fundamentally performing, while the blue line shows the change in price. In theory we want to buy stocks below their orange line and sell those above. This is also why we got long Facebook (FB) at 150 a few months ago. Currently FANG is a mixed bag. 
Gold
Gold (GLD) is also on everyone's mind as usual. For my work only one thing matters. Is it still a bull market (2002-2011), or is it a bear market (2011-2015)? 
For me the jury is still out although I've leaned bearish for over a year. I have written extensively on my concerns over the long gold trade with some good payoffs over the last week as our short positions in the space started to work.
I enjoy looking at past cycles when available. An interesting data point for the technically orientated is a look at retracement levels in the 70's gold market and now. The ~1370 is a 38% retracement from the 2011 top to 2015 low. Similar retracements were seen in the 1970's bull to bear switch. 

We continue to cover this space in our macro reviews. 
Micro
I also wanted to share two trades from our micro section (individual stock selections), aka 'Fusion Strategies'. Today I will review a 'Rocket Stock' trade and a 'Buyback' name. 
'Rocket Stocks' Strategy
'Rocket Stocks' is one of my favorite stock strategies. Rockets are a combination of one 'operational factor' and one 'management factor'. These businesses often have some niche with strong returns on capital. I keep a list of 250 of them in PRO, and list at least 2-4 at any given time for all members. 
Morningstar (MORN) has had an amazing run, up nearly 50% since my initial recommendation and entry. All members receive access to private twitter where I further highlight our strategy stocks (beyond stock lists and videos).
Coverage here actually started at 82 bucks a share months prior to the charts below.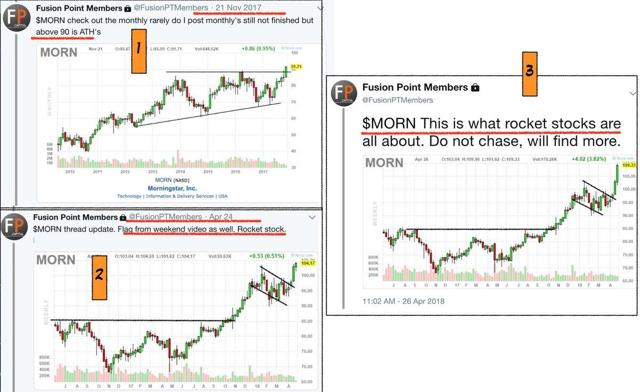 The chart below shows how the fundamental factor led this stock all the way. Again, although I don't disclose my factors, I do review fundamentals in our member videos. Ultimately 'Fusion Trading' is a fundamental first approach to stock selection.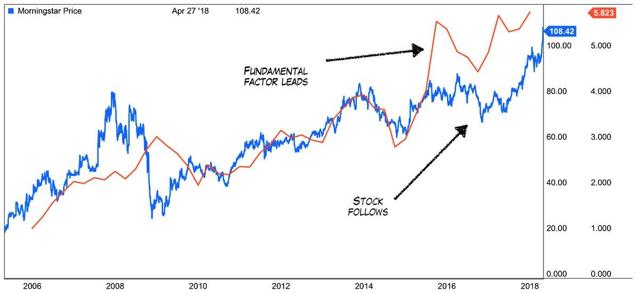 Amazingly MORN was up 31 days in a row in May-June.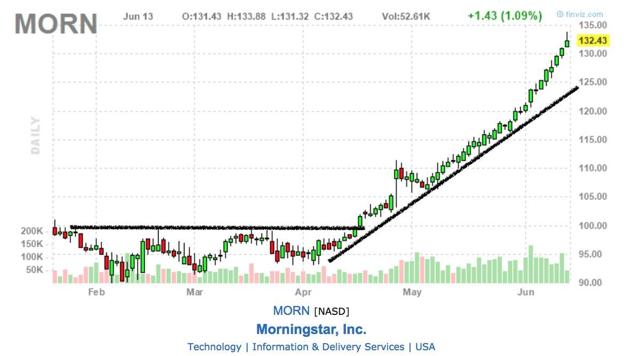 'Real Buybacks' Strategy
SONC is up over 34% in June. This is a 'real buyback' name that has been on our current setup list for a year. The stock has been under heavy accumulation, and this week finally broke out. I will be adding at least one if not two new buyback names to our strategy list this month.  
Testimonials
Being new to Seeking Alpha, but having run Fusion Trading for over 3 years, some of the first reviews here are coming in. You can read them here: https://bit.ly/2JUprCa
Today however I want to share a very nice text message I received from one of my long-term PRO clients. As a Chartered Market Technician and Chartered Financial Analyst, I created all the Fusion Strategies, I am passionate about markets, and this direct work drives me.
If you have any question about PRO, are a licensed professional (or a daily market participant), feel free to email me as I am happy to discuss 'Fusion PRO' and see if there is a fit (client in grey, me in blue).
As of last Thursdays close 'Fusion Trading' continues to significantly outperform. 
Although not indicative of individual member returns, the combination of 'Fusion' strategies, proper portfolio construction, and risk management creates an active portfolio that continues to adds alpha. There are now 8 total 'Fusion Strategies' covering 400 stocks with our current watch list narrowed down to 30-40 names (available to all members). Portfolio management consultation is included in the PRO package.

Thanks for reading....