Hi Everyone,
Once again some weekend charts.....
Market Scorecard 2018
The first chart today is the market 'scorecard' for 2018. I spend a lot of time on the behavioral component of markets, and this is a great example. Generally when everyone thinks a certain outcome is coming, the trade tends to fizzle and/or reverse. 
Below shows the transition from 2017 to 2018 and some of the consensus thoughts at the time. 6 months into the year we can now see how most of it is not working out. 
Yes, bitcoin. After writing extensively here at Seeking Alpha and warning of the top through Twitter, I wanted to post two more charts as Bitcoin has now fallen to 6K.
The first is the Japanese top, this was critical in terms of recognizing how speculation tends to play out.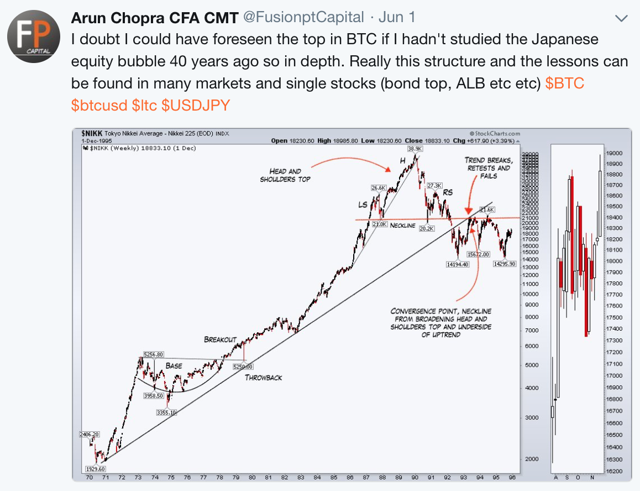 The following chart shows 3 other speculative tops and how price played out as well. The key takeaway here is that most of these markets didn't recover and were under pressure for a long time to come.
To be clear, at Fusion Point bitcoin is not our focus, however price action and the study of price is a factor, and has been extremely helpful in outperforming with our single stock 'Fusion' names.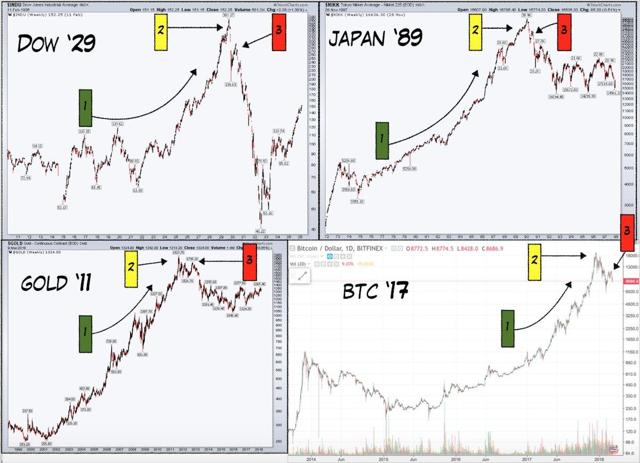 Market Wide Short Squeeze
So you may or may not have missed it, but the entire market just squeezed to the upside. The chart below shows how the most 'shorted' names rallied well beyond the indexes over the last 6 weeks (see orange line). This has caught a lot of people by surprise with cries of manipulation etc.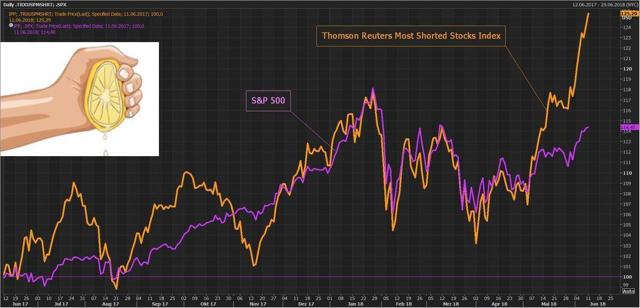 The above chart and market dynamic however is precisely why I created my shorts squeeze strategy in the first place (1 of 8 overall 'Fusion' strategies combining fundamentals, technicals, and market behavior). 
Here are two of our big wins inside of this strategy and on my private twitter over the last few weeks. PRO members have access to the entire list, where even bigger winners were found. 
FIZZ +25%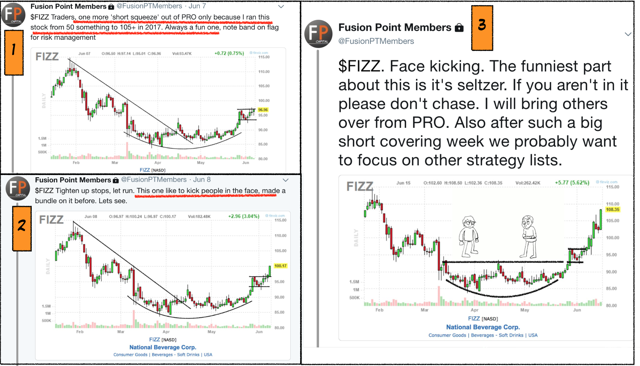 SONC booms into the mid 30's (note this strategy was combined with buybacks). 
As of last Wednesdays close 'Fusion Trading' continues to significantly outperform.
Although not indicative of individual member returns, the combination of 'Fusion' strategies, proper portfolio construction, and risk management creates an active portfolio that continues to adds alpha. There are now 8 total 'Fusion Strategies' covering 400 stocks with our current watch list narrowed down to 30-40 names (available to all members). Portfolio management consultation is included in the PRO package.

Thanks for reading...