I wanted to take a minute today to show readers how the Fusion Trading service uses video and private twitter posts to communicate trading and investment ideas. The following is an excerpt from a video I did for members about 2 weeks before the bottom in Staples. I spent time going over key fundamentals I liked, particularly in Kellog (K). Note the end as I mention I will update members in twitter for specific entry details.
This video essentially lays the groundwork for why the stock is a good candidate to buy and as you will see is primarily a fundamental approach. 
The price entry then came about a week or so later on May 22nd. The following is a summary of the communication I gave to members at the time.
The key takeaways are that not only did we review the fundamentals in depth over the weekend, but then when the opportunity on the charts opened up we took the stock.
I would also note for longer term non-trader types, the weekly chart on Kellog (K) was also reviewed in the video (not shown). We have all types of members, so I make sure to cover multiple time frames.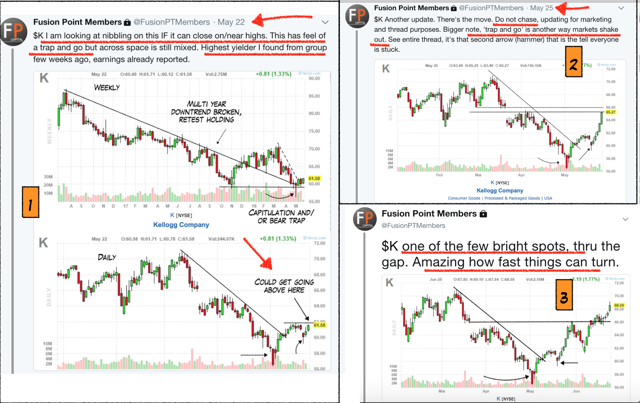 Since then you can see how price has quickly rallied over 20%.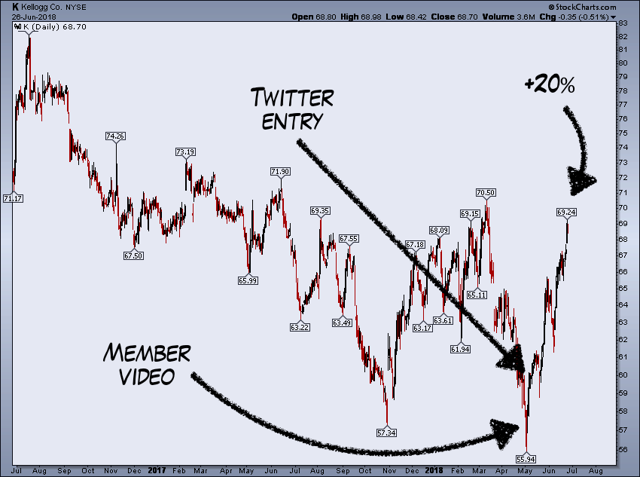 This was a special situation trade however the type of analysis includes both fundamental research, technical price entries, and some behavioral finance (sentiment was pretty low at the time).
By utilizing professional and reliable metrics, we were able to catch a nice move while most of the market has traded sideways to down. Being new to seeking alpha (but having run Fusion Point for about 3 years now) you can read some of the services initial reviews here: https://bit.ly/2tCtIQu
Performance
As of last Thursdays close 'Fusion Trading' continues to significantly outperform.
Although not indicative of individual member returns, the combination of 'Fusion' strategies, proper portfolio construction, and risk management creates an active portfolio that continues to adds alpha. There are now 8 total 'Fusion Strategies' covering 400 stocks with our current watch list narrowed down to 30-40 names (available to all members). Portfolio management consultation is included in the PRO package.

Thanks for reading....