Seems like just yesterday I was wrote 3% doesn't matter. In it I argued that the bond market had gotten way ahead of itself pricing in 3+% yields with larger fears of a spike to 4%.
Some of the evidence I presented was behavioral. This included the following two charts:
Below is a look at google trend searches as rates began to rally towards 3%. What we saw was a consensus concern, which generally denotes a peak.

We also saw bond shorts (looking for higher yields) pile on quite aggressively too. Another big sign of an end to a trend.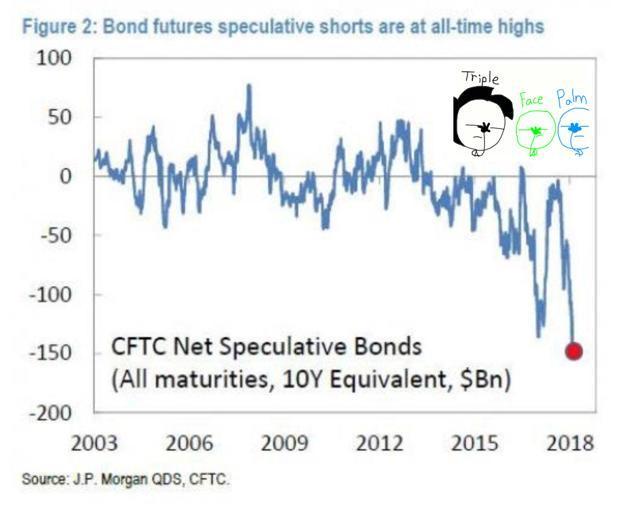 More important now however is the new 'consolidation' which is underway. For the first time since 2015 we are seeing a monthly squeeze develop on TLT. For those who are unaware of this indicator, I use it quite a bit in my multi-disciplinary approach. Members receive free presentations related to it as well.
It is not some basic timing indicator of which there are far too many. The squeeze measures levels of consolidation. Markets tend to switch from trends to consolidations to trends and so on. So when we see a market go into a deep monthly consolidation (indicated by the red bars below), we know that a strong trend is soon to emerge. Although typically this is not a directional indicator, I spent the weekend reviewing with my members what direction we should look for and why. 
Below I have posted the 10 year monthly chart of TLT with the past 4 monthly squeezes and the broader market events that followed. See the far right lower corner for the most recent squeeze that is now underway. The key takeaways are not only the rarity of the formation, but the impact of the following moves.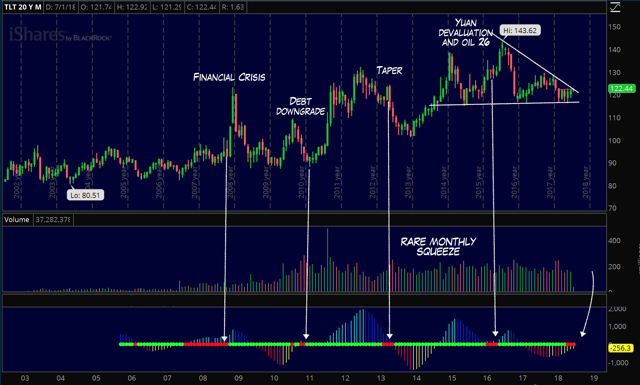 Performance
As of July 3rd, Fusion Trading continues to significantly outperform.
Although not indicative of individual member returns, the combination of 'Fusion' strategies, proper portfolio construction, and risk management creates an active portfolio that continues to adds alpha.
There are now 8 total 'Fusion Strategies' covering 400 stocks (PRO only) with our current watch list narrowed down to 30-40 names (all members). Portfolio management consultation is included in the PRO package. You can see what others are saying here: Fusion Trading Reviews

Thanks for reading....