A big part of what we are doing at Fusion Trading is selecting quality fundamentally driven stocks, and using price and trend to manage when to get in, and how to manage the position. Today I want to share two very large winners from 2017 that continue to run, Illumina (NASDAQ:ILMN) and Ligand (LGND).
Illumina (ILMN) was up over 3% today to close over 300 and a new all time high. Illumina (ILMN) is a 'Cash King' name, meaning a business that really scales as it grows. I keep a list of over 100 'Cash Kings' for my 'PRO' members and at least 2-3 actionable setups for 'All Access' subscribers.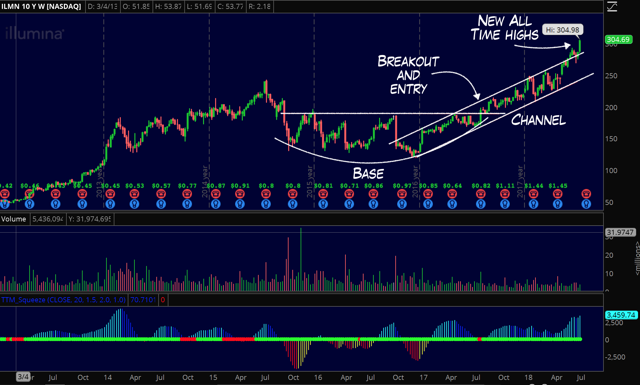 Below you can see the fundamental scale of the business overall, as cash from operations has spiked on a per share basis relative to revenue.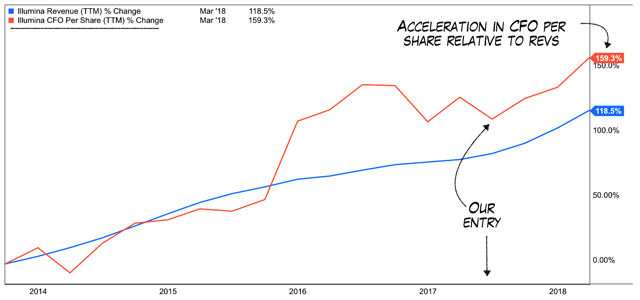 Here was the original entry video back at 180 for members in the summer of 2017. Please note the stock has moved even further since this video was created.
Meanwhile Ligand (NASDAQ:LGND), a classic 'Rocket Stock', also hit a new all time high today and is now up over 120% from our original recommendation. Rocket Stocks are unique in that they combine management factors with fundamental operations. These stocks are best of both worlds from an equity ownership perspective. Here is the latest chart.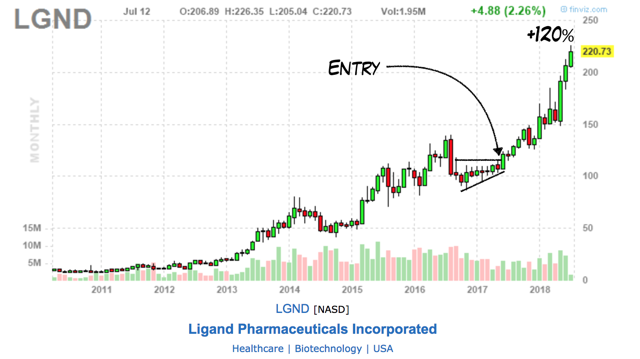 Below shows the video from our original entry and recommendation. Please note the stock has also much further than when this video was first edit (+60% at the time, now over 120%). 
Ultimately 'Fusion Trading' is about finding quality stocks off my 8 strategic lists, understanding what makes stocks move, monitoring for entries, and allowing stocks to run. 
I currently reviewed a brand new 'Cash King' name in cybersecurity as well as a 'Rocket Stock' doing semiconductor equipment, focusing on chips and sensors for EV's. Both have had solid weeks although each has significant room to run from both a trend and valuation perspective. 
Performance
As of July 3rd, Fusion Trading continues to significantly outperform.
Although not indicative of individual member returns, the combination of 'Fusion' strategies, proper portfolio construction, and risk management creates an active portfolio that continues to adds alpha.
There are now 8 total 'Fusion Strategies' covering 400 stocks (PRO only) with our current watch list narrowed down to 30-40 names (all members). Portfolio management consultation is included in the PRO package. You can see what others are saying here: Fusion Trading Review.