"Lenta" is one of top-5 players in Russian retail market and the top hypermarket player by selling space. The company manages 192 hypermarkets and 48 supermarkets with total square over 1,14 mln sq. meters. The square of average hypermarket is 5800 sq.m., the square of average hypermarket is 900 sq.m.. "Lenta" operates in 78 localities (predominately in the European part of Russia) and owns 7 distribution centers. The corporation announces key operating stats quarterly and discloses IFRS statement semiannually. Dividend policy doesn't provide any dividends, as some other Russian retailers do.
Key shareholders are TPG Group (34%), EBRD (7.4%), managers and board members (1.09%). Free float (57.5%) is traded in the form of GDR on LSE and MOEX.
Key financial and operating stats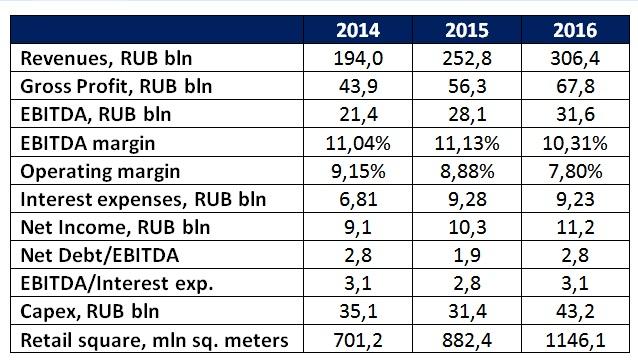 Sources: Bloomberg, author's calculations.
According to IFRS statement, the revenue for the 2016 year grown by 21% while adj. EBITDA margin lightly decreased by 0.7% to 10.4%. The retailer has been showing the highest revenue growth rates for last 3 years, excluding 2016 with domination of X5 Retail group. However, this happened mostly due to extraordinary performance of X5, but not due to Lenta's internal factors, which could slow down market share growth.

Sources: company's data.
The key investment factor for Russian FMCG-retail sector is market share and its dynamics, because top-5 retailers occupied only about 20% of the market, while foreign retail markets seem much more consolidated. So, investors are ready to pay high premium for gains from prospective consolidation.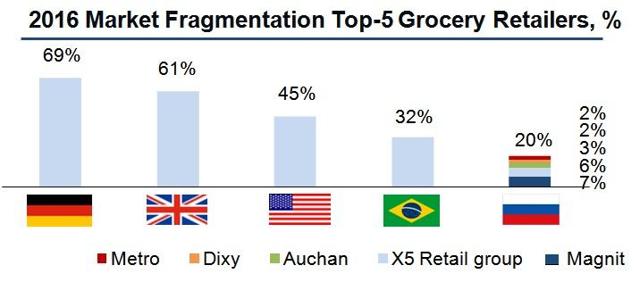 Sources: A.T. Kearney, Accenture report
During last TV conference (after disclosure of 2016 IFRS statement) Lenta's top managers underlined weaken consumer demand and high consumers' sensitivity to price shifts. This statement is proved by macro data for 2016.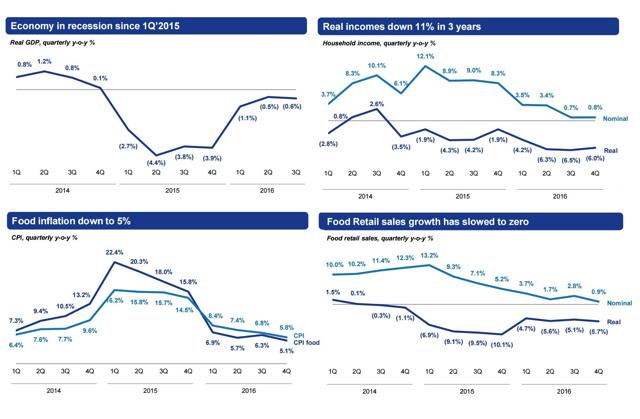 Source: the company's data
However, several last macro research predict that market conditions are tend to change in the second half of 2017.
The company implements the aggressive development strategy. For 2016 capex for expansion had grown by 73% till 54.3 RUB bln and become equal 17.7% of revenues (Magnit has 6.6% of revenues). Many shops were opened in the 4th quarter of 2016. So the company will probably show the highest revenue growth between FMCG-competitors this year despite a slight decrease in capex (Lenta historically has lower ROI due to individual business model: the retailer opens new shops mostly in own buildings (82%)).
For current moment the key risks for the corporation are connected with debt service. Additional stock issue completed in 2015 has successfully decreased the leverage. However, low net operating cash flow of 2016 forced Lenta to extra borrowings to maintain investment program. Indicators of financial leverage have exceeded highest levels of several last years: Net Debt to EBITDA adj. became equal 2.8.
But financial risks can be still considered reasonable due to decrease in interest rates and some other factors. Credit rates from Moody's, S&P and Fitch are Ba3, BB- and BB respectively. In addition, Lenta traditionally doesn't divert cash flows for paying dividends and plans to lower capex in 2017.
Investment idea and recommendations.

According to analysis of comparables, Lenta's GDRs are moderately undervalued in comparison with other Russian retailers.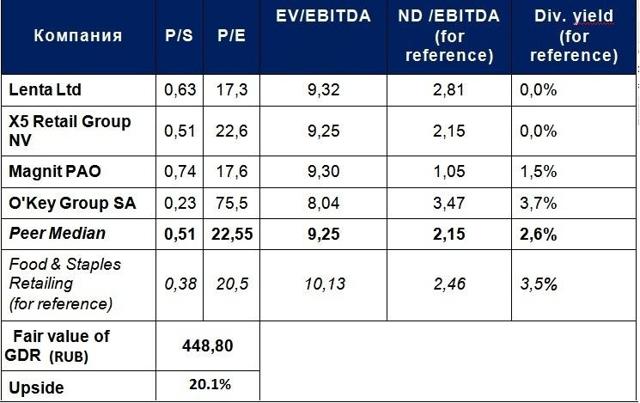 Attached DCF-model is a better instrument to analyze strategic and business profile, because massive M&A program (started in the end of 2016) and other plans of managers haven't affected comparables yet.
Conclusion: fair value of company's GDR is $8.99 with upside 41.2%. Recommendation: accumulate Lenta's GDR pending growth due to market's undervaluation of strategy and future cash flows.
Supporting Documents
Disclosure: I/we have no positions in any stocks mentioned, but may initiate a long position in LNTA over the next 72 hours.
I wrote this article myself, and it expresses my own opinions. I am not receiving compensation for it (other than from Seeking Alpha). I have no business relationship with any company whose stock is mentioned in this article.