Dear Readers, 
WappCap has been growing and expanding rapidly over the past couple of months. Here are some recent developments:
1) We recently re-did our website
We recently closed our old website and launched a new website which is much easier to use and faster. We offer free analysis, as well as our paid subscription. Our new website allows us to have much more control, and we are able to easily add user suggested features. Check it out --> www.WappCap.com
2) WappCap now offers a paid ratings and analysis subscription, called WappCap Direct
WappCap offers WappCap Direct, for only $25 a month. It has ratings, hypothetical portfolios, analysis by market professionals and more. Learn more here. At the time of publication, WappCap has a discount on its subscriptions. 
3) We have remained within the top 1% of all financial bloggers for four months
According to TipRanks, we've been a top 1% financial blogger for over four months.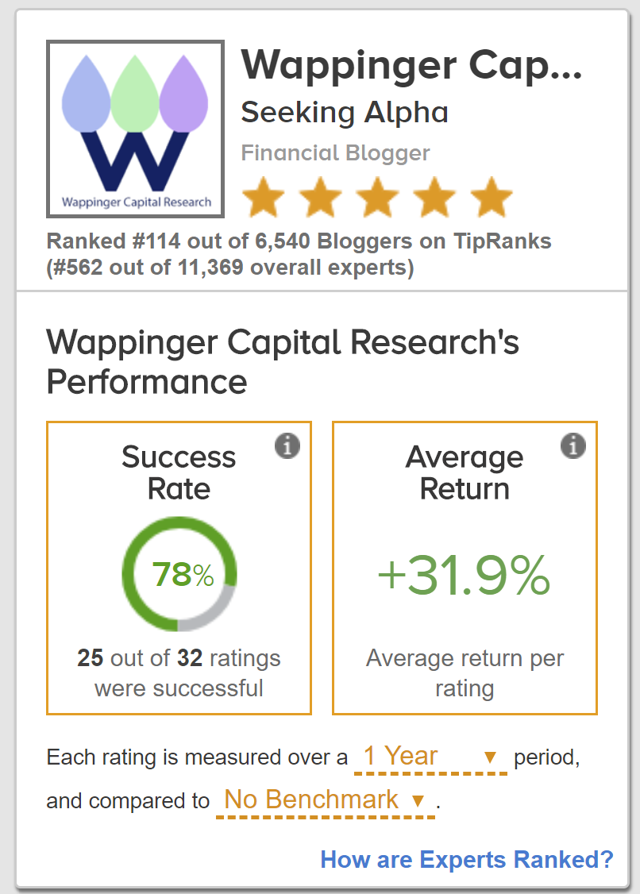 4) We now have a stock article recommendation portal
You can request stock analysis articles here: https://wappcap.com/suggest-a-stock/
5) James LePage, our founder and CEO, now has his own Seeking Alpha account
Finally James LePage now has a personal Seeking Alpha account. He said: "This new personal Seeking Alpha account will allow me to become more personal with the readers on my investments, styles, strategies and more. I'll offer the same quality content that my company, WappCap offers." You can follow him here --> https://seekingalpha.com/user/49553218/profile