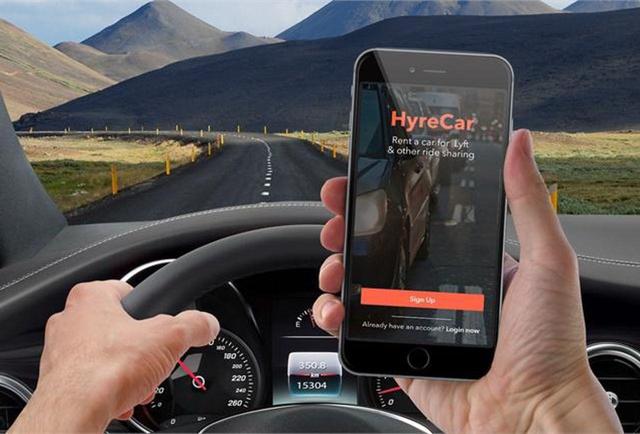 (Picture Source: Forbes)
Origin and Background
The world of cars is changing faster than what the automobile industry can keep up with; and with change, comes investment opportunities. Car maintenance has become more expensive than ever, while apps like Uber (UBER) and Lyft (LYFT) have given unprecedented mobility to the new generation. Many people have opted to not even bother buying a car. An article from Forbes describes this phenomenon:
"Even in places where public transportation isn't an option, carshare services like Zipcar and rideshare services like Lyft and Uber make it easier than ever to use a car only when you need one, and not worry about it when you don't."
With a declining need for car ownership and a rapidly increasing demand for ridesharing services, HyreCar (HYRE) has tightly latched onto this niche market, and seen impressive growth in both revenue, platform users and operations. Their unique, scalable company model offers investors a chance to expose themselves to the new "mobility" sector and invest in a great growth stock. 
HyreCar was founded in 2014 by Abhishek Arora, or 'Abhi" in Los Angeles. Abhi's vision was to give people who don't own cars the opportunity to drive for transportation network companies (TNCs) like Uber and Lyft. For days, weeks or months at a time, drivers rent cars through HyreCar that are listed by owners who have a car they don't use and want some extra cash. Essentially, this is the "Airbnb" of cars.
Soon after the company's birth, Arora found his first customer, Joe Furnari, who would later become the company's CEO. Furnari's car was collecting dust in his garage, and he began wondering what he should do with it. He thought about selling it or renting it out, and found HyreCar on Google. Using HyreCar, he met up with the prospective renter at 6 AM the next day. The renter came with Arora, who greeted Furnari excitedly. Furnari quotes Arora:
"Joe, this is great! This is our proof of concept. You're the first person to rent your car on my site!"
Furnari was initially wary of the transaction - after all, nobody wants to be a guinea pig, especially when dealing with something as valuable as a car - but he went through with renting, and was very quickly pleased by his results.
"Contrary to that initial feeling, six weeks in I've already made 1000 bucks," says Furnari. Soon, Joe purchased a fleet of cars to rent out through HyreCar, and later jumped head first onto the team.
Business Model
HyreCar provides a platform for individuals to rent their cars out to drivers of Uber, Lyft or other TNCs that don't have a car available for their work. This is a win-win-win for the car owners, the drivers and the consumers. Car owners get anywhere from $20 up to over $100 a day (depending on car model) for renting out a car they otherwise weren't even using; meanwhile, drivers get a job, and more Uber drivers means lower wait times for passengers. What's not to love?
Furnari cites three of the most common reasons someone would rent through HyreCar. First, a regular Uber or Lyft driver might need to take their car to the shop and need a car for a few days.
Second, some people want to drive Uber or Lyft, but they don't own a car that qualifies. In many cities in the U.S., like Los Angeles and New York, half or less than half of households even own cars. And according to Furnari, of those in the U.S. that do own cars, the average car age is 11.5 years old; meanwhile, the maximum age of a qualifying Uber cars in many areas is 10 years old. There are many other qualifications cars must meet as well, such as size and number of doors.
Third, renting through HyreCar means no commitment. Furnari says that many people love being able to end rental service at anytime after the rental period, which can be as little as two days - some people rent cars consistently for over a year, yet they still love the lack of commitment.
"We have drivers that have been driving with us for 36 months straight. They love the service, in the sense that they know they can drop the car off at any point after their rental is done," says Furnari.
The model seems to be working: since inception, the companies seen exponential growth. In the most recent earnings report, the company reported a revenue of $2.68M (+222.9% Y/Y) beating estimates by $0.06M. In the same period, the company grew its driver user base by 93% Y/Y, adding 2,424 new unique drivers.  Many investors are expecting similar results in the upcoming Q4 earnings report on March 28, 2019.
Insurance
One of the most common questions asked about HyreCar is how its insurance works. Each Lyft or Uber trip has three phases to it. In phase one, the driver is looking around for someone to drive. In phase two, the driver finds a client, and begins driving over to them. In phase three, the driver has picked up his or her client and is driving them to their destination.
These phases are essential in understanding how HyreCar's insurance works. HyreCar provides insurance only for drivers in phase one, while Uber and Lyft provide insurance for the latter two phases.
When HyreCar insurance does apply, it covers up to $100 thousand in liability protection and up to $25 thousand in physical damage protection, along with a $2500 deductible per damage claim. The car's owner is not responsible for anything while the car is being rented out.
According to Furnari, HyreCar renters spend about 87% of their driving time in phases two and three. So really, HyreCar is only responsible for insurance claims about 13% of driving time. This small window has saved the company an enormous amount of money on claims and premiums.
"A large percentage of our cost of revenues is direct insurance expense, which we pay to the insurance company," reads HyreCar's S-1 from 2018. "The unique nature of our insurance enables us to keep insurance costs and liability low by leveraging state mandated insurance policies provided by the TNCs."
The amount of money HyreCar saves using this design is especially obvious when taking a look at what TNCs pay in insurance. Lyft's S-1 states that of the $2.2 billion in revenue Lyft brought in last year, $863 million was spent on insurance premiums.
Mitek
In order to minimize other risks involved with car rentals, HyreCar runs both a criminal and driving background check on every new driver that comes onto the platform. In the past, this lengthy process was a barrier to entry. Recognizing this, HyreCar has been working to expedite this process by partnering with Mitek, a software company specializing in ID verification technology. HyreCar has incorporated Mitek's technology in its app released only last month, but has already seen significant improvement in its verification speed.
"What I'm seeing is the app is speeding up conversion times through our background checks as much as 30%," says Furnari, along with a reduction of fraud. "It's a really exciting piece."
However, Furnari asserted that the partnership was still in its infancy and that they are still looking over the numbers.
Performance

(Source: Google)
HyreCar has been experiencing exponential growth during the past three years, bringing home $300,000 in revenue in 2016, $3.2 million in 2017, and $10 million in 2018. In addition to tripling its annual revenue in 2018, HyreCar also went public in June, successfully raising $10.8 million and was listed on the NASDAQ. Shares were initially selling at about $5.00 each.
In order to raise enough money for its IPO, HyreCar took bridge money for about 1.5 million shares. These shares had no lockup period, and many of its shareholders immediately sold off their HyreCar stock, which led a dramatic drop in share prices for the rest of 2018 despite the company's success. Shares were sold as low as $1.60 each in early December, less than a third of their original value.
"They just started dumping the shares, and so what was 3 or 4x oversubscribed in the market during the IPO, [HyreCar] became kind of a broken stock," says Furnari. "It's crazy, you look at our revenue going up to $10 million, and our stock has gone the complete opposite way, and I'm like, 'Whats going on?' We're performing at a very high level, 200% year over year, but why is my stock going down?"
By December of 2018, the bridge shares were sold off, and prices began to make a comeback and gained some momentum when analysts began to notice the company's growth potential. Since the end of last year, HyreCar shares have recovered, selling as high as $7.50 a share in mid-March and are now selling at around $6.60 a share, about 30% up from its IPO. It's current market cap is at $77.39 million.
Partnering with Dealerships
HyreCar has been rapidly expanding in both its revenue and its market. Its service is now available in all 50 states and the District of Columbia. This growth has been accelerated by Uber and Lyft's rise in popularity.
Last month, according to Furnari, HyreCar saw a whopping 25,000 drivers join the platform looking to rent. With all this demand, HyreCar has been struggling to keep up on the supply side and is desperate for new cars to be listed on the platform; only about 400 new cars were made available to rent.
In order to close the supply and demand gap, HyreCar has been looking to partner with car dealerships, an industry struggling to keep up with modern times.
TNCs have been the bane of car dealerships, as many people use Uber or Lyft so much they don't even need to buy cars anymore. Jim Cramer from CNBC's Mad Money says that buying cars makes less sense than ever with services like Uber and Lyft available.
"Put it all together: ride sharing means that owning a car is no longer a necessity — it's more of a cost-benefit analysis: is it cheaper to own or to use Uber?" says Cramer. "More stringent lending standards [and] higher rates shift the equation. They make owning a car even less attractive."
Across the board, car companies have seen decline in sales. Ford reported an 8.8% decline in sales last December, GM reported a 2.7% decline in Q4 sales, and Nissan's sales were down 6.2% from 2017 to 2018.
So what can these dealerships to do save their sinking ships? HyreCar, according to Furnari, proposes a turnkey solution: rather than only focusing on selling and leasing cars, dealerships can rent out their cars through HyreCar. This will not only supplement dealerships' drop in sales but also give HyreCar the supply it so desperately needs.
"The most exciting piece here is the dealer side of things; the institutional supply that we're working on is really the story here, because the demand for 25,000 leads per month hails in comparison to the amount of cars we can bring on to the platform as we start to convert these dealers," says Furnari.
So far, HyreCar has seen promising results. Last August, HyreCar began a "path to ownership" program with six dealerships across the U.S. where drivers could rent from dealerships through HyreCar and eventually earn money towards down-payments on cars. In November, it partnered with Reedman-Toll Auto Group in Pennsylvania, in addition to some other agreements in various parts of the U.S.
The benefit to working with HyreCar is undeniable. Not only will the rent generate more revenue for the dealership, but Furnari claims that 25% of drivers renting from a dealership end up buying a car from them.
Despite the obvious upsides, the company has received some resistance from dealerships unwilling to stray away from traditional sales.
"Okay, well you're the dinosaur waiting for the meteor to hit," says Furnari in response to these old-fashioned dealerships. "The future is mobility as a service."
Conclusion
HyreCar presents itself as the future of mobility, and so far, it's been killing it. Uber, Lyft and other ridesharing services have been growing like crazy, and HyreCar's future potential hinges on their continuing successes. And there are few signs of these services slowing down, with Lyft's IPO announced in March and Uber's plans to go public in April.
Ever since HyreCar's original bridge shares were sold off, its shares have seen fairly consistent growth. Furnari claims that the company is on track to be cash flow positive by Q2 of this year, with its burn "narrowing."
It seems inevitable that HyreCar will get over its demand-supply gap once more people learn about the app and rent out their cars, and when car dealerships realize this could save their business. As for other potential roadblocks, HyreCar faces some competition with internal rental services from Lyft, but those require more time commitment than HyreCar and are often more expensive. Plus, renters from HyreCar are free to drive for any services, while Lyft renters can only drive for Lyft.
With about 25,000 new renters per month, there is clearly a huge demand for the service. If HyreCar can convert more dealerships to begin renting out cars through its platform, HyreCar will likely see even more exponential growth than it already has. Additionally, HyreCar's partnership with Mitek, its cost-effective insurance plan, and its past performance are all signs pointing to HyreCar's continued success.
With all signs pointing to growth, investors should seriously consider starting a position in HyreCar. The company offers a unique entry into the hot mobility sector, an amazing business model, and proven demand for it's product. Their new focus and growth in the dealership side of their user demographic will be a major contributing factor to the future success of the company. As ridesharing giants Lyft and Uber go public in the coming months, the mobility industry, and in turn HyreCar will see renewed interest and investment. 
Disclosure: I am/we are long HYRE.
I wrote this article myself, and it expresses my own opinions. I am not receiving compensation for it (other than from Seeking Alpha). I have no business relationship with any company whose stock is mentioned in this article.
Additional disclosure: WappCap Founder, James LePage is long HYRE.