GOD CHASERS AND EMINI TRADERS
I often get questions about why we label ourselves "A Community of Believers Who Trade For A Living." The question ultimately leads to "What does that have to do with trading?" "Why do you need to drag God in to it?" I love that question. I really do.
I personally like to work with like minded people. As a younger man I was forced to work in places where quite often the corporate culture was fairly disgusting. From foul mouths, to heavy drinking, drugs, casual sex and the oft required after work happy hour, it was bad. In the interest of full disclosure I should probably mention in most cases I was also the boss. As I grew older and came to my senses, I realized I wanted to live my life a different way.
I also realized that to live that different life, I would need to surround myself with different people. The last business I built before CFRN, my wife and I decided that we wanted a clean, wholesome, family environment. We never discriminated against anyone because they weren't willing to thump their Bible or wear a WWJD t-shirt. However, when the non believers saw 50 of us gather together each morning to hold hands and pray, they either opened their mind to the possibilities or eventually chose to move on. Sometimes they ran...
So that's why we call ourselves a Community of Believers Who Trade For A Living. Not to alienate anyone, quite the opposite. Our doors are open to everyone. We'll never attempt to force religion of any brand on you, but coming through the door you'll understand immediately who we are, what we stand for and that we've made a conscious decision to build a corporate climate that reflects our beliefs and values. It really is that simple. There's no hidden agenda, no Kool-Aid and no vestal virgins as a signing bonus.
Becoming a Partner is about more than buying indicators, it's about more than learning how to trade, it's about being part of a family where we all speak a common language, share a common bond and have similar hopes, dreams and aspirations. A place where we can be encouraged as we encourage one another. Just tonight I received a missive from a brand new Partner coming on board. He penned an email straight from my own heart -
(excerpt)
I admit that I was lured to the markets by the Siren's song of quick riches. Listening to CFRN reminds me to plug my ears and beat the monster back every day. Play small ball. Wait and only swing at the good pitches. Use the indicators to see the good pitch. Swing and maybe get stopped out, but hopefully make a base hit.
My selfish reasons for this are XXXy, SXXXXXXX, XXXXh, GXXX and XXXXXXy. Last month I took the trial while at home for XXXXXXX's birth. I want to spend more time with them. I want to continue to provide a safe home, food and healthcare. Have we lived beyond our means in the past? YES. Did we buy too much house, probably. I want to get out of debt. I want the to opportunity to be an outrageous giver.
Currently, all charity goes to/through the local church. XXy and I want to start taking the older children on short term Mission trips, too.
(end excerpt)
That is the heartbeat of CFRN. I could choose to work with a hot shot hedge fund manager who thinks everybody's first name is Mother, has a fifth of Jack in his bottom drawer and spends half the day snortin' lines off his desktop, or I can work with the guy who sent that email. For me the choice is simple.
One of the greatest blessings in my life today, beyond my wife, children and family, are the people I'm privileged to work with day in and day out. Life's Good!
To all of you who are a part of it - Thank You!
S&P 500 EMINI FUTURES AND OTHER TRICK OR TWEETS
Volatility is back! The week is off to a great start and it may get even better...
DeWayne Reeves@CFRN

Correction to ZSX2 trade. Consider being long above 15.70 or short below 15.36 whichever presents first.#futures #soybeans $ZS_F

8 Oct 12
This trade was not our finest hour. It triggered on the long side for a grand total gain of 2 cents or $100 per contract. Then the unthinkable happened, it triggered on the short side. If you were stopped out of the long trade getting into the short trade is a tough thing to do. I did take the short trade today in the Live Trading Room, but as an intraday setup. If you did not take the short trade, I can't blame you.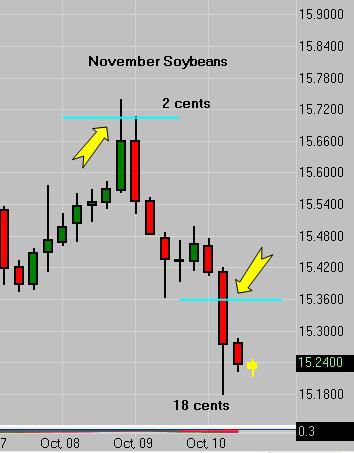 (ZSX2) November Soybeans
DeWayne Reeves@CFRN

Consider being long ESZ2 above 1460 or short below 1447 whichever presents first. #emini #futures#trading #es $ES_F

8 Oct 12
The S&P Emini trade got with the program and is still in play tonight.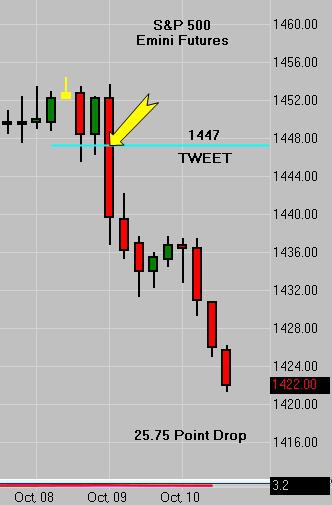 (ESZ2) S&P 500 Emini Futures
DeWayne Reeves@CFRN

Consider being short the Euro 6EZ2 below 129.75 or long above 130.20 whichever presents first. #emini#euro #futures #trading $EC_F $6E_F

8 Oct 12
From Greece to Spain to Italy the crisis continues and the currency crumbles.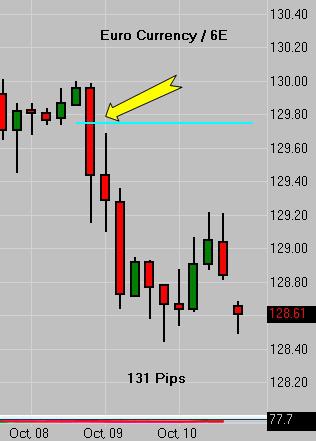 (6EZ2) Euro Currency Futures
DeWayne Reeves@CFRN

Consider being short Crude GCLX2 below 87.90 or long above 91.15 whichever presents first. #crude #gclx2$GCL_F #futures #trading

8 Oct 12
Crude played along perhaps due to the 2012 California Winter Blend.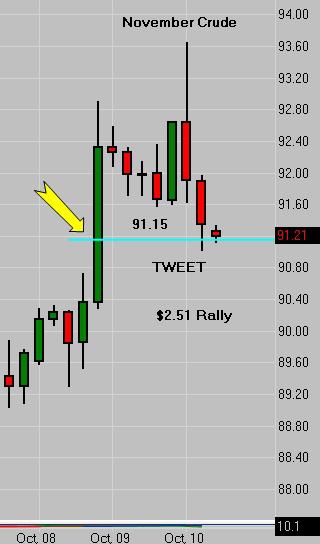 (GCLX2) November Crude
Somehow my SeekingAlpha Feed failed to post the Gold Tweet to the Twitter but those of you who follow us on SA were able to take advantage of it anyway. Maybe you should Follow Us.

DeWayne Reeves
Consider being short Gold GCZ2 below 1765 or long above 1784 whichever presents first. #gold #futures #trading $GC_F
Mon, 3:31 AM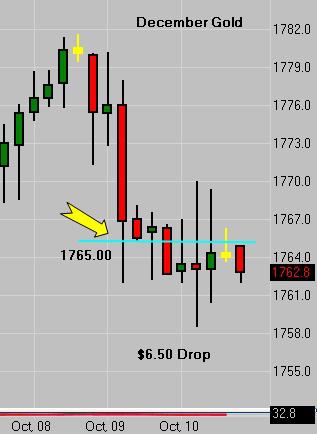 (GGCZ2) December Gold
As opportunities unfold we will keep you posted.
---
Questions?
Call us toll free @ 866-928-3310 during normal business hours.
After Dark - email support@cfrn.net or call 415-857-5654
Connect with us:


Please leave a review on iTunes
5 DAY FREE TRIAL
Live Emini Trading Room - Platform / Data / Indicators / Training