I want you to know how serious I am about YOUR success this coming year as a Professional Trader. I honestly believe 2014 will be a year of tremendous break through in the lives of Traders around the world, so I'm going to give you my personal telephone number.
This way we can get to know each other and swap a few war stories.
#SP500 #Gold #Crude #Currencies #Grains and much more.
SEATING IS LIMITED! (not a pitch)
https://www1.gotomeeting.com/register/518929265
Even though our PARTNERS and EQUITY PARTNERS are dotted across many continents, I keep hearing a recurring theme..
It seems as though every Trader I talk with personally, is carrying a burden (a calling if you will) for something far greater than themselves. I rarely talk to anyone who is simply trading for the sake of trading. I hear about dreams to feed the hungry, clothe the naked, house the homeless and even a few bold enough to travel to far away places like Kenya and Poland. Plans to preach not only the Gospel, but to create self-sustaining business models through coaching, mentoring, micro-lending and much, much, more.
I can't tell you how much this excites me. It's been my heart and passion since 1996 to change the world. My wife and I were woefully under educated, under funded and unprepared for what we we're about to do. Some would say we didn't have enough sense to know we couldn't do it. If that's the case... then Amen for Holy ignorance!
We had no degrees in Psychology, Counseling, Child Development or High Finance. We did however, have more than a few friends who were getting banged around on a regular basis by the very men who had promised to honor, cherish, protect and love them forever. We knew that as many as 100 women and children were being turned away from the domestic violence shelters here in Phoenix EVERY DAY, because there was simply "no room at the inn". Many of these shelters were taxpayer funded to the tune of several million dollars annually, and many had as few as 20 beds available (in theory).
So we prayed, had a few "friends" tell us we we're nuts... but within 90 days Cassie's House was born, backed 100% by capitalist dollars. At the time we had no mechanism for raising money and quite frankly had no clue what a 501C3 even was. So where did the money come from? We worked for it. Turns out, making tons of cash and giving it away was the biggest head rush I ever had. Even better... no hangover! Here's an old article that creates the backdrop for the steps we took that forever changed our lives, and the lives of others. Warning: The details are somewhat graphic.
If you dig a bit deeper, you'll find the little company behind all this. As my wife and I were pulling ourselves out of a pretty desperate situation of our own making, we learned an incredibly important principle - "You keep what you have, by giving it away". Again, with no formal education we were just naive enough to believe it. So we did.
We took the profits of our humble enterprise (started from the kitchen table - cheesy but true), and rolled them into buying a nice 2 story, 5 bedroom home in a family neighborhood. While we didn't know what we were doing, we did know we wanted to strive for a family environment not an institutional setting. What these women and children needed was love, not concrete and steel bars.
If you want to know more about the kitchen table adventure, this link shows what we did. Of course we are no longer active accredited members of this organization as we sold the business to our top salesman in 2008. However, please note as we exited stage right we did leave with an A+ rating. On that page you'll see a list of other things we were equally unqualified to do. Yet we did them anyway (by the grace of God).
I want you to join me Friday morning for 30 minutes. I'm going to share with you the year I see ahead. I want to impress upon you the support available to you. Whenever you have a question about trading, the answer is a phone call or email away. During regular business hours you'll always catch Burt or Leslie on the toll free number (866-928-3310) or email support@cfrn.net. Of course we also have an after dark number: 949-42-EMINI.
However, this Friday morning @ 10:00AM EST, I'm going to give you my private number. I'm also going to give you something else. Something so valuable a lot of professional traders would prefer I didn't share it.
Register Here >https://www1.gotomeeting.com/register/518929265
You see these professional traders trade differently. Mostly they use price action to great effect. While hobby traders are waiting for the RSI or Stochastics to be oversold or overbought, these pro's have already taken action.
How they do it is by determining...
Now there's a little more to it, but don't worry... Friday morning I'll reveal everything you need to know to put this trade setup to work right away. This simple strategy could be worth hundreds or even thousands of dollars over the next month. Of course trading is risky and you can lose all of your money and then some. (See our official disclaimer - http://www.cfrn.net/disclaimer/)
It's not a sin to be wrong, but it is insanity to STAY wrong. This Friday morning @ 10:00am EST I'm going to give you a tried and true strategy, how to be right even when you're wrong...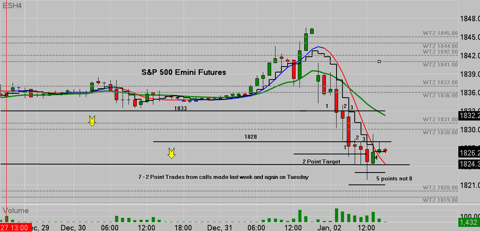 Register Here -https://www1.gotomeeting.com/register/518929265
If the room is full and you are not able to access the meeting, let me know and I will make arrangements to schedule a future meeting or perhaps you and I can do a private GoToMeeting together.
We currently have a Crude trade alert in motion:
#GCLG4 - Consider being short #Crude below 95.00 to 94.00. This is a $1 move, of course we only need the first 10 cents. Our second window of opportunity is to be short below 93.72 to 93.22 if the opportunity presents.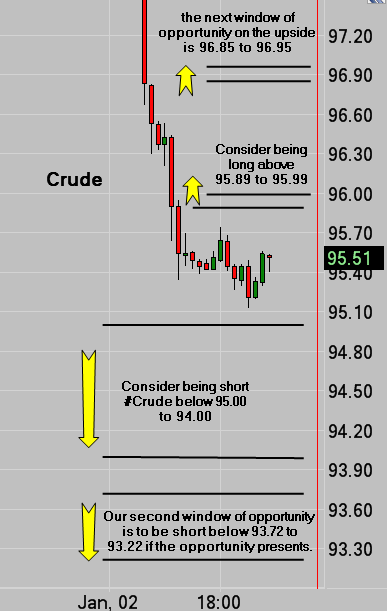 One of the most important skills you will learn as a trader is flexibility. Should the market rally from here... Consider being long above 95.89 to 95.99. Beyond that, the next window of opportunity on the upside is 96.85 to 96.95. Either way she goes... our traders on the 2 Year Plan to 20 Contracts need only be concerned about the first 8 ticks in either direction. Correct?
Tomorrow after 30 minutes, it will make perfect sense. Please direct all additional questions and requests to 866-928-3310 / 949-42-EMINI or email support@crn.net.
One last thing... we teach people how to build a business as a Professional Emini Trader. If you're looking to pick up a few extra bucks in some clever, clandestine manner... we can't help you.
"Getting Rich" is a lottery term, we are focused on creating the type of wealth that passes from generation to generation. If we're on the same page... see you @ 10am EST.
All the best to you and your family,
Blessings
DeWayne Reeves
Founder - CFRN
Friday January 3, 2014 - 10am EST
Register Here >https://www1.gotomeeting.com/register/518929265